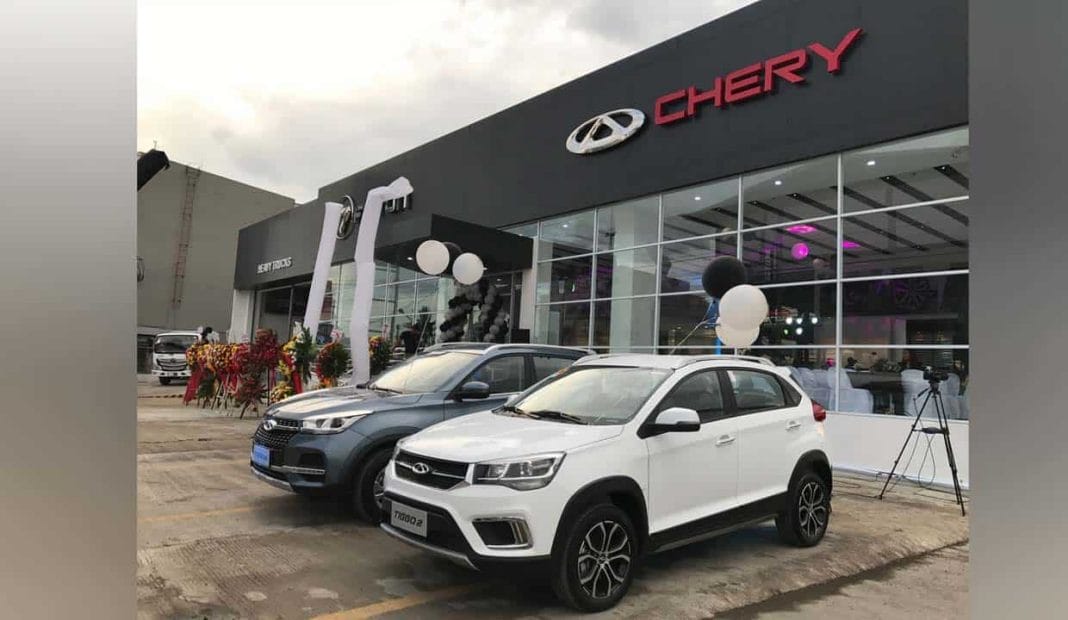 First In Mindanao
A mere two months after its brand launch, Chery Auto Philippines, through its distributor United Asia Automotive Group, Inc. (UAAGI), has officially opened its first sales and service facility in Davao, and in the whole of Mindanao.
Managed by Autohub Group, one of the country's biggest dealership network of automotive brands, the new showroom is strategically located in Panacan, Davao City.
"The China auto industry has arrived. They have mastered automotive technology and design and elevated it to world-class levels. And with the implementation of the Philippine-China free trade agreement, the duties for imported vehicles from China have made it low enough to compete with imports from our ASEAN neighbors on price point as well," UAAGI and Chery Auto Philippines president Rommel Sytin announced.
"With Chery, we are confident — we are convinced — that all the ingredients are in place. The timing is right," he added.
Results on the 2018 Gross Regional Domestic Product from the Philippine Statistics Authority (PSA) reported that the Davao Region was one of the second fastest growing economies in 2018. It is also the fifth biggest economy in the country among the 17 regions, and the biggest among the Mindanao regions.
Autohub Group president and Chery Davao dealer principal Willy Tee Ten shared, "Chery's line of crossovers is the perfect partner to the city and region's growing economy."
The Chery Tiggo crossover vehicles are expected to fit right in on the roads of the Davao region. The four Tiggo models (the subcompact Tiggo 2 and 5x, the compact Tiggo 7, and the midsize seven-seater Tiggo 8) will allow their prospective buyers more flexibility in terms of usage. This flexibility will be advantageous to those who are looking for a car that offers a sweet ride but can double up as a workhorse as well.
"We are grateful that our distributors continue to invest in facilities that will not only help grow the Chery brand. Their evident trust allows us to showcase a wide range of products while introducing thoughtful client services that promise to set us apart," said Sytin.
Chery Davao City offers customers the full scope of the UAAGI brand ethos. This includes a warm, welcoming atmosphere replete with a level of signature convenience comparable to Chery vehicles, a dedicated team of brand experts who assist customers full-time for all their needs, and an open and transparent approach to the sales and service process.
"We chose Chery primarily because of the distributor led by UAAGI president Rommel Sytin. They have a very good reputation and they take good care of their dealers. They value marketing and they want their brands and partners to succeed," revealed Tee Ten.
All Chery Tiggo crossover vehicles are powered by state-of-the-art 1.5-liter inline-4 fuel-injected DOHC 16-valve Euro 5-compliant petrol engines (turbocharged for the Tiggo 7 and Tiggo 8) and mated to five-speed manual transmissions or six-speed automatics. These models also highlight contemporary styling and modern comfort, convenience and safety features, while the higher end models boast luxury car features like 10" UHD touchscreen displays, foot-sensing automatic power tailgates, Smart Key Entry System, six-way power-adjustable seats, panoramic sunroof, leather seats, 18" alloy wheels, and much more.
For safety, Chery automobiles feature six airbags, front and rear radar-based driving aids, and a full suite of electronic driver-assist systems.
Chery also offers easier access to genuine parts and aftersales services to keep them in top condition, leading the industry with its longest-ever 10-year/one million-km engine warranty, five-year general vehicle warranty, and three-year free PMS promo package.
"We will be present – from assisting customers during their vehicle purchase with affordable bank financing programs and comprehensive insurance coverage needs to parts, after sales services such as preventive maintenance service, body and paint repairs, insurance claims repair, among others," Tee Ten added.
In just the second month of 2020, Chery Auto Philippines has begun sales operations for 15 dealerships throughout Luzon, Visayas, and Mindanao.
"The rise of Chery demonstrates that grand opportunities exist in the current market for brands to invest in new and affluent territories. For this year, dealership network expansion will continue to be part of Chery Auto Philippines' priority list — with goals of setting our foot in more of both the developed and emerging market areas, as well as forging new and improved partnerships," announced Sytin.
Follow Chery Auto Philippines on social media: Chery Auto Philippines (Facebook) and @cheryautophilippines (Instagram) for more updates. Call the 24/7 Chery Auto Philippines hotline at (0917) 552 4379 for inquiries.