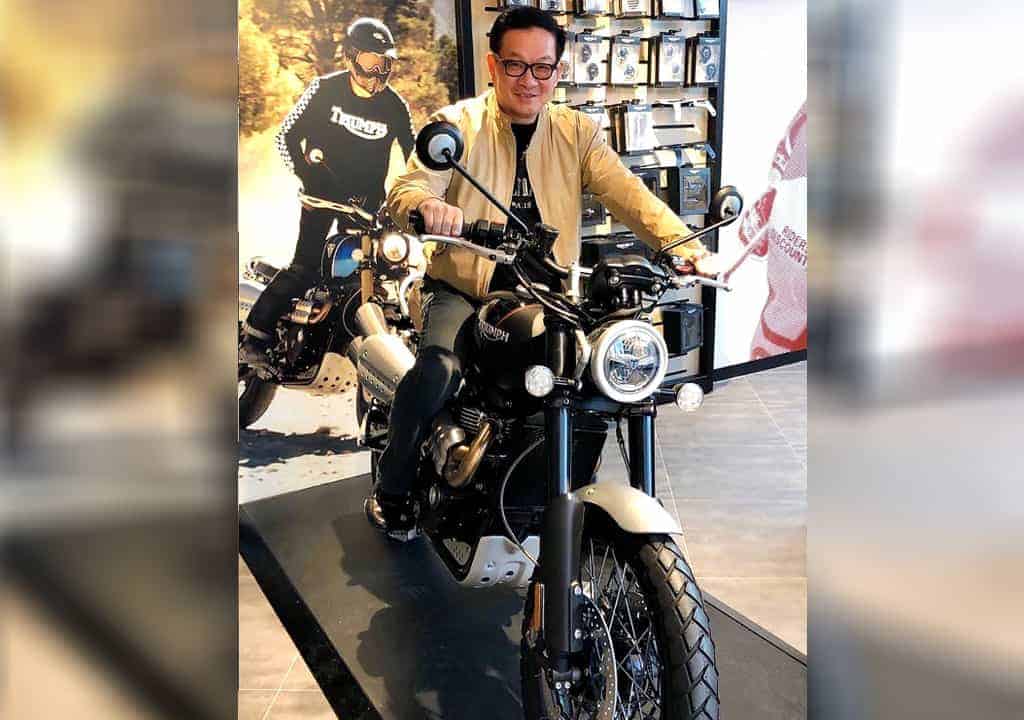 Just last Tuesday, the Autohub Group received twin good news. It had been confirmed as the exclusive, authorized Philippine distributor of two much sought-after brands: Triumph Motorcycles and Shelby.
"We've just been given the go signal to announce: We will be the distributor of Shelby American, Inc. which produces the aftermarket styling (kits and sideskirts) and performance parts (superchargers)," said Autohub Group president Willy Tee Ten. This means that all Shelby-branded auto parts, accessories, upgrades can be handled by the Autohub Car Care Services (ACCS) – under which the brand now falls under in the Philippines. 
"We can install Shelby kits and superchargers on the Ford Mustang. We'll be sending our technicians to the US for training. When they come back, they can work on V8 Mustangs to fit them with kits and superchargers – making them official Shelby GT or Super Snake vehicles with the papers to prove it," added Tee Ten. "For non-V8 Mustangs, we can install official and authorized Shelby kits only."
A member of the Shelby family will be coming over for the Philippine launch slated in, hopefully, February next year. "By next month we'll be at SEMA in Las Vegas and we'll firm up details," he intimated. Overseeing Shelby operations here will be Allen Pascual, presently ACCS head. 
In an exclusive interview with WHEELS.PH, Tee Ten said they wanted to bring in Shelby because, "everybody's talking about it." He maintained, "Shelby is very popular and many were asking us for accessory kits. It started with the kits, and there are a lot of fake kits out there. We researched and found out that the original holds office in Las Vegas – so we contacted them and asked them if we could bring the kits through our aftermarket company (ACCS), not through Ford." It, of course, helped that Autohub is a Ford dealer – which makes it a natural fit.
The Shelby Philippines showroom will be located in Eastwood City, Quezon City. "That would be a great location for Shelby," promised Tee Ten. The facility is expected to be open by March, and ACCS is already arranging to have technicians sent to Las Vegas for training. "We can accept orders already, but we need a little time."
Meanwhile, it took Autohub four long years to seal the deal with British motorcycle maker Triumph. "We're very proud to announce that Autohub will be the exclusive distributor of Triumph Motorcycles," said Tee Ten, and promised that the pricing for the products will lower than that of gray-market imports.
"Triumph is a British brand which started producing motorcycles in 1902 and has, ever since, been producing iconic motorcycles. They are the number three manufacturer in Europe after KTM and BMW, and number two in terms of big bikes. We know the competitors here. Finally, we have the only missing premium brand," said Triumph Philippines general manager Sammy Montecastro. "We'll make sure that warranty and servicing will be taken care of."
While previously bought Triumphs can be received and serviced, those bought outside of the official dealerships after Autohub's appointment might not readily honored. Reported Tee Ten, "If there's anybody planning to buy a Triumph, wait for us. We're probably going to start selling by December."
The executive confided to WHEELS.PH that up to 90 percent of the domestic supply of Triumph motorcycles will come from Thailand, which allows the company to realize the benefits of the ASEAN Free Trade Area (AFTA) – resulting in more affordable retail pricing. The remainder, comprised of more expensive, higher-end bikes, will be sourced elsewhere.
When asked why he went after Triumph, Tee Ten replied, "We already have an Italian scooter brand (Vespa). Just like Autohub in the four-wheel segment, we have mass-market brands, and we have premium brands. The direction of Autohub is always to have different levels. When somebody comes into the showroom, whatever they he or she wants, we have something to offer. But in the two-wheel segment, we don't have a premium brand to offer – although the two-wheel brand we have now is also premium (though smaller)… We thought four years ago, why not go after this brand? And remember: Mini, Lotus, and Rolls-Royce are all British brands."
Tee Ten revealed that the first Triumph showroom will be located in Greenhills – Ortigas Ave. corner Roosevelt in San Juan to be precise. "We have car dealerships there now. The two brands will be transferred, and the whole area will be converted into the main store of Triumph. Maybe October next year, the second branch will be up in BGC (Bonifacio Global City) near Uptown Mall."
Owee Cruz, Autohub Group VP for public relations and marketing, said that lifestyle items of the two brands will also be made available to the public.
Triumph Philippines should have pricing available by November, and the public will be able to place orders by December. "But official launch is in January… We need to plan for the launch," concluded Tee Ten with a smile.