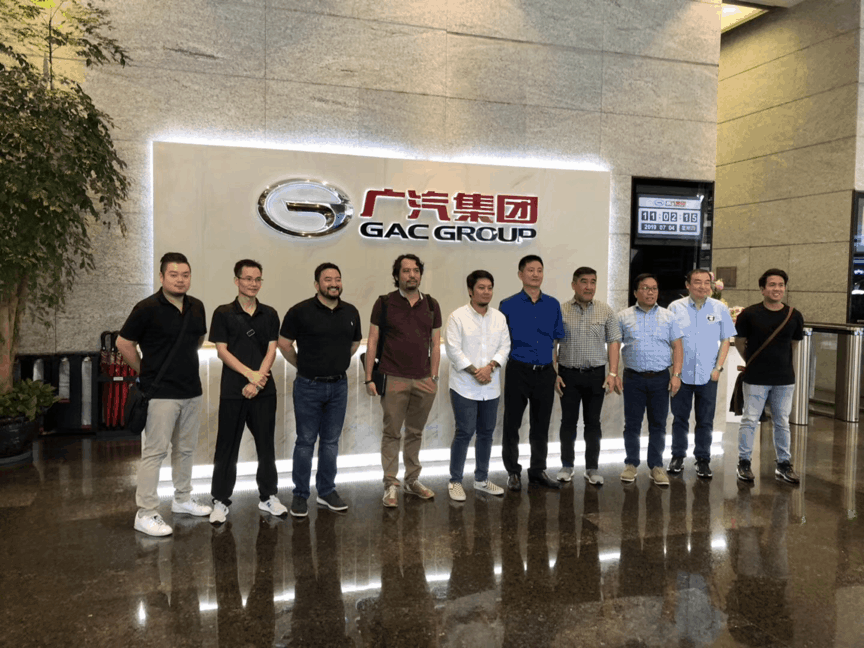 I was very privileged to be one of six people invited by Legato Motors, Inc., the exclusive distributor of GAC Motor in the Philippines, to see its production hub in Guangzhou, China.
GAC was first launched in the Philippines in November of 2018, with no less than Philippine President Rodrigo Roa Duterte in attendance. GAC sells passenger cars under the Trumpchi brand, passenger cars and commercial vehicles branded Gonow (which was discontinued), SUVs under the Changfeng Motor brand, and electric cars under the Aion brand.
Before the invites to China were even handed out, I had the awesome experience of driving a GAC vehicle, the GS8. The seven-seater premium crossover has the feel of a luxury vehicle feel with a price that can compete against almost any other standard crossover SUV. The car felt really stable, smooth, and easy to drive — something we admittedly aren't accustomed to when it comes to driving usual China-made cars.
That's not a knock on Chinese cars as we also, of course, look at value and price when shopping for cars.
I quickly fell in love with the GS8 when I had it for about a week, so when I was dangled the opportunity to take a sneak peek at how GAC builds its cars, I accepted immediately. It's not every day or even every year you get the chance to visit the mother facility of a manufacturer — particularly since not everyone is allowed to do so.
After seat time with the GS8, I thought, well, this brand should raise a lot of eyebrows (in a good way) just because of how the vehicle is put together. I have to be honest though; I really lowered my expectations. It's a technique I use to amplify my driving experience and, true enough, voila! I was hooked on the GAC.
The first order of our business trip was a visit to the company's so-called New Energy Plant where they produce electric and hybrid vehicles like the fully electric crossover GE3 530, the plug-in hybrid GS4, and the Aion S EV. The last has a whopping range of 630 kilometers, and can accelerate from zero to 100kph in 7.8 seconds. Still think we need the infrastructure for a vehicle that drives that far? All you need to do is plug into your home socket and you're good to go. Globally, the ubiquity of electric vehicles appears inevitable. GAC is doing a fantastic job getting up to scratch with the competition. The standard the company holds itself to is at its zenith.
Our next destination was the GAC R&D (research and development) facility. We were really impressed by the technology that GAC was able to present, as the company is miles ahead of Philippine factories in terms of production output and breadth. With a plant so advanced, we shouldn't worry about the brand not making it to the big league. I personally think this will be GAC's edge over many other manufacturers. Unfortunately, we couldn't take photos of the actual production process for obvious reasons, so I soaked in the spectacle with my own two eyes to appreciate the automotive production prowess of GAC.
We also had the honor of meeting the guy behind the design concept of GAC Motors, Fan Zhang. His job is to make sure GAC's design is up to date in the face of fierce competition in the industry. He dictates the whole design identity of the brand. Zhang had worked with the Mercedes-Benz AG design team for over eight years, and demonstrated the ability to lead a team of extraordinary individuals.
As we finished our tour of GAC's massive facilities, I got a chance to interview GAC Motor CEO Wilbert Lim to tell us more about the brand. The biggest question I had to ask was really basic, but a very vital one, for the Filipino consumer, which is after-sales. According to Lim, GAC's commitment to after-sales services will be his top priority.
Interestingly, of over a hundred customers who purchased GAC vehicles in the Philippines, not a single customer has gone back with problems in his or her vehicle. Lim confidently mentioned that a percentage of every shipment of GAC cars to the Philippines is made up of spare parts to cover for replacements and repairs. The company has invested P20 million just in spare parts.
GAC's product range will surely compete with other manufacturers in the Philippines, as the company has shown to us the complete capabilities of its portfolio. It's just a matter of time that we see a wider acceptance of GAC's products, particularly its electric vehicles.