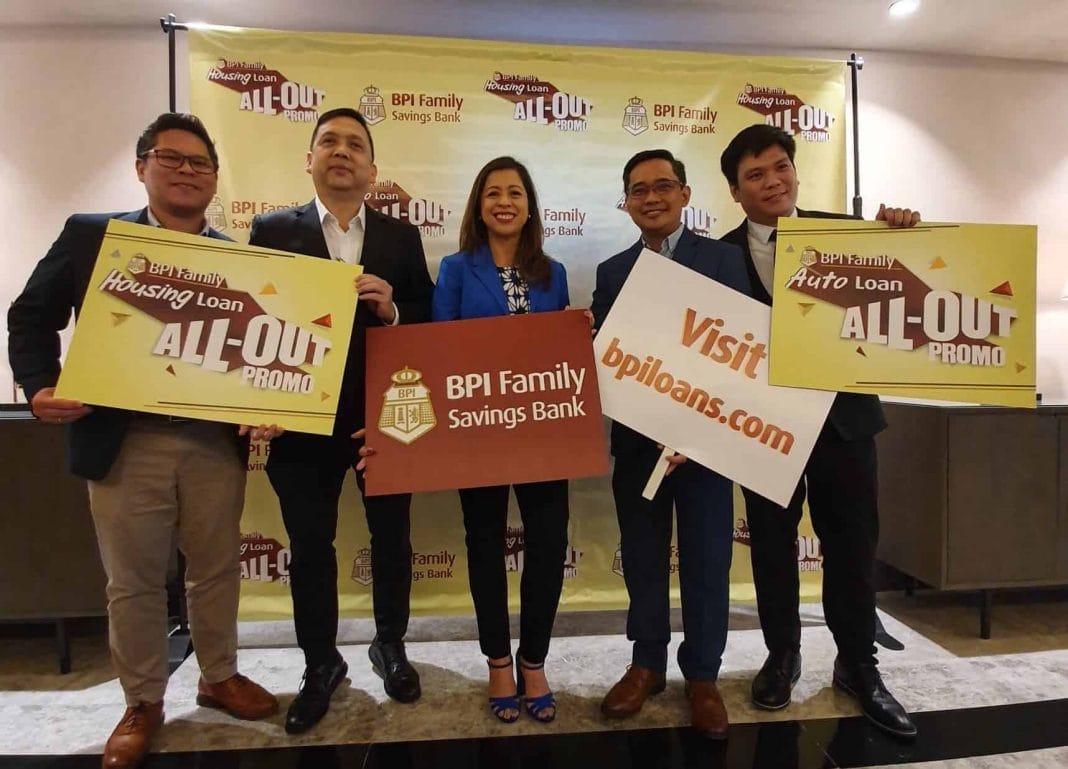 Horrible traffic notwithstanding, few can argue with the notion that we are in a golden age of vehicle ownership in the Philippines – at least as far as the sheer number of brands and models that car buyers can browse is concerned. The myriad of companies and financing institutions are thus scrambling to offer progressively easier paths to owning a car in an effort to woo customers in this age of heightened competition.
BPI Family Savings Bank (BFSB), the largest thrift bank in the Philippines, rolls out its so-called "All-Out Promo" in a bid to provide more value to loaners towards the purchase of a new home or car. BFSB's All-Out auto loan offers up to P50,000 in savings on chattel mortgage and first-year comprehensive insurance, based on a loan amount of P1 million payable over a 60-month term. Applicable loan amounts are from P500,000 to P5 million, with a minimum down payment of at least 20 percent of the brand-new vehicle's net selling price. Auto loan applications received from July 13 up to September 30 (and availed not later than November 30) this year may benefit from the promo.
"You may ask what's our motivation for doing this," said BFSB president Ma. Cristina Go in a speech during the media launch of the products. "We can very well stick to the old rates, continue to charge fees – which by the way are really meant not to pay the bank but the government for annotation and registration. If we do that… the bank can earn more. But do we really want to when we know that in a NEDA study, 79 percent of Filipinos aspire for a simple and comfortable life, with 61 percent of them dreaming of a medium-sized home, and 59 percent desiring to have their own car."
The executive cited a 2014 Bangko Sentral ng Pilipinas study revealing that only 27.5 percent of households have a vehicle – 60 percent which are motorcycles. "Most importantly, when we know we as a bank have the capability to help make these dreams happen so many more Filipinos can progress in life, so many more Filipinos can achieve their aspiration, sooner rather than later, today rather tomorrow, in the here in now rather than the far future." The turnaround time for car loan applications can be little as three hours.
Meanwhile, BFSB retail loans group head Dennis Fronda said that the auto loans are applicable to any brand-new vehicle for private use. In a release, the bank revealed it had "partnered with selected car dealers for exclusive deals (including) a free P147,000 all-new KTM 200 Duke, and up to P210,000 exclusive discount for BPI Family Auto Loan (qualified loaners) who are buying either an Isuzu mu-X 3.0LS-A AT, or D-Max RZ4E LS MT or AT in Luzon or Metro Manila participating dealers." Additional freebies include P200,000 worth of accessories and insurance, LTO registration, tint, and floormats.
Up to P130,000 in exclusive discounts are offered with Honda-brand vehicles, plus free three years LTO registration, three years warranty, and other freebies. For buyers of the Mazda CX-5, CX-9, and MX-5, BFSB offers free preventive maintenance schedule (PMS) service for up to five years.
Of course, along with easy ownership offers is a very real risk of defaulters. How does BFSB minimize the occurrence of this undesirable outcome? In an interview with Wheels, the bank's housing loans division head Herbert Tuason said that BFSB's approval process is "rigorous and thorough." He added, "We've always been very prudent (and it shows) in our very low non-performing loan (NPL) levels. Our total portfolio is at P135 billion, and our NPLs are at only 2.4 to 2.6 percent." The industry NPL rate is at four percent.
"For many who have limited savings, and/or whose earnings are only enough for day to day, how can you even think about buying a car, much less a house?" said Go. "This is what motivates us in BPI Family – to let them know that it is possible. That they can, and that we can teach them how through a combination of some savings and bulk through a housing loan or an auto loan."