A Q-ship is a vessel that looks like an innocent merchant ship but is heavily armed with concealed weapons. They were widely used—to great effect—by the British and German navies during the First World War and also by the US navy in WWII. They could sneak up on an unsuspecting warship and unleash a barrage of torpedoes and artillery fire before the enemy even knew what was happening.
The P1,170,000 Volkswagen Lavida is the modern, land-bound equivalent of the Q-ship. It looks like a wallflower sedan, especially in white. There are no sensual curves, no gaping grilles, no mean-looking headlamps—just a no-nonsense assemblage of clean lines, large windows, and sensible wheels. You should get a Lavida in red or black if you want a more distinctive color.
Until you floor the throttle. The Lavida has a seemingly small 1.4-liter petrol four-cylinder motor. But it boasts VW's clean and efficient BlueMotion technology and is turbocharged to the tune of 225Nm of torque that's delivered at a delightfully low 1,400 to 3,500 rpm.
If you're still waiting for the punchline, consider this: the ultra-sexy P1.576-million Honda Civic RS Turbo generates 220Nm at a high 5,500 rpm from a 1.5-liter turbo four. Yes, the 400-grand cheaper Lavida makes more torque than Honda's super-fine sedan (although the racy RS Turbo makes substantially more horsepower, 173 versus 130—something you'd only feel if you rev the engines at 5,000 rpm or higher).
But it's this surplus of torque at low revs that gives the Lavida such wonderful response whether from a standstill or at crawling speeds. It will instantly zoom away—with that wonderfully authoritative push on your back—like no other car in its size or price class. VW claims a 9.3-second zero to 100 km/h figure and a 200 km/h top speed; hardly impressive, but the Lavida feels much more energetic than that—a prime example of objective numbers belying subjective feel.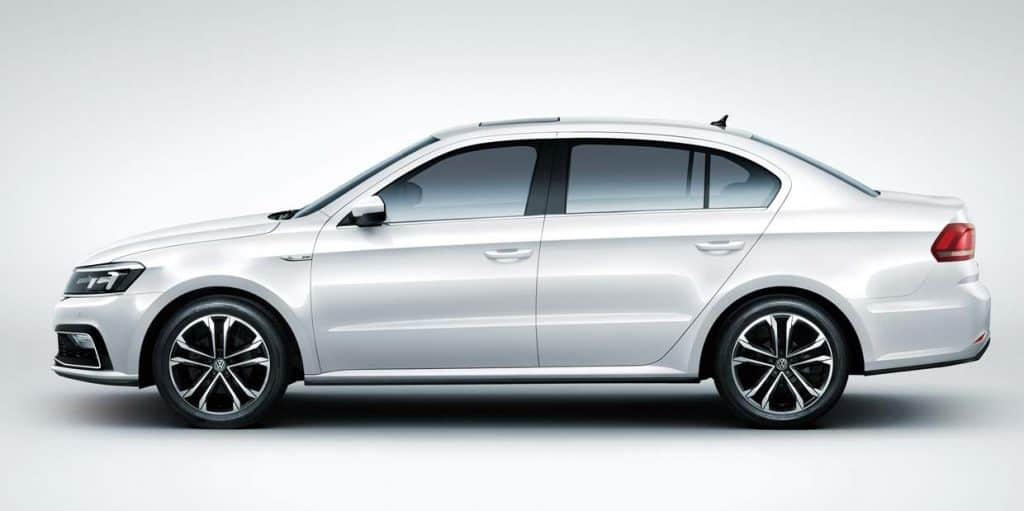 Nonetheless, the China-made Lavida is no poor man's Golf GTI-with-a-trunk. Handling is biased towards comfort rather than razor-sharpness—which is not a bad thing if you're often stuck in city traffic. A stiff ride to achieve go-kart handling can be tiresome if you experience it in gridlock everyday.
The Lavida glides over the broken truck lane pavement of Katipunan Avenue and C5 just as well as any compact sedan in its price range—it still doesn't have the body solidity of the similarly sized VW Golf/Jetta and Audi A3 stablemates, from which the Lavida inherits its platform. It rides on front MacPherson struts and a rear composite torsion beam and rolls on 205/55R-16 rubber.
The strong and fuel-efficient (I averaged an excellent 9 kilometers per liter in city driving) motor is mated to a seven-speed DSG transmission, which is VW's version of a double-clutch manual gearbox without a conventional clutch and which works just like an automatic, right down to the P-R-N-D-S gates on the gear lever. Happily, it works as advertised, performing much like any unobtrusive automatic and without any of the hesitation and recalcitrance of other brands' dual-clutch gearboxes.
Inside the Lavida's business-like all-black cabin are impressive levels of craftsmanship and build quality—all very much in keeping with its price point. The overall cabin design will not set new trends. In fact it almost borders on being dated (the current Lavida model we have first came out in China in 2012), with styling that's high on simplicity and minimalism.
Still, credit to VW for a highly functional dashboard. I'd still prefer to have the touchscreen audio system mounted high up the dashboard like in most new German cars and in Mazdas; otherwise everything else is a paragon of German ease of use and functionality. I find the steering wheel a tad too large, although it does have a semi-flat bottom and buttons for the audio and cruise control.
Space is generous, even for backseat passengers. The rear door is impressively large, perhaps a testament to its principal target market of China (where it's the bestselling VW model), which demands generous rear seat space and ease of entry. I only wish the center console didn't protrude too far back, limiting the knee room for the middle passenger. I like the design of the supportively sculpted leather seats, with their white double stitching.
So what other toys does the Lavida have? It's got the aforementioned cruise control, VW's Climatronic airconditioning (which boasts an air quality sensor and an anti-allergenic filter to reduce the presence of unpleasant substances, including fungal spores and allergens), tire pressure monitor, Electronic Stability Program (ESP), Hill Hold Control (which keeps the car from rolling backward when you're setting off on an uphill gradient), push-button engine start/stop, fog lamps with cornering function, a power moonroof, ISOFIX seats, dual airbags, and an airconditioned glove box.
Also noteworthy is VW's preventive maintenance service interval, which is just every 10,000 kilometers or one year (whichever comes first); most other brands have 5000-km service intervals. Its warranty is three years or 100,000 kilometers with a one-year free 24/7 roadside assistance. Not bad.
Understated Euro styling, spacious interior, high build quality, impressive fuel economy, sports sedan acceleration, comfortable ride, high value for money—what more can you ask for?