From the 80's through the mid-90's, Filipinos who wanted a car that would reflect their upwardly mobile aspirations would gravitate from more common models like the Toyota Corolla and Mitsubishi Lancer towards the one-size-bigger sedans like the Mitsubishi Galant and Toyota Corona.
In 1994 and 1995, the go-to Japanese executive car was the "Rayban" Galant, which was subsequently supplanted by the game-changing VTEC-powered Honda Accord from 1996 to 1999.
The Camry replaced the Corona as Toyota's midsize sedan in 1998 but that first-gen Philippine Camry failed to take traction against the all-conquering Accord.
But since 2000 when the Philippine's second-gen Camry was released, the midsize sedan genre has been Toyota's playground. That's a staggering 20 years and four model generations of dominance.
For the last ten years, however, it's been a dominance only in the Camry's own category. The new segment that has actually eaten up the executive sedan class is, of course, the pickup-based SUVs like Toyota's own Fortuner, the Mitsubishi Montero Sport, Nissan Terra, and Ford Everest. Today, the midsize sedan category has become a niche segment that represents less than half of one percent of the total new cars sold in the Philippines.
But that doesn't mean that the midsize sedan purveyors are taking that sitting down. In fact, with the current crop of executive sedans coming from Japan, one can say that it's nothing short of a renaissance.
Here are three oftentimes overlooked examples why those looking for a luxurious ride in the P2 million price range should be celebrating (and seizing) this opportune moment:
Honda Accord (P2,288,000)
The Honda Accord is the Volvo S60 of the Japanese executive class genre. Among the European luxury brands, Volvo has always been the most understated and functional in its exterior and interior design. Honda has been that, too. On the outside, the latest Accord seems to take a page from the European playbook: a sleek and streamlined side view, a minimalist rear end brightened up by upscale-looking LED taillamps, and a compelling front end marked by expensive-looking multi-point LED headlamps and a bold large grille that spans from the hood to the bottom of the bumper.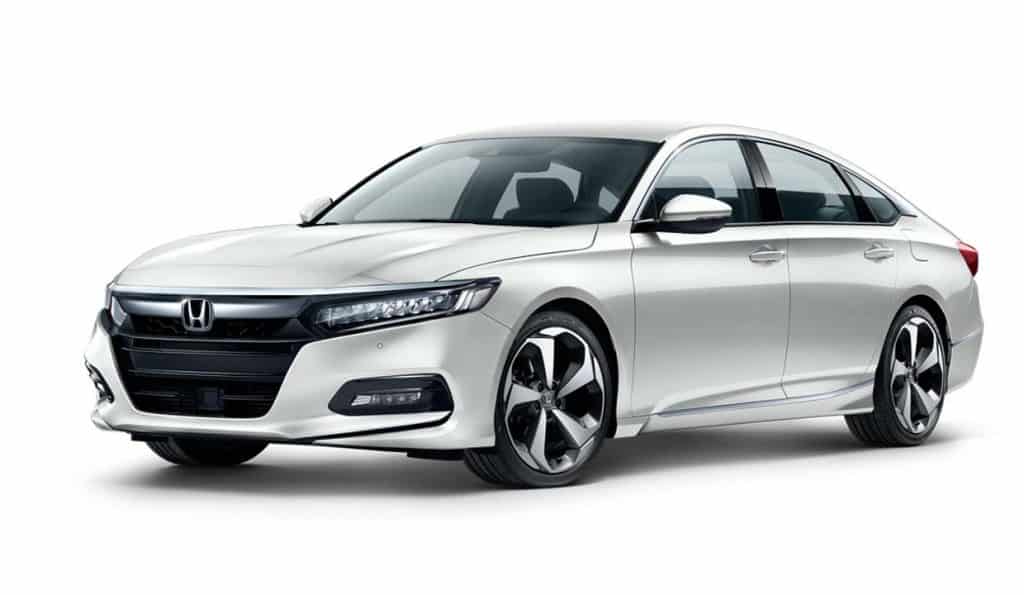 Compared to the Germans, Volvo has always been at the forefront of front-wheel drive technology (at least for a quarter century). Honda enjoys that distinction as well, relative to its compatriots. While almost all Japanese brands had rear-wheel drive cars from the 60s all the way to the 80s, Hondas have resolutely been front-wheel drive.
Where Honda might differ a bit from Volvo is that it has always been a driver's car. If you're a true car enthusiast who, like a wine connoisseur who can distinguish the subtle differences between types and vintages, you will always connect with the rich feedback from the controls, drivetrain, and suspension of a Honda — be it a Brio, a Jazz, a City, a Civic, or the flagship Accord. These have always been driver's cars of the highest order.
Today, the Accord retains that hard-to-achieve balance of comfortable ride and responsive handling. Its power is impressive, too. Despite a smallish 1.5-liter engine displacement (mated to Honda's Earth Dreams technology CVT), Honda managed to coax a strong 190hp and 260Nm of torque, thanks to turbocharging and DOHC VTEC technology. You'll need to rev it to 5,500 rpm though, to unleash all those horses; but high revs are part of driving enjoyment. In fact, while most cars' peak torque is achieved in the 3,500-rpm range, the Accord will deliver that torque peak from a diesel engine-like 1,600 rpm all the way to a sports car-like 5,000 rpm. That's about the flattest torque curve you'll ever see — testament again to the engine genius of Honda.
People buy midsize executive cars for their stature in the automotive hierarchy and, of course, for their luxury. In this aspect, the Accord doesn't disappoint: aside from a full complement of LED lighting inside and outside and the expected full-leather seats (eight-way power adjustable for driver, four-way power adjustable for passenger), the Accord boasts an eight-inch touchscreen eight-speaker infotainment system with Apple CarPlay and Android Auto with Bluetooth connectivity and two USB ports in front (plus two in the back), a full-color TFT digital instrument cluster, auto-dimming rearview mirror, ambient interior lighting, rear window sunshades, and Active Noise Control for a quieter-than-usual cabin.
Its safety features match those of Europe's finest: dual front, side, and curtain airbags; Vehicle Stability Assist; Hill Start Assist; Emergency Stop Signal; multi-view reversing camera with dynamic guidelines; Smart Entry with push-button start/stop and walk-away auto-lock; driver-attention monitor, lane watch camera, and six parking sensors (two front, four rear).
Best of all, the new Accord features Honda SENSING, which is a suite of high-tech electronic active and passive safety systems to make each drive as failsafe as possible. These features include Adaptive Cruise Control, Low Speed Follow, Collision Mitigation Braking System, Lane Departure Warning, Lane Keep Assist, Road Departure Mitigation, and Forward Collision Warning. Anyone who still manages to have an accident in the new Accord really shouldn't be driving a car.
Mazda6 (P1,995,000 to P2,250,000)
This is the BMW 5 Series of this trio. Like Honda, Mazdas have always been a ball to drive. But Mazda takes one step further by consistently making cars that almost always seem to tug at your heartstrings by their expressive and passionate design.
Back in the 80's, the sleek Ford Telstar five-door was the looker. That Ford was actually a Mazda 626, the precursor of today's Mazda6. In the mid-90s, we had the head-turning Mazda 323 Astina sport hatch with its pop-up headlights. The Astina was immediately followed by the sports car-like Mazda 323 Lantis, which was also a fastback sport hatch. No other Japanese car approached the groundbreaking design of the cars from Hiroshima.
Today, Mazdas are arguably the most seductively shaped cars in automobiledom, rivaling or even surpassing the master of sensuous sheetmetal styling, Jaguar. And among the current Japanese midsize sedans, the Mazda6 takes centerstage. Whether it's in show-stopping Soul Red or the more subdued but very elegant Machine Gray, the Mazda6 has a commanding road presence, much like a supermodel on the runway.
Jewel-like ultra-slim Adaptive LED headlamps and a beautiful chain mail-like grille detail create an extremely luxurious and upscale front end. Beautiful and shapely sculpting of its flanks creates an utterly delectable side view, while slim-line LED taillamps and a fastback roofline create a coupe-like, low-slung profile.
The Mazda6 also comes as a wagon body and while European luxury brands — including Jaguar — have often come up with awkward-looking shooting brakes and estates ("wagons" in Euro-speak), the Mazda6 wagon manages to retain its sedan sibling's sexy style. Mazda, in fact, sells twice as many Mazda6 wagons as it does sedans.
The best part is that the Mazda6 is as much a joy to drive as it is to behold. Powered by Mazda's cutting-edge 2.5-liter direct-injection, high-compression (13:1) SKYACTIV engine mated to a 6-speed SKYACTIV-DRIVE automatic, it gobbles up the road with 190ps and 252Nm of torque (at 4,000 rpm).
Notable gadgets include a head-up display, glass sunroof, a 7-inch Mazda Connect Bluetooth infotainment system with 11(!) Bose speakers, frameless auto-dimming rearview mirror, front and rear USB ports, and beautiful Deep Chestnut-colored Nappa leather seats (with 10-way power-adjustment for the driver and 6-way power-adjustment for the passenger) — both front seats are ventilated, by the way.
For safety and security, it has six airbags, ABS, DSC, Smart Entry System, and front/rear parking sensors, among a host of other features.
For even higher tech, the Mazda6 boasts Mazda's i-STOP idling stop system, the i-LOOP regenerative braking system, Blindspot Monitoring with Rear Cross Traffic Alert, Lane Departure Warning with Lane Keep Assist, and cylinder deactivation for improved fuel economy when you don't need power.
Subaru Levorg GT-S EyeSight (P2,098,000)
The Subaru Levorg is the Audi RS6 Avant of the bunch. The 590-hp RS6 Avant happens to be Audi's idea of an all-wheel drive turbocharged supercar disguised as a station wagon. It hurtles from zero to 100 km/h in 3.7 seconds and hits a top speed of 300 km/h. That's a wickedly fast way to bring home your grocery.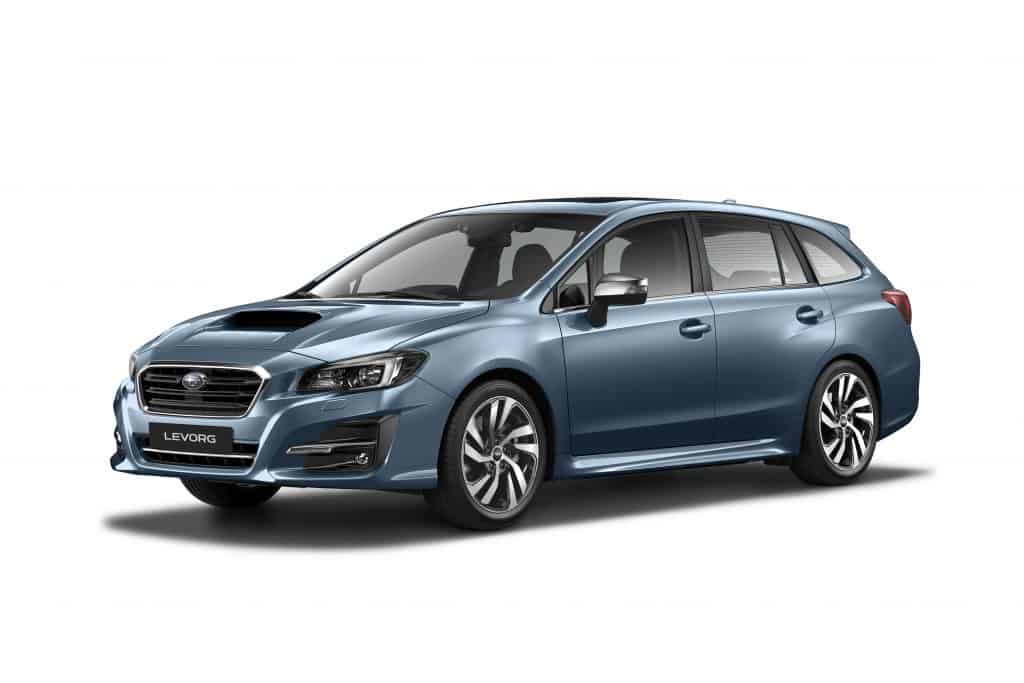 The Levorg is not as fast as the RS6 Avant — but you can get five Levorgs (or more) for the price of the super-Audi. But like the RS6 Avant, the Levorg is an all-wheel drive turbocharged wagon. Both brands have been long-time proponents of all-wheel drive and turbocharging.
I absolutely love the Levorg's damn-the-fuel gauge, lemme-at-em, go-for-it rocket-ship acceleration and cornering. Among this trio, the Levorg is the one you'll want to bring on a track day. Power and torque from the turbo 2.0-liter (up from 1.6) direct-injection boxer-4 is prodigious — 264hp and 350Nm. It will run rings around the two other cars here. I half-expected the Levorg's Lineartronic CVT to be the weak link in its drivetrain, but the tranny delivered smart and seamless up-and downshifts to keep the mighty boxer-4 in its meaty powerband. The Levorg is so quick that it's doing a fabulous job of keeping Subie enthusiasts from missing the late, great turbo Forester XT. (And if you're not a fan of the Levorg's styling, a sleeker all-new model is coming soon.)
Handling is yet another visceral delight, thanks to the Levorg's stiff body, sport-tuned and low-ride height chassis, and Symmetrical All-Wheel Drive. The Levorg is actually spun off from Subaru's compact-class Impreza, although it's substantially longer and much more expensive than the standard Impreza (the hefty surcharge coming from the WRX-derived turbo engine). The Levorg is even more expensive than Subaru's supposedly one-class-higher Legacy 2.5i-S EyeSight.
High-end features include full LED lighting inside and out, headlamp washers, a sunroof, dual tailpipes, 10-way power-adjustable driver's seat, aluminum pedals, 7-inch touchscreen infotainment system with Apple CarPlay and Android Auto, Smart Entry system, auto-dimming rearview mirror, among many others.
Even more noteworthy is the suite of state-of-the-art Subaru Eyesight Driver Assist technologies, to which is added knee airbags to the usual gamut of front, side and curtain airbags; and Subaru Rear Vehicle Detection. But I seriously doubt if you'll buy this 5-door hotrod for safety's sake. After all, accelerating from zero to 100 km /h in 6.6 seconds tends to cloud one's judgment.
The takeaway
These sedans and wagons have almost identical SRP's as the top-of-the-line variants of pickup-based SUVs. They're obviously not as rugged and as commodious as a pickup-based SUV (unless you choose the wagon variants), but they've got infinitely better driving dynamics, vastly more comfort, plus a lot more elegance, luxury and safety features. What's not to like?