Rising gas prices. Bumper-to-bumper traffic. It's no wonder that people are now taking subcompact cars seriously. This segment used to cater towards buyers on a very tight budget, hence being labeled as "tin cans on wheels." Now subcompact sedans are highly stylized, packed with cutting-edge features, and advanced safety — certainly worthy of your hard-earned peso. Here's a rundown on the available subcompact passenger cars currently on sale.
Chevrolet Sail (P791,888 – P917,888)
Developed primarily for developing countries, the Chevrolet Sail is built on the company's new-generation small car architecture and contains a bevy of family design cues such as Chevy's signature dual-port front grille. Apart from being stylish, it's also roomy inside. Ensuring a peppy yet efficient drive, the Sail is powered by a 1.3-liter engine mated to a 5-speed manual while the 1.5-liter engine comes with a 4-speed automatic.
GAC GA4 (P788,000 – P988,000)
Affordable, yet feature-rich, the GAC GA4 is representative of a new breed of Chinese cars. Contemporary in its looks and finely crafted inside, it comes not just with a "regular" 1.5-liter 4-cylinder engine, but even a 136-horsepower 1.3-liter turbocharged motor. It even proved itself a winner by bagging the Manufacturer's Class trophy at the 12-hour Kalayaan Cup Endurance Challenge.
Honda City (P820,000 – P1,068,000)
Often regarded as the technology leader of the segment, Honda's bestselling nameplate is reflective of the company's quest for continuous improvement. After a redesign, the new City receives a revamped front fascia with available LED lighting. Inside, it gets new paneling, and even the convenience of cruise control on higher-end variants. Power remains from Honda's tried-and-tested 1.5-liter i-VTEC engine mated to a CVT.
Honda Jazz (P868,000 – P1,088,000)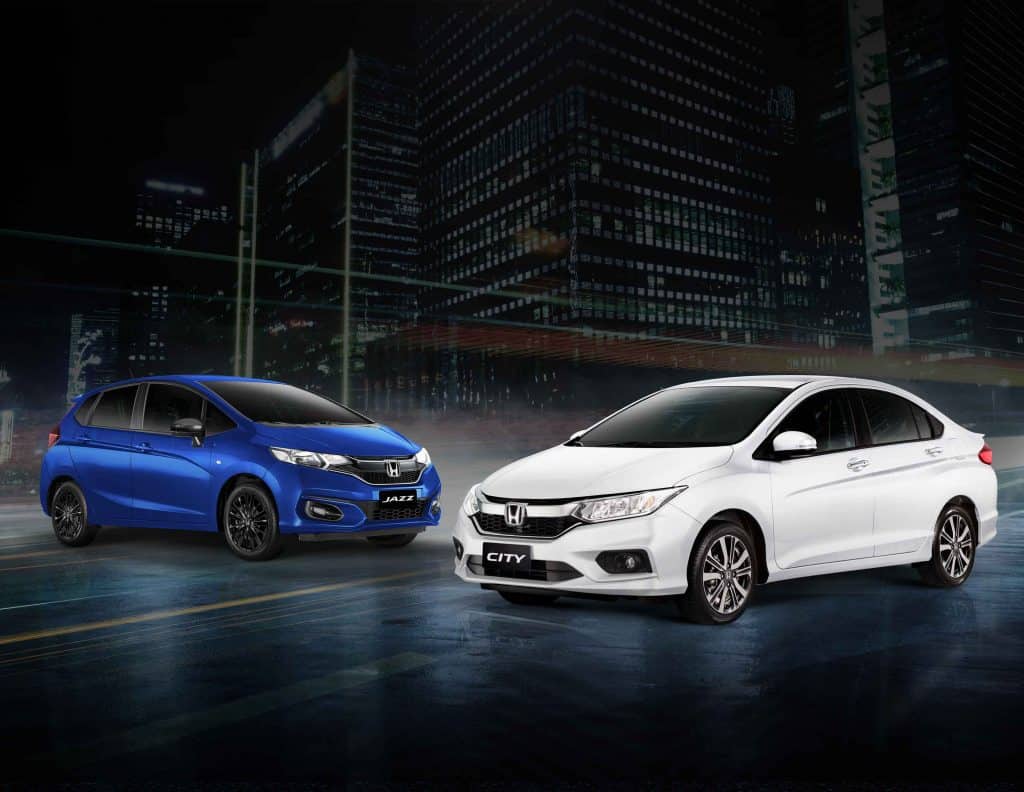 Flexibility has always been the Honda Jazz's trump card, and it's one that it continues to hold on to among its peers on this list. While its powertrain and platform are closely related to its sibling, the City, the Jazz's trick rear seats give it SUV-levels of cargo carrying capacity. Despite its focus on space and practicality, it remains tuned for sportiness giving it street cred among car enthusiasts.
Hyundai Accent (P790,000 – P1,038,000)
One of the vehicles that made Hyundai Philippines, the Accent is underpinned by a strong platform made of 54.5 percent Advanced High Strength Steel. This enables Hyundai's subcompact to improve its driving dynamics and comfort, without the added weight. The Fluidic Sculpture design is also in full display here, while the interior is modern and sophisticated. Aside from a typical 1.4-liter gasoline engine, the Accent comes with an atypical 1.6-liter turbodiesel engine.
Hyundai Reina (P638,000 – P688,000)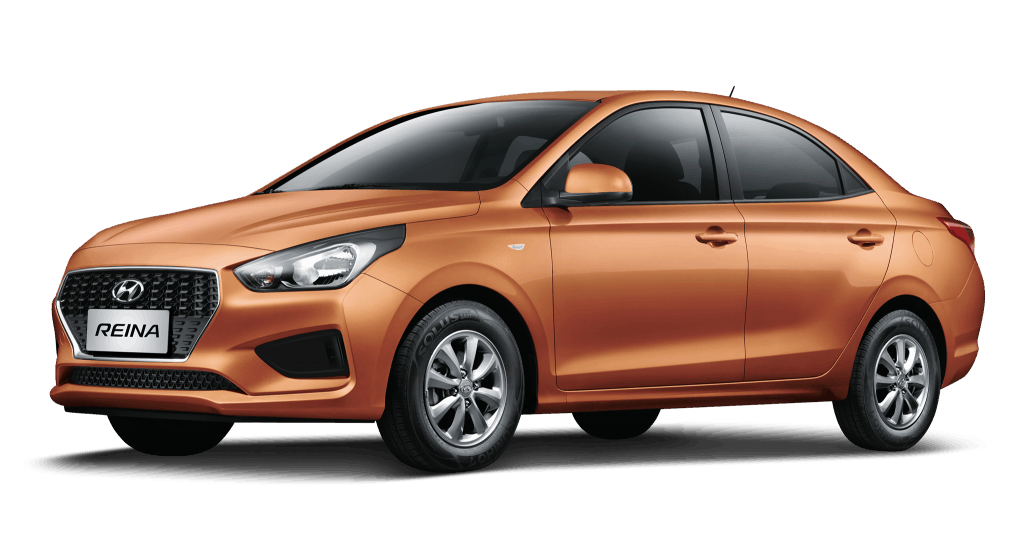 Tracing its roots to the previous-generation Accent, the Hyundai Reina is actually the mechanical twin of the Kia Soluto (see below). Yet, because locally Hyundai and Kia are handled by different distributors, it's going to be a battle of which Korean brand can do better. Slotting below its Accent in terms of price, the Reina brings a reputable list of specs for such an affordable price tag. The 1.4-liter Dual CVVT engine makes around 95 horsepower, enough for a daily runabout.
Kia Rio (P920,000 – P985,000)
Once available as a 4-door sedan, the Rio comes back exclusively with a 5-door body. A design collaboration between Kia's three international design studios, it mixes Korean spunk and style with European elegance and American's penchant for presence. The revamped features list includes a tilt/telescopic steering, front and rear charging ports, rain-sensing wipers, and a smart key push-button start/stop. Power though comes from a 1.4-liter Kappa engine mated to either a 5-speed manual or 4-speed automatic.
Kia Soluto (P625,000 – P735,000)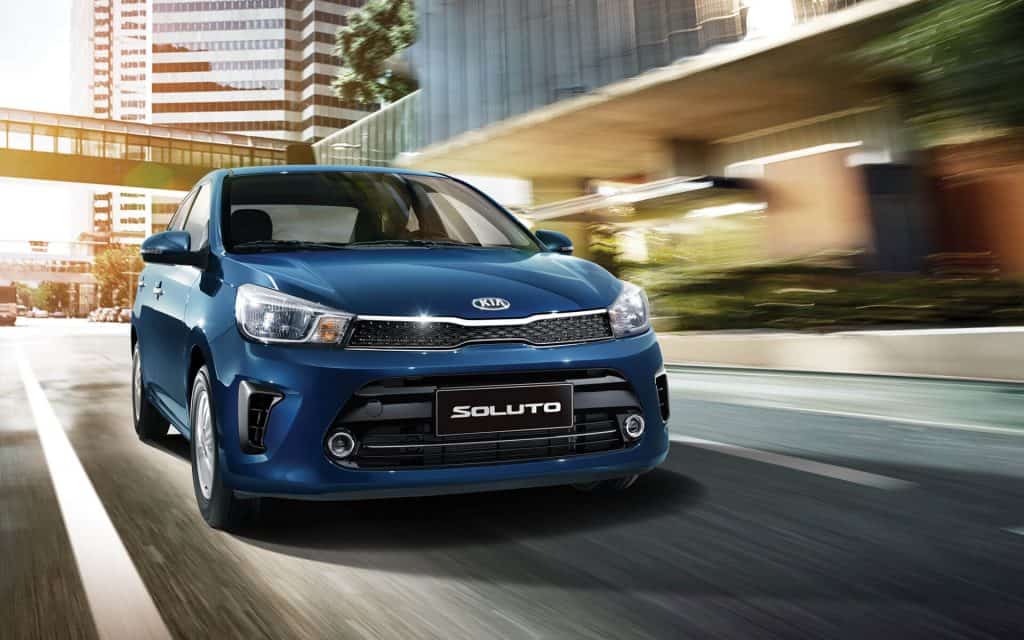 Mechanically indistinguishable to the Hyundai Reina (see above), Kia's gone for value rather than outright low prices. The large footprint offers great space while its proven platform makes it more comfortable and zippier than other sub-B segment cars. Plus, safety and convenience doesn't take a backseat with features such as dual SRS airbags, ABS with EBD, and a 7-inch touchscreen infotainment with Apple CarPlay as standard equipment.
Mazda2 (P995,000)
Mazda adds finesse to the 2020 Mazda2 evolving this "zoom-zoom" machine into one that expresses dynamism and elegance. The Mazda2 is bold, bright, and sporty with exquisite lines and high equipment levels. Powered by a 1.5-liter engine across the line, there's lots of pep too. Inside, it's all sporty, yet premium with various soft-touch materials and class-above features. Above all, it's the best handling in the bunch making it a great "bang for the buck" buy.
MG 5 (P658,888 – P938,888)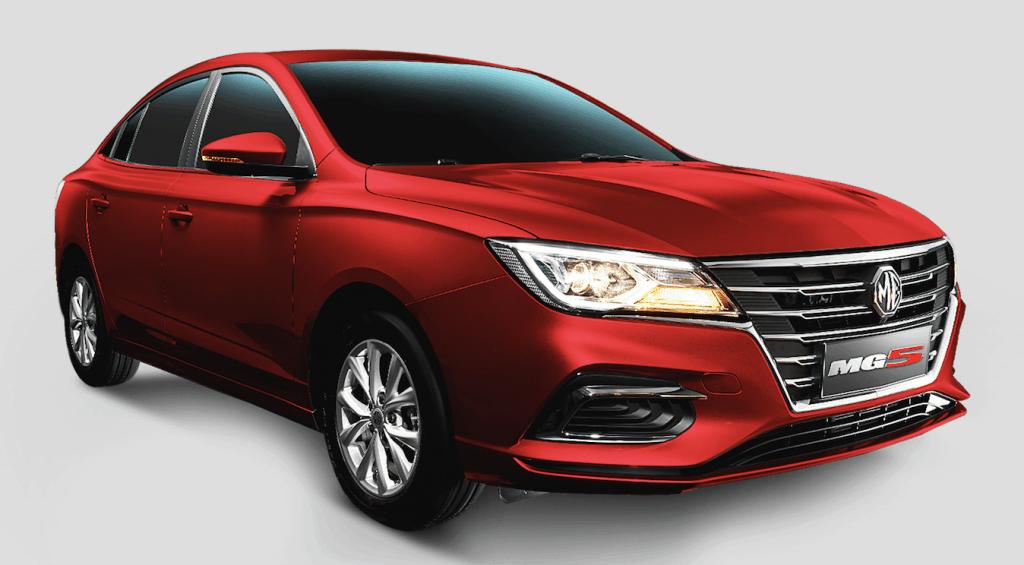 The newest entry in this fray, the MG 5 is MG Philippines's second vehicle with true mass-market appeal (the first being the subcompact crossover, the MG ZS). The MG 5 features class-leading size and packs class-exclusive features that don't break the bank. Features include LED headlights, a 10-inch infotainment system with Apple CarPlay, 16-inch wheels, push-button start/stop, and a sunroof. Powering the MG 5 is a 1.5-liter 4-cylinder engine making a good 112 horsepower and 150 Nm of torque.
Mitsubishi Mirage (P699,000 – P869,000)
As one of the few locally produced cars left, the Mirage addresses the need for a practical yet stylish sedan (or hatchback) that'll suit typical urbanite lifestyles. The Mirage comes with a fuel-efficient 1.2-liter 3-cylinder engine, an aerodynamically honed body, and a modernly executed interior. Despite its low price tag, the Mirage is well-equipped with features that include automatic climate control, push-button keyless entry, and even GPS navigation.
Nissan Almera (P657,000 – P933,000)
"Almera," derived from the Spanish word, "Almendra" (which means a large diamond), has been a Nissan nameplate since 1995 and has been through five design generations. The Almera is certainly timeless, while its interior is well-finished and features the largest rear seat space in its class. It also provides a rear comfort fan for improved air cabin circulation. The Almera is available with two engines — a 1.2 and a 1.5-liter and two transmissions depending on the variant, a 5-speed manual or Nissan's Xtronic CVT.
Suzuki Dzire (P549,000 – P698,000)
Suzuki's continued rise in the Philippine automotive market can be attributable to its solid, well-designed vehicles. One such offering is the Suzuki Dzire — a car that defies convention. Priced like a sub-B segment car, the Dzire is underpinned by a lightweight, yet rigid HEARTECT platform. Suzuki's focus on weight reduction means engineers afforded the use of smaller components, contributing to its affordable price. The 1.2-liter, 4-cylinder engine is available with a standard 5-speed manual or a unique AGS or Auto Gear Shift technology.
Suzuki Swift (P755,000 – P899,000)
Designed around the concept of "Evolution," the Swift retains features that buyers loved while also undergoing a more daring transformation. Like the Dzire, it's lighter yet bigger than its predecessor. Also like the Dzire, it has a 1.2-liter 4-cylinder engine but mated to either a 5-speed manual or CVT.
Toyota Vios (P662,000 – P1,098,000)
The Toyota Vios is the undisputed leader in the subcompact car segment, and is actually the best-selling passenger car in the country — period. The newest iteration trades the angular styling for more organic ones, resulting in one of the happiest-looking front-ends in the segment. The interior is quintessential Toyota — solid and well-built. Power comes from a choice between a 1.3- or 1.5-liter 4-cylinder engine, both of which are well-suited to the Vios's role as a dutiful Point A to Point B commuter. Aside from practicality, the Vios also ups its safety: it's the only vehicle available with standard seven airbags, ABS with EBD, and stability control all as standard equipment across the line.
Volkswagen Santana (P686,000 – P1,029,000)
Everyone aspires to own a German car, but only Volkswagen can give you a truly attainable means to do so. The Santana is timelessly handsome, crafted to the same Teutonic levels known the world over. Inside, it has an ergonomically simple cabin filled with all sorts of niceties. What sets the Santana apart though are the things you don't see: a sturdy laser-welded body and a choice between two robust drivetrains: a 1.4-liter MPI for the manual, and a 1.5-liter MPI with BlueMotion for the automatics. Its German quality made affordable that its PMS is just once a year (or every 10,000 kilometers).