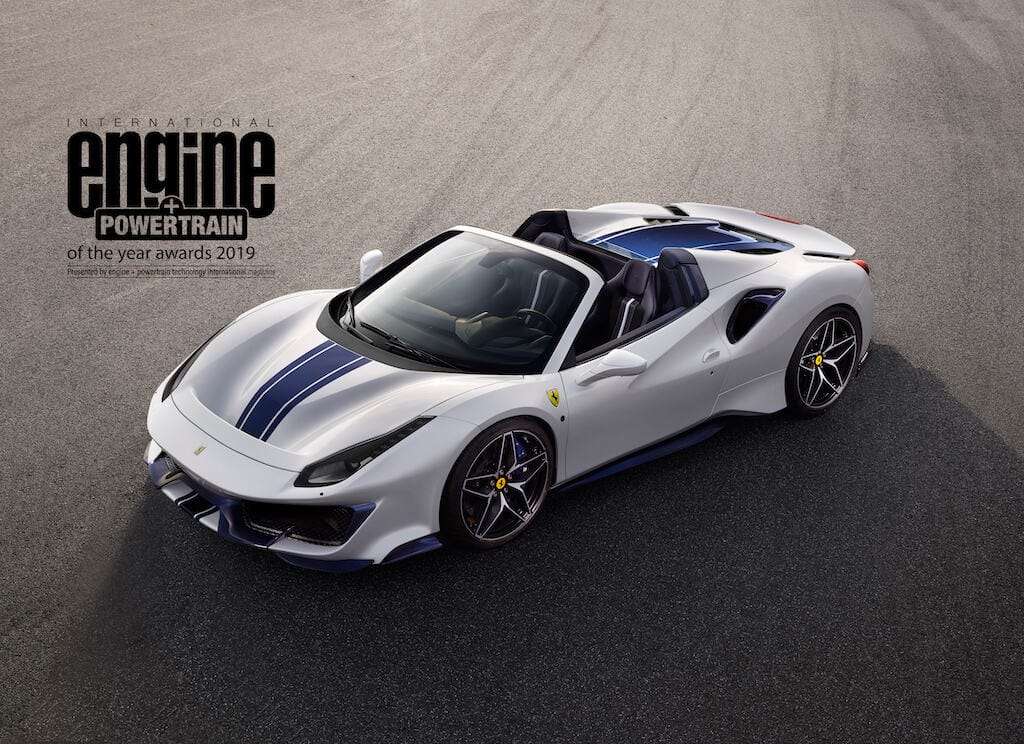 Ferrari triumphed at the 21stedition of the International Engine & Powertrain of the Year, taking the overall title with its 720-cv, 3.9-liter V8 for the fourth straight year – a feat never achieved by any other engine in the history of the awards.
The 390-cc V8 engine that powers the 488 GTB, 488 Spider, 488 Pista, and 488 Pista Spider took the overall honors and also the Performance Engine award. With this year's change from capacity categories to power output categories, to ensure a fairer judging of hybrid powertrains, Ferrari's V8 took a further two categories. The same engine was voted the best power unit over 650ps, while the 3855-cc version that powers the Portofino (with 600 cv) and GTC4Lusso T (with 610 cv) was awarded in the 550 to 650ps category.
As a result, this year's ceremony in Stuttgart, Germany saw Ferrari's tally of International Engine & Powertrain of the Year awards rise to an impressive 31.
Ferrari 488 Pista
Technical specifications
ENGINE
Type 90-degree V8 turbo
Overall displacement 3902 cc
Bore and stroke 86.5 x 83 mm
Max. power output* 530 kW (720 cv) at 8000rpm
Specific power output 185 cv/l
Max. torque 770Nm at 3000 rpm
Max. engine speed 8000rpm
Compression ratio 9.6:1
FUEL CONSUMPTION/CO 2EMISSIONS**
Fuel consumption 12.4l/100 km
CO2 282 g/km
Ferrari Portofino and GTC4Lusso T
Technical specifications
Type 90-degree V8 turbo
Overall displacement 3855 cc
Bore and stroke 86.5 mm x 82 mm
Max. power output * 441 kW (600 cv) – 449 kW (610 cv) at 7500rpm
Maximum torque 760Nm between 3000 and 5250rpm
Max. engine speed 7500rpm
Compression ratio 9.45:1 – 9.4:1
FUEL CONSUMPTION/CO 2EMISSIONS**
Fuel consumption 11.7– 12.9 l/100 km
CO2 267 – 294g/km
* With 98 octane petrol
**WLTP combined