The star of Toyota's mighty portfolio is now here.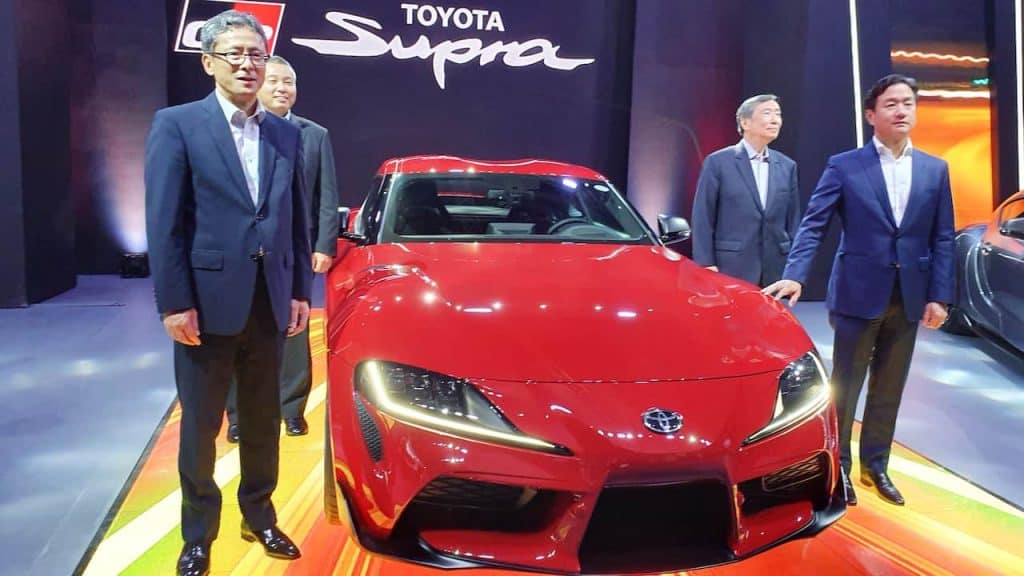 After teasing the public with a special appearance of its flagship sports car at the most recent Vios Racing Festival, Toyota Motor Philippines (TMP) makes it official with the formal launch this week of the all-new, fifth-generation Toyota GR Supra. 
Also known as the A90 or Mk. V, this is the first-ever Toyota Supra to be retailed in the Philippines, and marks Toyota's entry into the so-called specialty passenger car segment – currently able to move 60 to 85 units a month per TMP. 
The new Supra earns a "GR" prefix, standing for Gazoo Racing, which "embodies Toyota's commitment to overcoming every limit to make even better classic cars by forging new technologies and solutions under the extreme conditions of motorsports."
In a speech, TMP president Satoru Suzuki said that "only a limited number of units will be available through 16… certified GR Performance dealerships nationwide," and expressed confidence that "the Philippine market will be receptive, considering how we have steadily recovered for the first half of 2019." The executive revealed that TMP has already sold 73,454 total vehicles, and considers the GR Supra "the perfect bookend to our three decades of meaningful partnership that has set the standards for the entire automotive industry," as the company nears its 31stanniversary this August.
Meanwhile, in a release, TMP first vice president Cristina Arevalo averred, "Bringing the legendary Supra here is something we have always wanted to do, and we are positive that there are countless Toyota fans out there who share the same enthusiasm."
The new-generation Supra arrives after a lengthy 17-year hiatus, and first debuted globally in Detroit, USA. All units come direct from the Magna Steyr plant in Graz, Austria. Toyota shares that the GR Supra is "true to its Japanese DNA, which hailed from early grand tourers like the A40 to the futuristic concept car FT-1."
To be sure, there is much talk about the fact that the Supra shares its engine and platform with the BMW Z4. And a Car and Driver article said that "Supra loyalists weren't shy in expressing their indignation about the union… that a co-developed car was destined to be viewed by history as nothing more than a Toyota badge slapped onto a BMW."
But while an in-line 3.0-liter six-cylinder from BMW resides in the Supra's engine bay, and both share transmission, dampers, and steering rack, to say that they're siblings or even twins is erroneous.
"In the Supra, we partnered with another brand because the straight in-line six is an engine not existing in the Toyota lineup," said TMP supervisor for product planning Jovie Roqueza in an exclusive interview with Wheels. "For Toyota to develop its own in-line six would cost a lot of money, and that will defeat the whole purpose of the Supra as being a possible or attainable pure sports car."
That's indeed a main raison d'être for the Supra – to make a pure sports car just a little more attainable for the market, while channeling the legend of the storied Toyota nameplate. When compared to the 86, the Supra, according to Roqueza, "is a different concept."
He maintained, "Of course, the 86 is looking at the AE86. That being its heritage, it's geared towards mid-speed cornering and drifting. The Supra itself (is about having) driving resonance… it's basically unifying the driver intention with the vehicle feedback. Designers wanted to make the driver feel that he's in full control of the vehicle and not have the vehicle control him."
There was much at stake in the development of the Supra, with no less than Toyota Motor Corporation president Akio Toyoda himself scrutinizing the goings on. "The Supra is actually the car that he grew up driving, so this fifth-generation Supra is his brainchild, his baby," explained Roqueza. "So, it was all hands on deck in Toyota, especially the GR team. They had a lot of expectations and big name to live up to."
The TMP official posited that the niche the GR Supra enters is one fraught with uncertainty, "This segment is made up of non-cyclical buyers. Other segments are pretty easy to forecast because every five years, these people tend to replace their classic cars. "
Still, Toyota is hoping to recreate its past success in the 86 when it debuted in 2013. "The segment grew 500 percent higher than the actual monthly demand. We can also foresee the Supra creating this type of segment-shaking impact, but the exact number we cannot disclose since we're still doing pre-selling," Roqueza said.
The new GR Supra's athleticism is clear from the get-go as it is stands low and wide as possible, a look that Toyota engineers call "condensed extreme." A large grille is flanked by large air intakes, and character lines run down to the flared spoilers and trapezoidal bumper with dual exhaust pipes and diffuser. It runs on large 19-inch forged aluminum wheels with custom-made Michelin tires. Its headlamp assembly features six-lens LEDs integrating daytime running lights and turn signals, while the rear lamps combine turn, tail, and stop into one main ring. Dot-type LED backup lamps are located in the center of the lower bumper. A Follow-Me-Home lighting feature is also available.
The cabin is rendered in black with muted carbon accents. Alcantara sports seats are equipped with lumbar support and eight-way power memory adjust. The three-spoke leather steering wheel has both manual tilt and telescopic adjust. A narrow-sectioned dashboard helps to facilitate forward visibility. Advanced heads up display (HUD), paddle shifters, 8.8-inch TFT-LCD touchscreen multi-information display, Bluetooth and USB connectivity, dual-zone push-type air-conditioning, and a 12-speaker high-fidelity surround sound system powered by JBL complete the accoutrements within.
The all-new Toyota GR Supra is priced as follows: P4.99 million (Prominence Red), P5.05 million (Lightning Yellow, Deep Blue Metallic, White Metallic, Silver Metallic, Ice Gray Metallic, and Black Metallic), and P5.09 million (Matte Storm Gray Metallic) and is available at: Toyota Alabang, Toyota Commonwealth, Toyota Makati, Toyota Manila Bay, Toyota Otis, Toyota Pasong Tamo, Toyota Quezon Avenue, Toyota Bacoor, Toyota Batangas, Toyota Calamba, Toyota La Union, Toyota San Fernando, Toyota San Pablo, Toyota Cebu, Toyota Mabolo, and Toyota Davao City.