If its iconic smaller sibling SAV (sports activity vehicle, the BMW parlance for SUV) X5 is known as "The Boss," the first-ever X7 takes its place as the flagship of the X lineup, and earns the moniker "The President." A commensurate P9.29-million price tag all but assures its exclusivity. Of course, not many people can be president.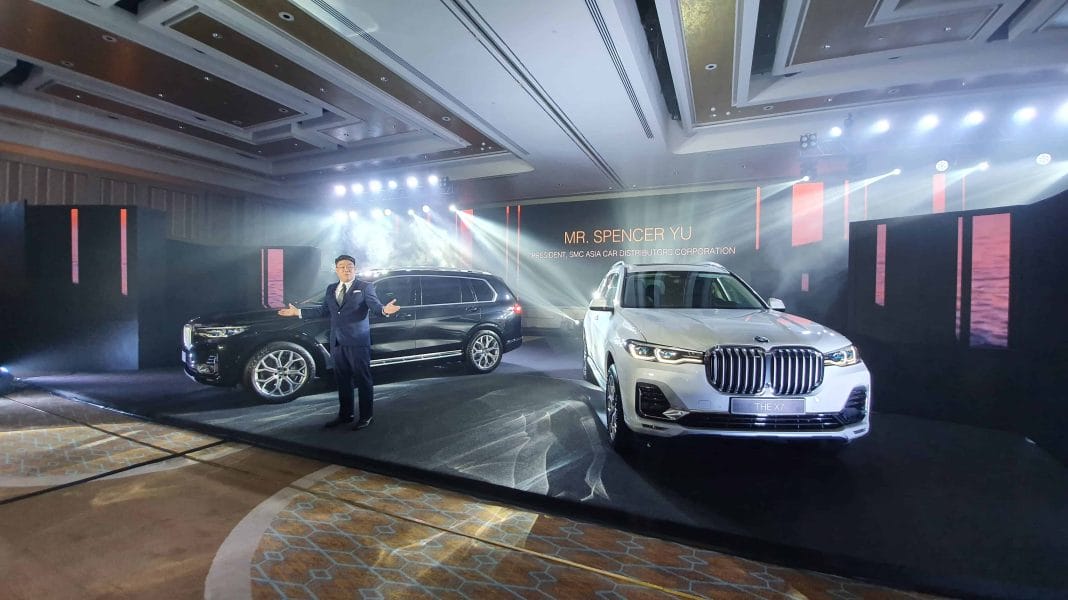 The full-size luxury SUV (excuse us, SAV) was launched locally last Wednesday in Makati City by SMC Asia Car Distributors Corporation (SMCACDC), official importer and distributor of the Munich-headquartered luxury carmaker.
According to a company release, the X7 "brings a fresh sensation of space to the luxury segment, thanks to the impressive open expanses and top-class design of its interior and its state-of-the-art equipment features. At the same time, the advanced powertrain and chassis technology of the X7 ensures it offers all the off-road prowess, excellent ride comfort and agile on-road handling for which SAVs are renowned."
SMCACDC president Spencer Yu said the vehicle (is) "set to shake up the full-size premium sport utility segment (and) marks the culmination of creating the biggest and most luxurious BMW sports activity vehicle to date." Addressing the gathered audience in the Fifth at Rockwell, he revealed that the X7 will "come standard with a five-year, 200,000-kilometer bumper-to-bumper warranty."
The X7 is part of the brand's "offensive in the luxury segment, which is itself a key element in the company's "Number One > Next" strategy."
In a speech ahead of the vehicle's reveal, BMW Group Asia managing director Christopher Wehner reported on 2019's first-half sales growth for key models of the X lineup. X2 sales hiked by 19 percent, the X3 by 67 percent, and the X4 by 71 percent. Even the newly launched X7 already moved 13,555 units by the end of June – less than three months after its market launch. All told, the X line registered more than 467,000 in sales. For the first time ever, BMW vehicle sales breached the one-million mark in half a year (1,075,959).
When asked in an exclusive interview with Wheels if he sees the market preference for BMW's X line carrying over into the rest of the year, Wehner replied: "Yes I think this will be a stable trend because for many customers, the SAV has a lot of advantages. You have lots of space, lots of functionality, a high seating position which is comfortable. You don't have disadvantages. We offer the latest technologies – the kind we have in our sedans."
He continued: "It's now a worldwide trend (that) started in the US. Nowadays, in nearly all countries in Europe and Asia, you'll see a shift from sedans to SAVs. This is why the SAV segment is as strong as it is with 43 percent of our total sales."
X7 vital stats
Wehner said that X7 "is proof that BMW continues to push boundaries." It stretches 5,151mm, is 2,000mm wide, and stands 1,805mm, with a wheelbase of 3,105mm
An exceptionally large kidney grille dominates the front of the X7 to give it a formidable presence, not to mention easy identifiability as a BMW vehicle. Illumination is provided by LED fog lights and BMW Laserlight headlight technology, "offering a high-beam range of up to 600 metres and can be easily identified by the blue X-shaped elements inside the headlights."
The vehicle is marked by large windows, high ground clearance, and roofline. On its rear are horizontal lines, slim LED lights and a two-section split tailgate for easier loading and unloading.
Hefty 21-inch light-alloy wheels are fitted with run-flat tires.
Interiors
The X7 is a roomy, three-row seven-seater, affording even third-row passengers comfort and convenience. They can settle into full-size seats complete with armrests, cupholders and USB ports. All seats can be adjusted electronically. Cargo capacity can range from 326 to a maximum of 2,120 liters.
Standard on the sole trim of the X7 here are BMW Individual Extended Leather Trim "Merino" Upholstery, five-zone automatic climate control, an Ambient Air package, Panorama glass roof Sky Lounge, CraftedClarity glass applications, a Harman Kardon surround sound system, Rear-seat Entertainment Professional system, Luggage-compartment Package, and ambient lighting including the Welcome Light Carpet.
Engine
Under the hood of the BMW X7 xDrive30d is a robust 3.0-liter TwinPower Turbo in-line six-cylinder diesel serving up 265hp and 620Nm. It is mated to an eight-speed Steptronic transmission with BMW xDrive – BMW's intelligent all-wheel-drive system for "optimized efficiency and rear-biased setup."
Chassis technology is standard, featuring Adaptive Suspension with electronically controlled dampers, and air springs at both axles. The vehicle's ground clearance can be varied by up to 80mm with either the press of a button or by using the BMW Display Key.
Driver-assistance systems
BMW says the X7 boasts a "comprehensive array of driver assistance systems" in aid of comfort and safety: six airbags, anti-lock brakes, dynamic stability control, dynamic traction control, hill descent control, and Active Protection. The last feature closes windows and tightens seatbelts when the system detects an accident about to happen. Meantime, "integral active steering helps improve road safety and comfort by turning the rear wheels slightly when needed, and adjusts the weight of the steering feel for optimum maneuverability." Cruise control with a braking function is standard, as well as Parking Assistant Plus, which "offers a range of functions including Park Distance Control (PDC) front and rear, together with rear view camera and surround view."
Also standard in the X7 is the BMW Live Cockpit Professional – comprised of a fully digital cluster and a control display, both with a diagonal measurement of 12.3 inches with Navigation fitted as standard. Apple CarPlay is supported, together with Bluetooth and USB connectivity.
The BMW is manufactured and assembled in Spartanburg, Orlando. When asked to compare it with the X5, Wehner replied, "The X5 is more compact, even if you can get it with seven seats, too. The X5 is easier to handle, but not as comfortable in space. The X7 also gets air suspension for a more comfortable ride… It has a lot more presence and status."
Presidential, for sure.