As a way of sustaining the brand momentum after a series of launches during its inaugural year, MG Philippines, under the aegis of The Covenant Car Company, Inc. (TCCI), launched its fourth product — the all-new MG 5 sedan.
During the MG Live! concert event at the Glorietta 2 Activity Area on Thursday, MG Philippines finally unveiled the MG 5, said to be a challenger in the highly-contested subcompact sedan segment.
Although the MG 5 is competing in the subcompact category, MG Philippines' latest offering boasts dimensions that is more similar to mid-sized sedans. The new MG 5 is 4,601mm long and 1,788mm wide, making it the longest and widest in its class. Aside from that, it also offers ample legroom for the driver and vehicle occupants at the back with the longest wheelbase of 2,680mm.
Under the MG 5's hood is a 1.5-liter, fuel-efficient 16-valve DOHC — a naturally aspirated engine capable of producing a decent 114ps of horsepower and a best-in-class 150Nm of torque. The sedan's powerplant is mated with either a five-speed manual transmission or a CVT gearbox with manual option.
Touted to be the best-equipped among its peers, the MG sports an array of features such as a user-friendly 10-inch touchscreen infotainment system that is both Apple CarPlay and Android Auto ready.
It also has a 360-degree camera to provide drivers a bird's eye view of the vehicle while maneuvering through traffic or while negotiating into tight parking spaces. Aside from those nifty features, the MG 5 also offers a powered driver's seat for optimum comfort along with an automatic on/off LED headlamps.
The MG 5 also has a number of safety features such as driver and passenger airbags, four-wheel disc brakes, hill start assist, auto brake hold, star/stop button, cruise control, electronic climate control, tire pressure monitoring system, reversing camera, and a stylish sunroof.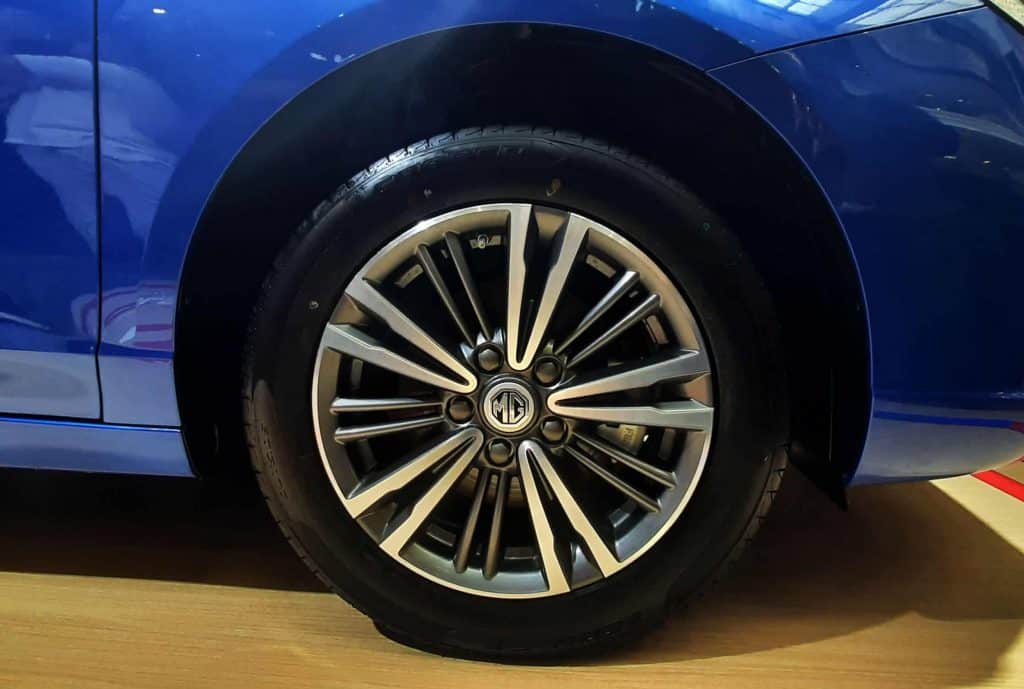 The price points of the MG 5 variants are as follows:
1.5-liter STD 5MT – P658,888
1.5-liter STD CVT – P718,888
1.5-liter COM CVT – P848,888
1.5-liter DEL CVT – 938,888
In terms of aftersales service, MG Philippines offers the MG 5 with a five-year or 100,000km warranty (whichever comes first) and a one-year periodic maintenance service to ease the mind of the customers. The My MG mobile app is also available for download in order for car owners to easily schedule vehicle servicing. The app can also be utilized to book a visit from MG Philippines Mobile Garage service caravan that provides MG owners with vehicle home service for major technical issues. On the other hand, the My HERO Services provides 24/7 roadside support through the MG Philippines hotline +632 5328-4664.
During the launch, Atty. Alberto Arcilla, president and CEO of TCCI-MG Philippines, said that the MG 5 Sedan is the car that will keep the company's momentum going into the fourth quarter of 2019.
"We look forward with optimism as we launch our fourth new vehicle in the Philippine market in just under 12 months. (It's) a model that we believe will be a significant challenger in the large and highly competitive subcompact sedan segment," Arcilla said.
"The MG 5 is equipped with vehicle features that are found in more premium car segments, outstanding exterior and interior dimensions, and comes at a very competitive price point making it one of the most attractive options in its category," Arcilla added.
Aside from MG 5, the event also showcases the full vehicle lineup of MG Philippines such as the MG ZS Crossover SUV, RX5 SUV, as well as the MG 6 Fastback sedan. Also featured is a vintage 1974 MG B V8 in British Racing Green which pays homage to MG's rich British motoring heritage as well as the brand's roots in the UK since circa 1924.
The MG Philippines display at the Glorietta 2 Activity Center offers visitors a free test drive of the newly launched MG 5 as well as other vehicles and SUVs of the MG Philippines' vehicle portfolio from October 3 to 6.