During the formal ceremony held last January 22, Isuzu Philippines Corporation (IPC) turned over 30 brand new modernized public utility vehicles (PUVs) to the Pangkalahatang Sanggunian Manila & Suburbs Drivers Association (Pasang-Masda), among the country's biggest transport groups.
The turnover ceremony was held at Meycauayan Common Terminal, Meycauayan, Bulacan; and represents the 3rd batch of modern PUVs Pasang Masda has acquired. The first batch of 15 units were turned over in October 29, 2018, the second batch of 15 units on November 7, 2019.
The event was attended by top executives of IPC, Land Transportation Franchising and Regulatory Board (LTFRB) Chairman Martin Delgra, Meycauayan Mayor Ruth Villarica, Department of Transportation Undersecretary Mark de Leon, representatives of Inteco Quezon Avenue and body build partner Almazora, members of air conditioning supplier Coolaire, and officers of Pasang Masda.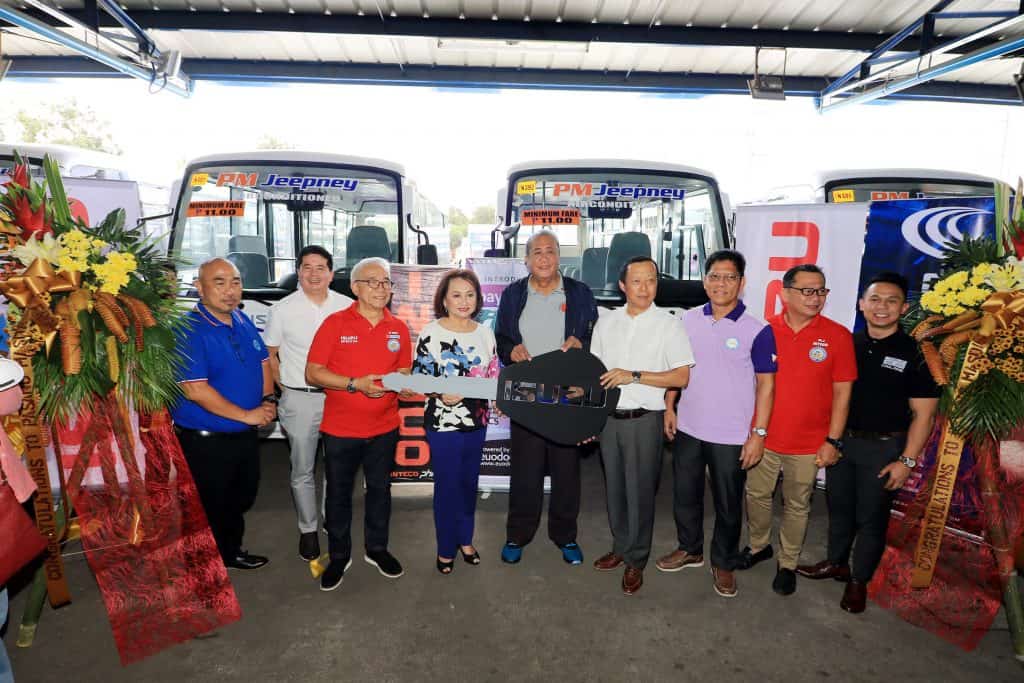 IPC President Mr. Hajime Koso, in his remarks, said, "As the number one local one-stop shop for trucks in the Philippines, Isuzu is proud to offer its end-to-end services from delivering the vehicle units to giving our clients outstanding after-sales services."
The Isuzu PUVs are not only beneficial to the commuters but also to the drivers and operators as it increases the quality of their livelihood. Isuzu modern PUVs are very versatile, allowing for customization that any PUV operations may require.
The 30 units will ply the busy route between the growing cities of Malolos and Meycauayan in Bulacan.
During the turnover ceremony, IPC also exhibited its newest addition to the PUV lineup, the Isuzu TRAVIZ Lightweight truck with Utility Van (Class 1 PUV) which passed PUV modernization requirements of the DOTr Omnibus Franchise Guidelines. The Class 1 Isuzu PUV is suitable for crowded inner-city road and Isuzu Traviz Class 1 PUV is a good alternative to have a modernized jeepney for transport cooperatives.
The modernized PUVs, assembled using the Isuzu QKR77 platform and the rear body designed and manufactured by Almazora Motors Corporation, are air-conditioned Class 2 PUVs assembled in the Philippines and is equipped with Euro IV-compliant 4JH1-TC diesel engine that delivers excellent fuel economy. The air conditioning system developed and provided by Coolaire Consolidated Inc boasts ducted airflow and a high-cooling capacity to keep commuters comfortable regardless of outdoor temperature.
The PUV body is compliant with Philippine National Standards (PNS 2126:2017), with the passenger cabin providing more space for passengers to move easily inside. The passenger door is safely situated on the right-hand side, facing the sidewalk. Other design features of the body include panoramic windows and windshields, full-body insulation with GeneQ shield, automatic door closer, high-grade air conditioners with equal cooling distribution, and provisions for persons with disabilities.
Completing the modernized look and features of the new PUVs are the LED electronic signages for vehicle route information, fire extinguishers, CCTV, dashcam and back-up cameras, and the automatic fare collection provided by Euodoo Technologies, Inc. These accessories are geared for passengers' safety, entertainment, added convenience in fare collection and in compliance with LTFRB and DOTr regulations.
For more information, log on to www.isuzuphil.com.