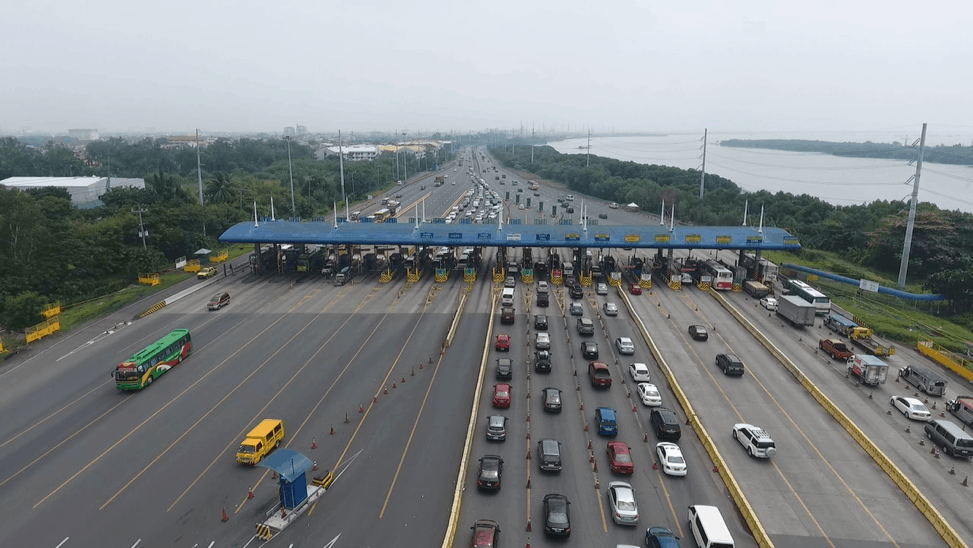 The Metro Pacific Tollways Corp. (MPTC)-unit Cavitex Infrastructure Corp. (CIC) will implement a stop-and-go traffic scheme on the Manila-Cavitex Expressway (CAVITEX) next week as part of the second phase of its road enhancements along the toll road.
According to the CIC, a 30-minute stop-and-go scheme will be carried out during the girder launching along the southbound portion of the Las Piñas Bridge on Feb. 24, from 8 a.m. to 4:00 p.m. and on Feb. 25, from 12:01 a.m. 4 a.m. Additionally, the company said that a counterflow scheme will be implemented for class 1 vehicles to mitigate the possible traffic congestion that might happen during the activity.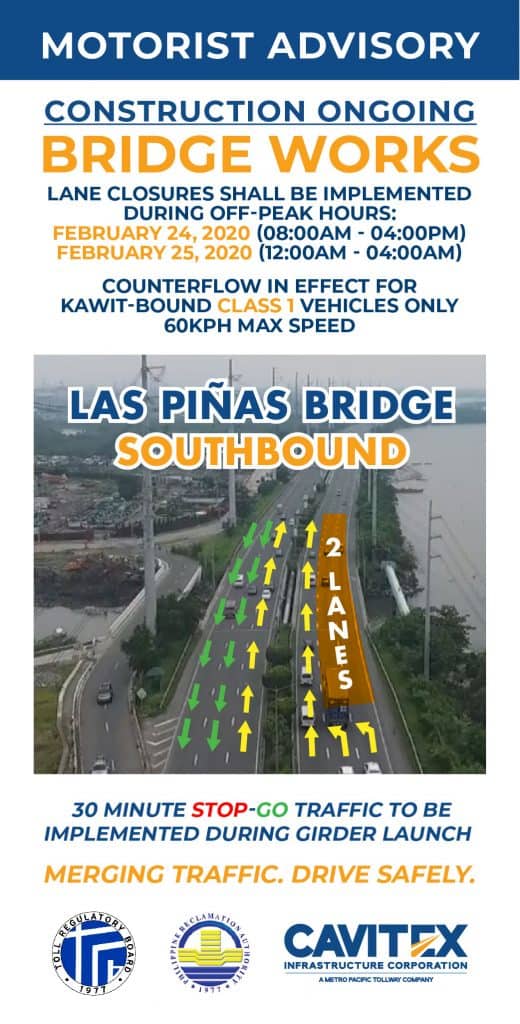 The second phase of the road enhancements includes the widening of bridges in Wawa, Las Piñas, and Parañaque from three to four lanes. It also entails the installation of girders along the northbound and southbound portions of the bridges.
In a statement, CIC president Bobby Bontia thanked the motorists for their continued understanding and cooperation.
"We are aware that this project will be a temporary inconvenience, rest assured when the works are over and the project completed, they will surely feel the ease of passage in Cavitex. Our motorists are number one, we listen to them, their suggestions and this project is a long-term solution to their feedback on arresting traffic congestion," he said.
Bontia said that once the second phase of the project is complete by the second quarter of 2020, they will be able to make room for motorists plying the tollway, most especially that traffic volume has increased by 9% since January 2019.
"Our traffic management plans are in place, we will be deploying marshals in areas under construction," he added.
The company has also encouraged motorists to switch to the electronic toll collection system such as the Easytrip RFID in order to quickly pass through the toll plazas.
The Cavitex is part of a road network being expanded by the MPTC. It will connect to the 7.7km C5-Southlink which will traverse Taguig, Las Piñas, Parañaque & the 45km Cavite-Laguna Expressway, which connects at Kawit and will traverse Imus, Governor's Drive, Aguinaldo Highway, Silang, Sta Rosa, Laguna boulevard until Mamplasan, Biñan, Laguna.