Cheap after-market accessories. A stockyard of useful, second-hand car parts. That flood-prone and pothole-riddled street, and the occasional random man calling out to passers-by — offering samples of window film and whatnot.
I think every single Filipino who's lived in Metro Manila and who's ever owned a car is familiar with the bustling, gritty neighborhood of Banawe – the iconic, "after-market car parts and services" nerve center of the metro. But I reckon that not as many people are aware that the territory is also home to a myriad of awesome, hole-in-the-wall eats – and for that, I'd like to (reluctantly) share my list of succulent food items to try, should you ever find yourself shopping in the area (although frankly, I'd specifically head to this place for a food trip whenever I have the excuse!).
My choice of vehicle for the occasion is the Mitsubishi Mirage G4. I've liked this car ever since I first tried driving it (and its hatch counterpart) in Thailand, during its global launch many years back. At the time, I was intrigued by the introduction of a three-cylinder engine which instinctively made me ponder about balance and driving dynamics. To my delight, I discovered that Mitsubishi, with its solid expertise in building consumer cars that are known to perform, managed to engineer the Mirage in such a way that it still felt like one was driving a four-cylinder vehicle – but with the significantly measurable difference in increased fuel savings. The Mirage G4 also surprised me with its cavernous trunk space, sufficiently commodious cabin, and amazing price point that made it a formidable contender in the small city car market.
I know there are people who gravitate more towards big vehicles – but I always say that the choice of a vehicle really best depends on its purpose. And for treading the tight avenues of Manila en route to Banawe Street, I certainly love driving a smallish (but comfortable!) vehicle like the Mirage G4, which gives me a greater advantage in slithering through traffic and, very importantly, makes it easier for me to find parking!! And boy, do I hate searching in vain for parking — especially when I'm hungry. Thankfully, the Mirage G4's dimensions qualify for the most parking options.
It was an early morning when I eagerly drove to Banawe Street for my food crawl story. I wasn't quite sure what would already be open so early… until I chanced upon this small, corner restaurant 28 Treasures: HK Roast + Dimsum that was already busy at 7 a.m. Everyone I saw eating there looked Chinese – and I took this as a good sign that the place must indeed serve authentic, tasty Chinese food. 
I've never really been a "breakfast food" kind of person – so I did not hold back and went straight to ordering a proper heavy meal. I had a quarter of their roast suckling pig, beef with broccoli flower, hakao (steamed shrimp dumplings), one order of their special seafood congee (which was enough to be split into two, for sharing), and their house tea. Everything tasted great. The congee was flavorful and the restaurant did not scrimp on seafood ingredients which included fish and shrimp; the beef was tender and the vegetable crisp. The hakao was cooked right with juicy shrimp and no extenders; and one can never, ever go wrong with juicy, suckling pig! Well, not unless you are trying to watch your cholesterol.
My next stop was a small bakery that has been there forever. It is called Formosa Bakeshop, and positions itself as an outlet that sells authentic Taiwanese cakes and breads. If you swing by, try the ube bread and pork-floss laden snacks. You also might find goodies you'd like to bring home for lola, lolo, and the kids.
Of course, if you happen to find yourself in Banawe sometime in between main meals – which for Filipinos, is game-time for merienda – and want something light, I highly recommend a small (but established) food outlet called Muy Hong. It's our secret place for getting some delicious, fresh lumpia infused with crunchy bits of ingredients that give it that unique texture – you'll find yourself daydreaming about it on lazy afternoons!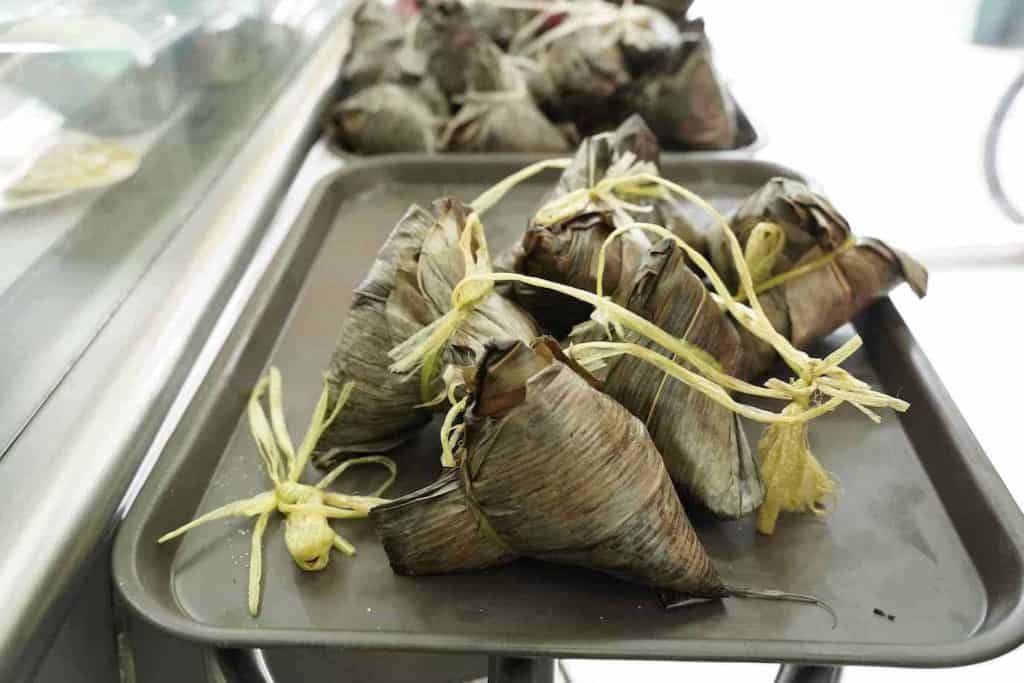 This is also the place where I discovered the delicacy that is Mac Tiang – triangular-shaped, leaf-wrapped sticky rice (similar to suman) that includes some meat inside, sort of like the hybrid of a Japanese Onigiri and Filipino Binalot, packed as a hearty snack.
Now, for lunch I revisited a crab place that I had discovered more than two decades ago – a small outlet called Fook Yuen. Back in the day, this restaurant did not even have any signage! Only people who knew about it would go there – marked only by a swinging glass door with the silhouette of a large crab on it. And when I returned, the place felt almost exactly the same. The dishes on the menu have multiplied – but the specialty still remains the same! You must try their crab cooked with sotanghon in Chinese sauce. I've loved it since I was a student – always fresh and to die for.
If your idea of a hearty afternoon merienda is something spicy and soupy, then look no further! Try Bugis Streetfood, which serves some deliciously rich Laksa, abundant with ingredients, and offered at a shockingly affordable price of P250 per pot! Also try their version of Roti Canai, which is served with a side of (condensed) milk sauce.
And if a cafeteria-style setting and cafeteria-style prices is more your kind of thing, then check out the corner outlet of Fong Wei Wu, where you should try their uber-tender Taiwanese pork (similar to pata tim) with a sticky bowl of rice, finished off with some Taiwanese shaved ice dessert of your choice. Warning: lines to this place can get really long during lunchtime, on weekdays.
There are so many hidden gems within the neighborhood of Banawe, it is impossible to condense them completely into just one story. But many people flock there for a reason – and it ain't always just about the cars.
I am happy to be able to share this food crawl, thanks in large part to the suggestions from my photographer Juanito Vinluan, who has a strong Chinese heritage and has long been a suki (frequent patron) of the area. I also completely enjoyed my hassle-free drive to all the abovementioned food establishments, aboard the Mitsubishi Mirage G4, whose fuel meter did not even decrease by a single block even after it was driven from Makati through Manila, to Quezon Avenue and back!