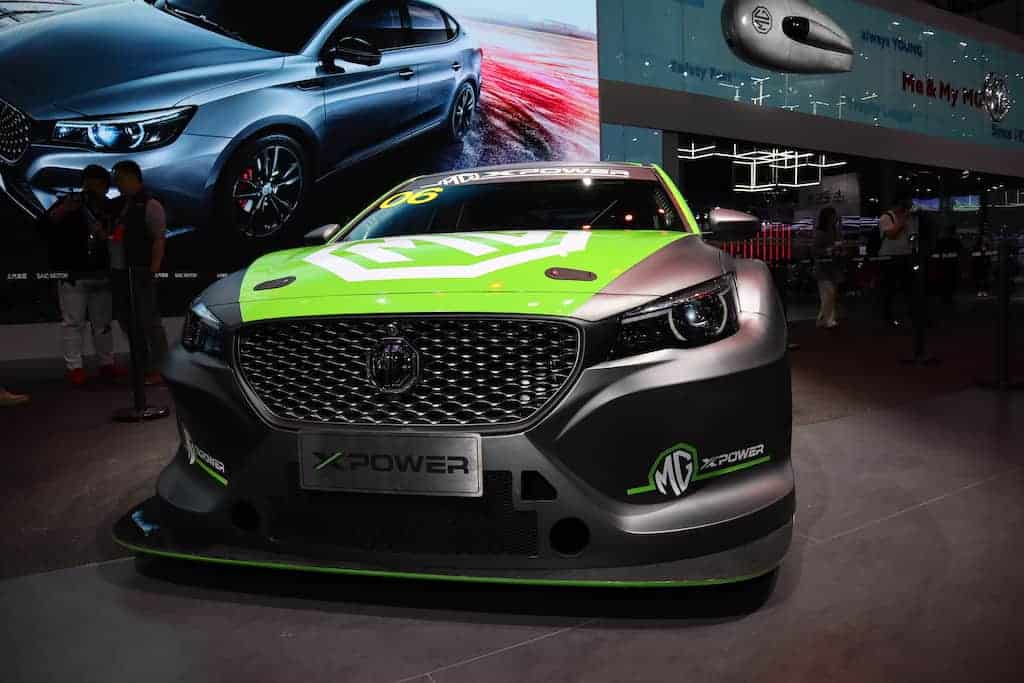 SHANGHAI, China. At the commodious National Exhibition and Convention Center, venue of the 18thedition of the Shanghai International Automobile Industry Exhibition (or simply Auto Shanghai), the impressive booth of MG (Morris Garages) featured a wall-mounted aerodynamic shape that called to mind the MG Ex181. In 1957, the streamlined, purpose-built car set a world speed record of 245.65 mph (about 395kph). Driven by Sir Stirling Moss, the vehicle broke its own record two years later by registering a rate of 254.91mph (410kph) at the Bonneville Salt Flats in Utah.
It was not a whimsical decision to annex that idea for MG's Auto Shanghai 2019 participation. The 95-year-old carmaker birthed in the United Kingdom has had deep roots in sports cars (two-seat, open sports cars in particular), and the quality is now being channeled or brought to the fore through the earnest push of XPower, MG's high-performance nameplate.
The so-called XPower TCR, platformed on the MG 6 sedan, builds on the sporting heritage with sprightly acceleration – said to breach 100kph from standstill in four seconds. Under the hood is a turbocharged 2.0-liter engine mated to an X-Trac six-speed sequential transmission giving peak output of 350hp and 460Nm. It has been priced at 100,000 euros (around P5.84 million).
"MG is fun, and is a brand that people back in the day equated with the open road. It's a driver's car," said MG Philippines PR manager Enrico Miguel Subido to Wheels. He also noted the company's racing heritage. While the firm is now controlled by China's leading carmaker, SAIC Motor Corporation Limited, and is manufactured in this Asian country, it remains decidedly British – with design centers located in Birmingham and London. "You cannot have an MG that has nothing to do with the UK," he added.
While paying careful attention to its rich history and the image forged by it, Subido said that the company wants to drive home an additional two pillars: its vehicles' attainable pricing, and modernity as expressed through technological accoutrements. "We've got a lot of hybrids and electric technologies, internet connectivity. Our manufacturing plants are highly automated. The efficiency of our production also helps to make our products not that expensive, even as we do not scrimp on quality."
As for the XPower badge, the MG Philippines official said, "I don't doubt that there will be mod parts made available in the Philippines for certain models. The possibility is there once the demand comes through."
In a release, MG said that the establishment of the "XPower High Performance Sports Division (will help) future MG models… strengthen (their) speed totem, high-performance instinct, and (from there) launch a series of higher-performance production models, bringing a more ultimate driving experience to young consumers who enjoy the pleasure of speed."
MG is also giving impetus to an upcoming generation of racers who win or excel using MGs on the track. "MG will provide a generous reward with a total prize of more than 10 million yuan (P77.53 million). (The) MG brand will (encourage a) global young generation to (achieve its) dream of the track, (pursue speed), and salute the mentality of (youth)."Two other new models were on display for MG at Auto Shanghai 2019: the new MG 6, and its NEV variant.