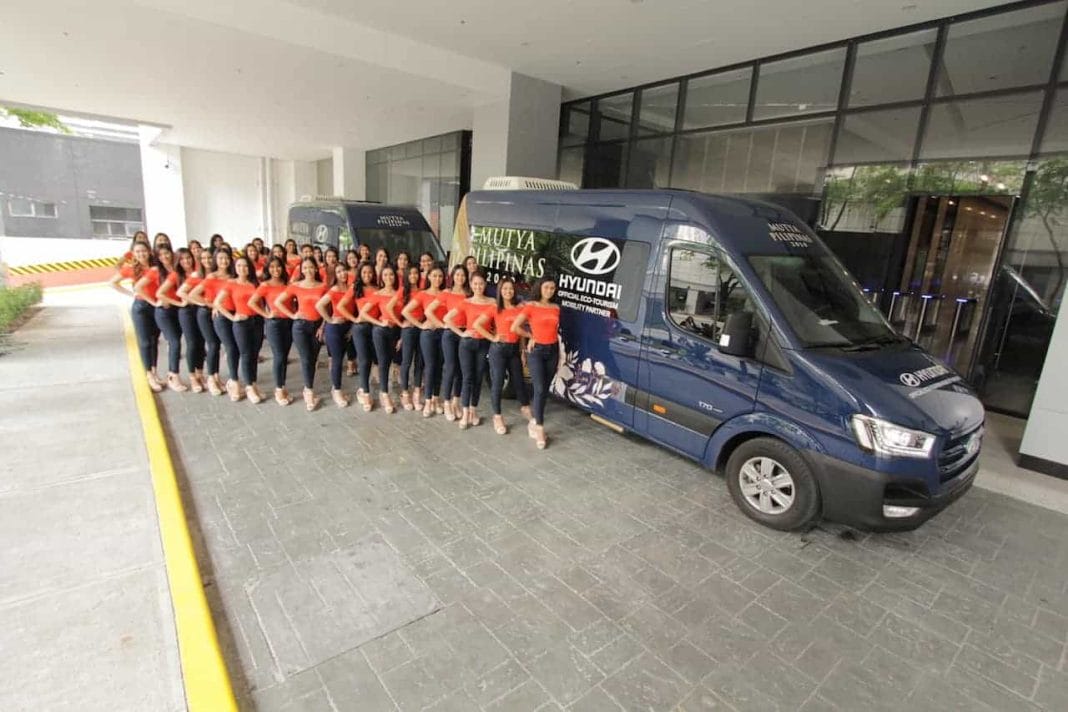 Hyundai Asia Resources, Inc. (HARI) is the official "eco-tourism mobility provider" of the Mutya Pilipinas 2019 pageant. A fleet of 14-seater Hyundai H350 luxury vans will be transporting the 40candidates and organizers of the beauty tilt. The Mutya Pilipinas Grand Coronation Night is scheduled on August 18 at SM MOA Arena to be broadcast via ABS-CBN. 
HARI president and CEO Ma. Fe Perez-Agudo said, "Every day, Hyundai provides world-class quality vehicles to ease the lives of thousands of Filipinos. It is only fitting that we provide the same comfort and safety for our mutyas who are not just beautiful but also driven by their chosen causes. Hyundai and Mutya Pilipinas are proud to showcase strong and empowered women in particular, and the beauty of the Philippines in general."
Mutya Pilipinas has since 1968 empowered young Filipinas to be global ambassadors. It principally advocates "beauty tourism" to that promote the core values of sustainable tourism, social responsibility, fashion, and beauty pageantry. The pageant winners represent the country in international pageants, namely, Miss Asia Pacific International, Miss Tourism International, and World Top Model.
"We are grateful and excited to collaborate with Hyundai as our official eco-tourism mobility partner. Mutya Pilipinas is one with Hyundai in empowering women and championing local tourism" averred new Mutya Pilipinas president and national director, TV personality and wellness advocate Cory Quirino.
Under Quirino, the 51st Mutya Pilipinas conducted a grassroots search across the country and overseas Filipino communities. The pageant has been known to launch the careers of women who have excelled in their respective fields.
Hyundai positions itself as an advocate of women empowerment and sustainable mobility. "Hyundai is deeply committed in ensuring a sustainable future. We recently rolled out the Alagang BreastfriendMobile Diagnostic Clinic, the very first of its kind in the country for breast cancer detection and prevention. This customized Hyundai H-350 luxury van is equipped with state-of- the-art facilities and is being deployed in underserved communities," added Perez-Agudo.
HARI recently introduced the first commercially available electric vehicle in the country, the Hyundai Kona Electric. In 2018, Hyundai launched the first mass-market hybrid, the Hyundai Ioniq.
Hyundai has been driving the success of regional conferences, forua, and events such as the ASEAN Finance Ministers' Investor Seminar (AFMIS) and the 23rd World Economic Forum East Asia (WEF-EA) in 2014, ASEAN 50 Summit and the ASEAN Business and Investment Summit (ABIS) in 2017, ASEAN Biodiversity Heroes in 2018, and the Fédération Internationale de l'Automobile (FIA) Motorsports Conference also last year.