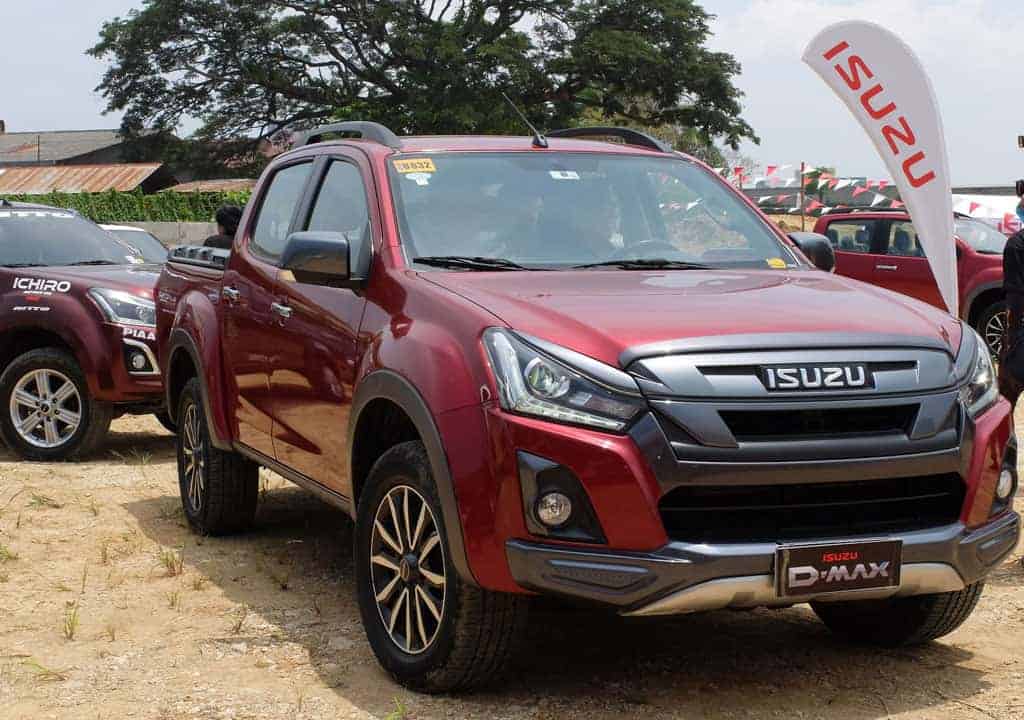 Just three weeks after the Manila debut of the most stylish variant of the Isuzu D-Max yet – the 2020 D-Max LS-A – Isuzu Philippines Corporation (IPC) held a satellite launch and test-drive activity for the residents of the Durian Capital of the Philippines – Davao City. The event ran for three days at SM Lanang Premier within the SP Dakudao Loop in September. It is the third leg of IPC's nationwide launch of the 2020 edition of the D-Max pickup truck.
IPC's special Davao City event consisted mainly of two parts. First, there was the provincial launch and product display of the new D-Max LS-A held at the SM Lanang Atrium, which opened with a public product presentation; featured a program with dance numbers and an engaging singing performance by Fil-Am artist Jay-R; and showcased the new vehicles inside the mall with Isuzu personnel ready to answer questions for interested clients. Special discounts were also offered specifically for purchases made during that weekend.
And next, there was the Isuzu 'Tough Enough for Anything' 4×4 test drive event, which was a free opportunity for Davaoeños to test the formidable off-road capabilities of the D-Max LS-A (or Mu-X 4×4 variants, if desired) by driving them through a specially designed "4×4 Tough Test Course" at the Open Grounds area of SM Lanang.
The special off-road driving exercises featured a lateral-descent ditch crossing, scenarios, which required cross-axle articulation, 45-degree camber sides, crossing "elephant steps" (which are gargantuan, irregular holes on the ground that test the vehicles' suspension articulation), and a daunting 40-degree hill climb and descent course.
I tried driving through the course myself, and found that it was really a lot easier to manage than it appeared – simply because the 4×4 D-Max LS-A was more than capable for such types of terrain.
And to further demonstrate that point, IPC also invited over some local Isuzu 4×4 car clubs – such as Team ICE, Isuzu Pilipinas Davao Aguilas, Eagle Off-roaders Davao, and the Mu-X OP Mindanao – to test the demo vehicles through the off-road playground themselves.
"Today we aim to show you the capabilities of our pride and joy!" exclaimed an excited Hajime Koso, president of Isuzu Philippines Corporation, during the opening ceremony of the event.
The new D-Max LS-A 4×4 is the most upscale rendition of the Isuzu D-Max. It still carries the same, reliable 4JJI-TCX 3.0L, four-cylinder in-line Blue Power diesel engine with VGS turbo intercooler that spits out 177ps and 380Nm of torque – and is mated to either a six-speed automatic transmission with sequential shift, or a six-speed manual transmission (with a gear shift indicator).
I was told that traditionally, 4×4 variants with stickshifts have been more salable in Davao. But now, times are changing. With rising traffic congestion within the city, more people are gradually considering to get themselves an automatic.
"Isuzu trucks have been tested through generations… they are tough enough for anything," remarked Isuzu Davao president Jockson Liu at the SM Lanang Open Grounds. He also pointed out that the reconstruction of their new building is now underway to eventually ensure that their clients experience lesser vehicle downtime, as it is an important aspect in any business. He also announced that, as a special treat for Davaoeños that weekend, existing Isuzu clients whose vehicles are already out of warranty may drop by the event premises to get a free vehicle "health check" or inspection.
"The new D-MAX LS-A has a true character of a pickup. Through this test-drive activity, we will be able to showcase to the public its exceptional off-road capabilities, strong under chassis and powerful engine. Bringing this event in Davao is strategic, as we expect to make a comeback in the pickup segment specially in this region," said IPC president Koso.
The new D-Max LS-A is available in Cosmic Black, Sapphire Blue, Titanium Silver, Red Spinel, Splash White and Silky Pearl White. While the LS-A is currently available as a 4×4, IPC has also announced that it will be bringing in 4×2 variants of the LS-A in the coming months.