Months after first setting foot in the country, Hongqi chose BGC as their first home. They launched their first dealership at the ground floor of the Asian Century Center, 27th cor. 4th street. The event was led by the EVOxTerra Inc., their distributor here in the Philippines.
Hongqi is China's oldest car brand, having originally launched in 1958. They used to be exclusive for high-ranking government officials and even today, they have models that aren't sold to the public. And while other Chinese brands who entered the country are looking for a slice of the mainstream consumer market, Hongqi is looking to rattle the premium segment with its opulent offerings. With them are four cars, two with internal combustion engines (ICEs) and two battery electric vehicles (BEVs) that showcase Hongqi's refined taste and advanced technology.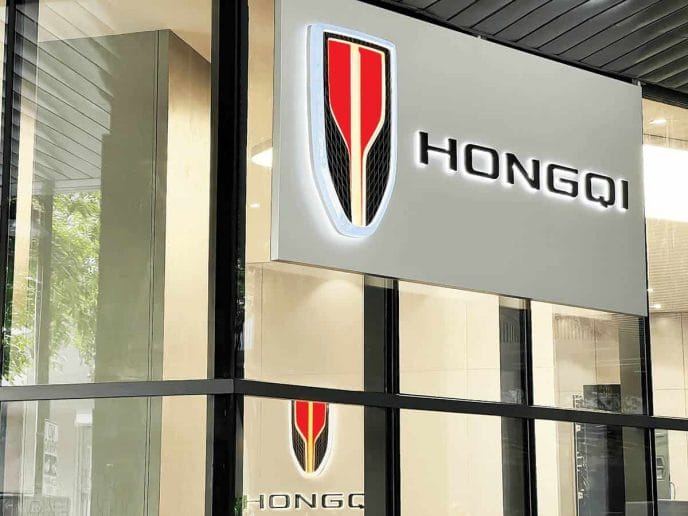 E-QM5 BEV Sedan
It's pretty ironic that Hongqi's most affordable offering isn't one with a combustion engine but a BEV sedan. The E-QM5 measures 5,040mm long and has a 2,990mm wheelbase. It looks a bit different from the front since its grille is seamlessly integrated into the front face unlike its brothers where the rectangular grille is a highlight. A quick look at its second row reveals a very spacious legroom for the backseat occupants. The E-QM5 has a driving range of around 431km and is priced at PHP 1,780,000.
H5 ICE Sedan
The real Hongqi experience begins with the H5 and its upmarket amenities. It has a huge panoramic sunroof complemented by classy looking wheels, and just the right amount of chrome in the front face. It's not as long as the E-QM5 but its 4,985mm length and 2,920mm of wheelbase is still formidable against other midsize sedans.
It starts at PHP 1,650,000 for the 1.5L turbo variant that produces 156hp and 340Nm of torque paired to a 7-speed DCT. The other trim sports a 2.0L turbo engine with 224hp coupled to an 8-speed automatic and is priced at PHP 2,680,000.
H9 ICE Sedan
The H9 serves as Hongqi's flagship sedan, despite not being electrified. The two-tone exterior alone makes it stand out in its class, together with the minimalist rear end and huge 19/20-inch wheels. Inside is a mix of brushed aluminum trims, huge digital screens, and plush leather and suede seats.
Powering the H9 are two engine options. There's a 2.0L turbo and a 3.0L V6 with both engines sending power at the rear. The upper trim also makes use of air suspension for better riding comfort. The H9 starts at PHP 5,150,000 while the upper trim is at PHP 8,080,000.
E-HS9 BEV SUV
Deeper at Hongqi's showroom is the E-HS9 SUV standing tall with its own platform. This 6/7 seater (depending on the trim) is a fully electric SUV with all-wheel drive thanks to dual electric motors. The second row makes use of two captain seats for the 6 seater configuration, while the third row has electronic controls from the cargo area for easier modification of the space.
Its size is alThe E-HS9 is capable of producing 551hp and has a range of around 400km to 500km, depending on the variant. Pricing starts at PHP 4,780,000 to PHP 5,980,000.