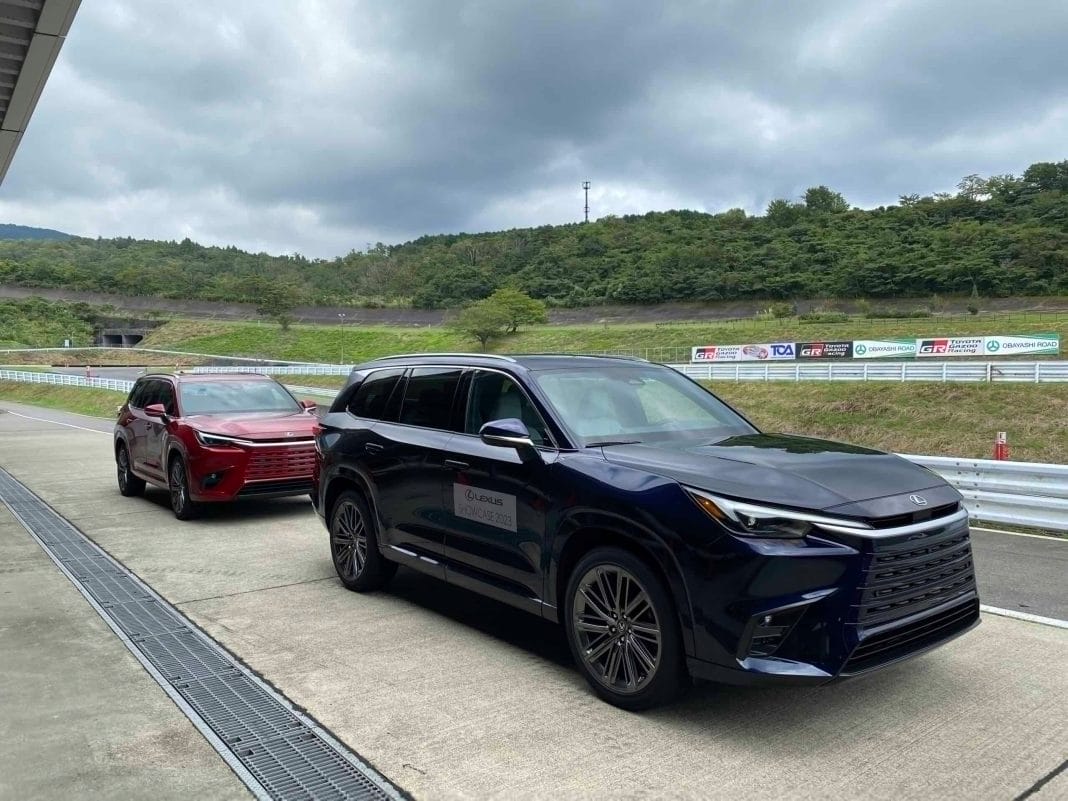 Gives hands-on experience with new LM, upcoming LBX, GX and radical ROV
FUJI, Japan—I used quotation marks on the word "showcase" in the title of this article because that was precisely what the event we attended in Japan was called—Lexus Showcase.
Living up to the event's name, Lexus unveiled its new model lineup, which aims to deliver new value in response to diversifying customer needs across the globe, for the first time in Japan.
highway Vehicle) Concept, which is equipped with a hydrogen engine developed and produced by Yamaha. Hydrogen propulsion is regarded as the Holy Grail of truly clean mobility. The ROV is a concept vehicle featuring excellent response and an exhilarating internal-combustion engine sound that stimulates the senses. By venturing into places where even off-road vehicles cannot go, it aims to offer an enjoyable outdoor driving lifestyle by interacting and coexisting with nature.
unveiled for the first time in Japan—and we got to drive them all.
The LM luxury minivan, recently made available in the Philippines, stands as a bold new option for chauffeur-driven vehicles. The subcompact LBX crossover, on the other hand, transcends the conventional size hierarchy and is a car for customers with a discerning sense of taste that can be driven casually. The full-size GX SUV, meanwhile, combines genuine off-road capability with refined on-road luxury. The LBX and GX are expected to arrive in the Philippines next year.
We also got to see and drive the TX full-size SUV, which caters exclusively to North American customers with its spacious three-row seating. No word was given if the TX will ever be made available outside North America.
For about 10 years now, Lexus has been working on enhancing the basic performance and characteristics of its vehicles as well as refining the taste of the celebrated Lexus' driving signature. This driving experience will be carried forward with the battery EV and taken to an even higher level with the company's electrification technology.
The core technologies Lexus has been working on include seamless drive force control with the DIRECT4 four-wheel drive system and the Steer-by-Wire system, which provides an intuitive, linear steering feel, which we experienced when we drove the fully electric Lexus RZ equipped with Steer-by-Wire on a test track.
In addition, with an AE86 (converted to pure-electric power but retaining its three-pedal setup) and the RZ Sports Concept, both of which were unveiled at the Tokyo Auto Salon last January, Lexus is rethinking new ways to inspire the love of driving and cars, even with battery EVs.
Furthermore, through the Lexus Electrified Sport Concept, the brand will drive the development of future electrification technologies such as all-embracing batteries, aerodynamics, weight reduction, and high rigidity. In addition, Lexus will take on the challenge of sustainable initiatives that consider the natural environment. Without being bound by conventional values of luxury, the company will utilize ultra-suede and alternative recycled and man-made materials to create new, high-quality interiors.
In 2026, Lexus will introduce a next-generation battery EV with a revolutionary modular vehicle body structure, a drastically changed production method, and a completely renewed software platform. This concept model will be unveiled at the Japan Mobility Show in October of this year as part of Lexus commitment to changing the future of automobiles through electrification.