SUVs have been all the rage for the past several years, represented by an extensive lineup of high-riders across multiple brands.
But Toyota begs to differ with the X-Van Gear Concept, shown at the 2023 Japan Mobility Show. Nestled amidst a symphony of automotive wonders, this groundbreaking vehicle was a beacon of modern versatility, showcased as the answer to a persistent dilemma in family transportation.
The X-Van Gear emerged as the solution to the conundrum faced by those seeking a three-row vehicle that wasn't oversized, challenging the status quo dominated by imposing minivans or SUVs.
Crafted by Toyota Auto Body, it stood out amongst a trio of X-Van concepts, promising to harmonize the expansive interior of a minivan with the adventurous spirit of an all-terrain vehicle.
At the core of its design lay the promise of multifunctionality. This van, contrary to its bulkier minivan or SUV counterparts, was deliberately compact. At 184.8 inches long, 71.6 inches wide, and 73 inches tall, it championed versatility both in bustling urban streets and rugged off-road terrain.
The interior was a playground of adaptability. With a three-row layout accommodating up to six passengers, the X-Van Gear boasted a transformative space designed for family escapades and recreational pursuits. The front passenger seat swiveled, ingeniously transforming the cabin into a cozy living room-style environment, ideal for bonding during lengthy journeys.
Ingenious engineering allowed the second-row seating to metamorphose into a multifunctional table, catering to impromptu meals or picnic setups. The absence of B-pillars not only facilitated smooth entries and exits but also eased the hassle of loading and unloading, enhancing the vehicle's practicality.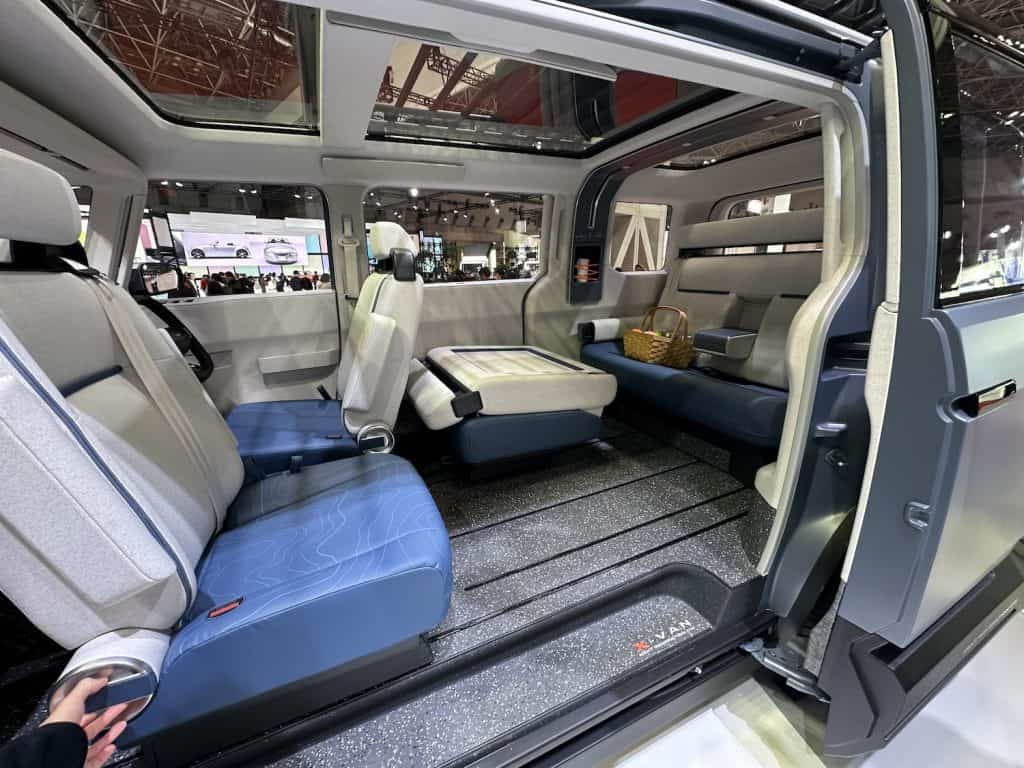 Moreover, the three-piece sunroof, stretching along the length of the van, offered passengers an enchanting panoramic view, adding a touch of wonder to the travel experience. The sense of freedom and connection to the surroundings only heightened the allure of the X-Van Gear.
While details on the mechanical underpinnings remained undisclosed, the promise of a vehicle that balanced utility with an engaging design was enough to stir anticipation. The echoes of the Mitsubishi Delica D:5 AWD, a pioneer in this segment, were undeniable, yet the X-Van Gear projected its own distinctive character, adding a new dimension to the category.
As the automotive world juggled the SUV and crossover craze, the X-Van Gear arrived as a breath of fresh air, signaling a renaissance in the domain of family-oriented transportation. Its compact yet capacious form, a fusion of practicality and innovation, hinted at a compelling evolution in the realm of minivans.
The Japan Mobility Show became the stage for the X-Van Gear's debut, a paradigm shift that hinted at a future where spaciousness, adaptability, and adventurous spirit coalesced seamlessly in a vehicle primed for modern-day explorers, invigorating the horizon of family travel.