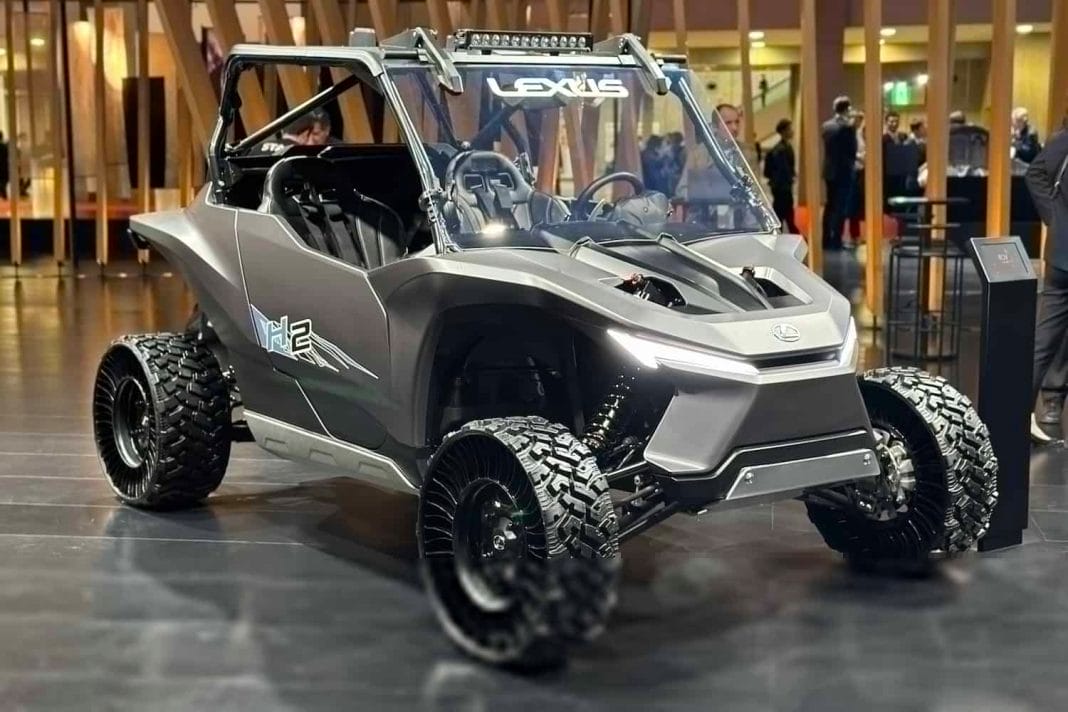 In a move that underscores its commitment to environmental sustainability and cutting-edge technology, Lexus has unveiled an update to its groundbreaking Recreational Off-highway Vehicle (ROV) concept powered by hydrogen fuel cells. This hydrogen-powered off-road buggy aims to demonstrate that thrilling driving experiences can coexist with a carbon-free society focused on responsible mobility.
Lexus, the luxury arm of Toyota, is no stranger to innovation and pushing the boundaries of automotive engineering. Recent rumors have hinted at the revival of the Lexus GS model as a hydrogen-fuel cell vehicle, taking cues from the Toyota Mirai. While Lexus currently doesn't have any fuel cell vehicles in its lineup, this ROV concept showcases their venture into the world of hydrogen-fueled mobility.
The ROV concept is a one-of-a-kind creation designed to cater to off-road enthusiasts who crave adventure while maintaining an eco-conscious mindset. This extraordinary vehicle is a far cry from the typical luxury sedans and SUVs Lexus is known for, with its exposed suspension, external rollcage, and chunky off-road tires. While Lexus has borrowed the brand's signature spindle grille as a nod to its heritage, the ROV's compact dimensions make it stand out, measuring just 122.8 inches in length, 67.9 inches in width, and 70.8 inches in height.
The updated model, shown at the 2023 Japan Mobility Show, comes with Michelin Uptis tires, which is the airless model of the French company. Whether the airless design of the rubber will be advantageous in recreational off-roading remains to be seen, though we're not surprised as concepts always do come as radical as they can be.
The interior of the ROV presents a stark contrast to its rugged exterior, providing a luxurious and comfortable cabin. Featuring a leather steering wheel, a sculpted shift knob, and synthetic leather seats, the interior design is inspired by the Tazuna concept. A unique meter instantly displays all essential information, allowing the driver to concentrate fully on the thrilling off-road experience.
Powering this unconventional off-road buggy is a 1.0-liter hydrogen engine that operates much like a traditional gasoline engine. However, instead of gasoline, it utilizes a high-pressure tank to store compressed hydrogen, which is delivered through a direct hydrogen injector. This innovative powertrain not only offers the excitement of a combustion engine but also delivers environmental benefits.
Lexus proudly states that the hydrogen engine produces "close to zero emissions," with a minimal amount of engine oil burned during operation.
With the unveiling of the ROV concept, Lexus is sending a powerful message about its commitment to developing alternative fuel technologies and pushing the boundaries of what is possible in the automotive industry. While this off-road buggy may be a one-off concept, it serves as a compelling glimpse into the future, where exhilarating driving experiences and responsible mobility can coexist harmoniously, setting a new benchmark for sustainable off-roading adventures.