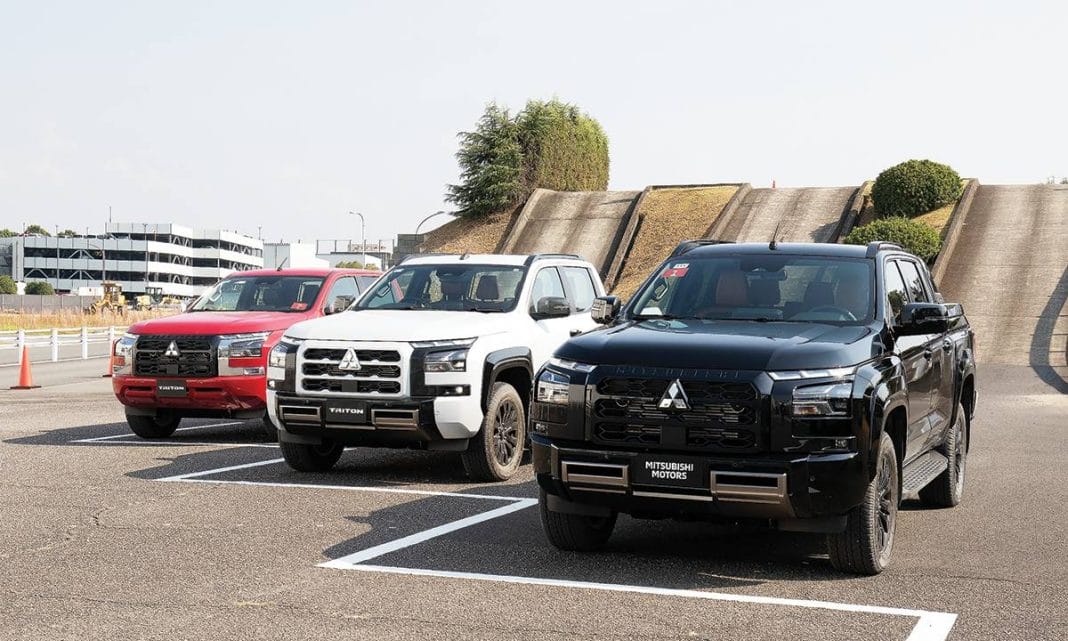 Among all Japanese pickups, the Mitsubishi Strada, which will be soon renamed "Triton," has always been the most Japanese-looking. It looks like it drove straight out of an anime comic book. 
The all-new Triton, which will officially launch in the Philippines early next year, still looks distinctly Japanese, but has taken on an even more aggressive and menacing look thanks to Mitsubishi's "Beast Mode" design concept—while still retaining the brand's distinctive Dynamic Shield front design.
The DRLs feature three L-shaped LEDs, and in combination with the three-dimensional 3-light headlights below them, give the new Triton a commanding presence.
The horizontally-themed body sides are composed of large, solid surfaces that emphasize the robust doors, while contrasting with the sharply overhanging fender panels to make them appear wider, emphasizing stability and toughness. T-shaped taillights on both sides emphasize width while also robustly displaying the sturdy rear design.
Mitsubishi has produced 5.6 million pickups spanning five generations over the 45 years since its first launch in 1978. With sales in 150 countries, the pickup truck is a strategic global vehicle for Mitsubishi. Now in its sixth generation, the latest Triton is fully redesigned for the first time in nine years.
It certainly looks great, but how does it drive?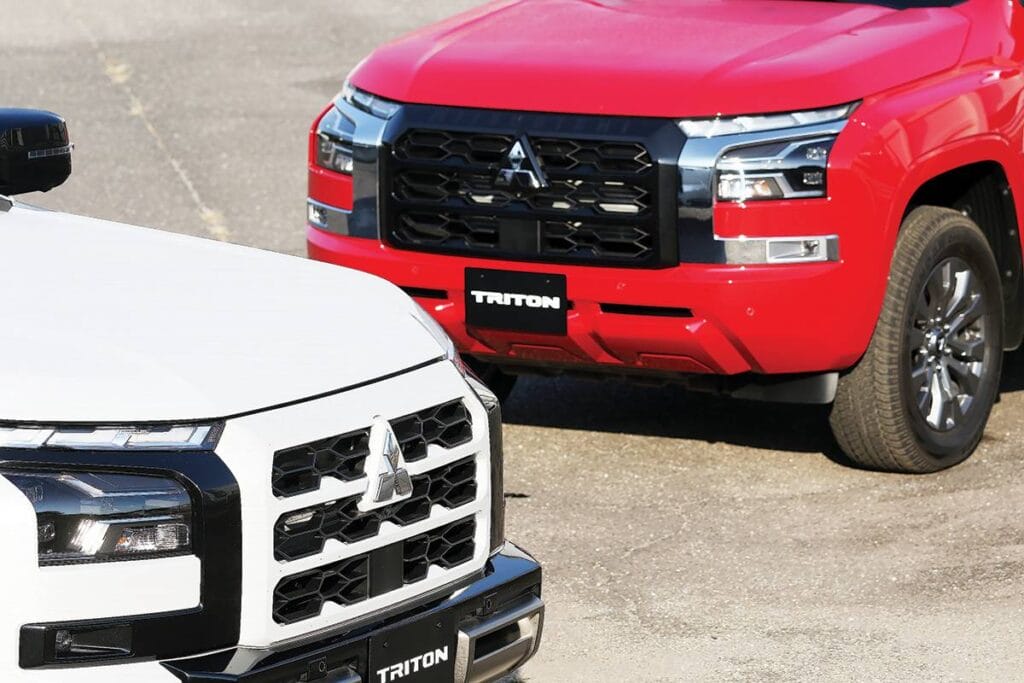 Bigger, stronger yet lighter ladder frame and completely revamped suspension
Riding shotgun, we experienced Mitsubishi test drivers doing rally driver moves with the new Triton in Okazaki's off-road and gravel test courses, making it even jump over some crests.
You'd think that the landings would be painful, but credit the Triton's new suspension that effectively absorbs anything the road can throw at it. More impressively, the body simply feels SOLID, like it's carved from a block of steel.
The new larger ladder frame has a 65% greater cross-sectional area than the previous model, achieving a bending rigidity increase of 60% and a torsional rigidity increase of 40%. Despite greater strength and size, weight has gone down, thanks to greater use of lightweight high-tensile steel. All these innovations benefit road performance and ride comfort, while improving durability for heavy loads and improving energy dispersion in a collision.
The new suspension retains a double wishbone structure for the front suspension, but has increased stroke by 20mm, providing improved roadholding and ride comfort. The rear suspension provides greater ride comfort while retaining its strength and uses a lighter leaf spring together with thicker shock absorbers.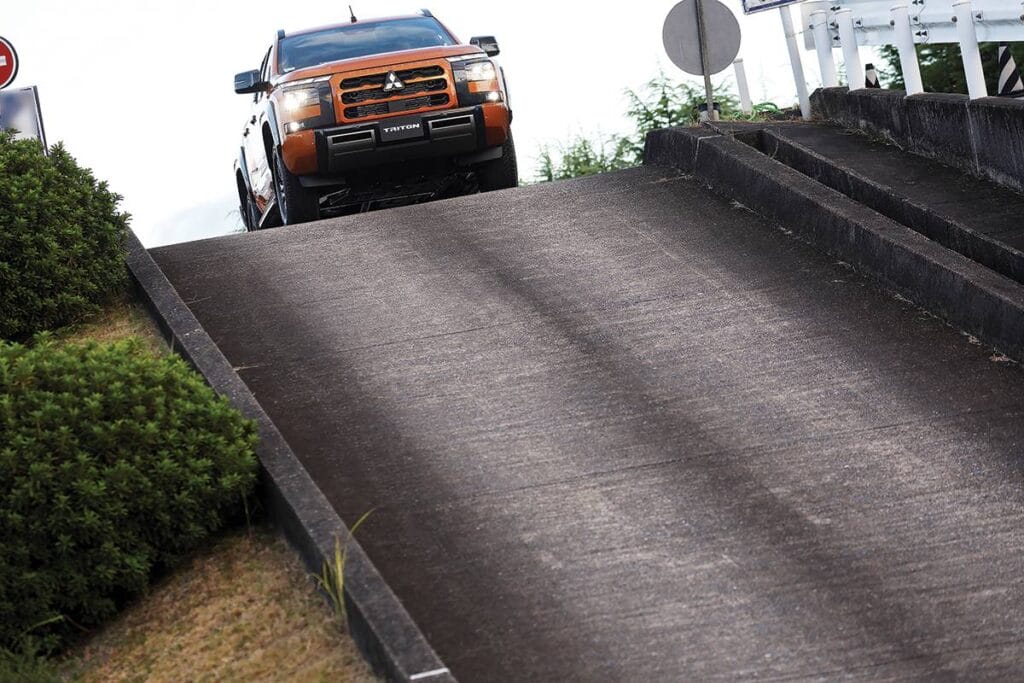 More powerful yet more fuel-efficient clean diesel engine
The new 4N16 clean diesel engine comes in three different specs. The high-output version is equipped with a new turbo combustion system, providing 150kW (204ps) and 470Nm of torque from as low as 1,500 rpm. There are two versions of the standard specification – one with an output of 135kW (184ps) and 430Nm, and one with 110kW (150ps) and 330Nm. Both have a variable geometry turbo (VGT).
The top engine we experienced was impressively quiet and smooth, with power delivery very linear—no power lags or sudden surges. A highlight of the drive was experiencing high-speed driving on the tilted oval, which was unnerving at first but made us feel like NASCAR drivers.
The new Triton comes with either a 6-speed automatic with Sports Mode (which we drove), or a 6-speed manual transmission with shift-by-wire that reduces vibration directly transmitted from the engine to improve comfort.
Improved road performance with highly developed 4WD system
It's astounding when you realize that so much of the Triton's world-beating performance is due to its electronic wizardry that can be called on with the twist of a knob, which we experienced behind the wheel and from the passenger seat in Okazaki.
The 4WD system enables the driver to easily shift to 4WD mode while driving by using a dial selector. The new Triton continues to use Mitsubishi's Super Select 4WD-II and Easy Select 4WD systems, and Super Select 4WD-II is equipped with a center torque sensing Limited Slip Differential (LSD) that distributes driving force at a ratio of 40% front and 60% rear, ensuring both traction performance and cornering performance.
Models equipped with the Super Select 4WD-II system can select from the four options of 2H (rear-wheel drive), 4H (full-time four-wheel drive), 4HLc (locked center differential) and 4LLc (locked center differential with lower gears), and have seven drive modes including on-road modes, an increase over the four off-road modes of the previous model.
Along with Normal mode that is available in all 4WD modes, 2H offers Eco mode, 4H offers Gravel and Snow modes, 4HLc offers Mud and Sand modes, while 4LLc provides Rock mode. The 4WD modes available for selection in vehicles equipped with Easy Select 4WD are 2H (rear-wheel drive), 4H (locked center differential), and 4L (for low-gear driving).
AYC is newly adopted for models equipped with the Super Select 4WD-II system. It improves cornering performance by applying light braking to the inside front wheel when cornering. Both the two-wheel and four-wheel drive models are equipped with active LSD (brake control type). By applying the brake to a spinning wheel and distributing the driving torque to wheels gripping the road surface, it improves safety on slippery surfaces while also providing a sporty driving experience.
Active Stability & Traction Control (ASTC) is standard on all models. Other systems include Hill Descent Control (HDC), which maintains a set speed on downhill slopes to enable driving with confidence, and Hill Start Assist (HSA), which prevents rollback in hill starts.
Advanced safety features have been enhanced along with the retention of Forward Collision Mitigation system (FCM), Blind Spot Warning (BSW) with Lane Change Assist (LCA), and Rear Cross Traffic Alert (RCTA), among others.
Inside the spacious and highly ergonomic cabin, the instrument panel is designed with the Horizontal Axis concept, which uses horizontally themed and strong shapes to allow drivers to easily see changes in the position of the vehicle when driving. With a nod to professional use, soft pads have been incorporated in the main areas that protect passengers. The interior uses geometric shapes and metallic elements to create a high-contrast, modern space.
Particular attention has been paid to visibility for the monitor, meters, and switches that make use of contrast, and the selectors, dials, and switches all have the optimum level of sensitivity to allow them to be operated while wearing gloves. The steering wheel, grips, and door handles have all been designed based on an approach called Mitsubishi Touch, with a focus on grip comfort and sturdiness.
The 6AT and 6MT center console has a cupholder that can accommodate two large cups, and the console box can hold four 600mL bottles. The console box in the 5AT model can hold tablets and files in addition to being a cupholder. The glove box, smartphone holder, and other storage for small items enable easy use even when wearing gloves, and the instrument panel and center console have USB A and C sockets as well as a wireless charger at the bottom of the center part of the instrument panel.
The front seats provide firm lower back support while the shoulder areas provide ease of movement with an open shape, which helps to reduce driver fatigue. The hip point has also been moved 20mm up compared to the previous model and an upright posture has been adopted to improve visibility from inside the vehicle. In addition, ingress and egress have been made easier by designing the A-pillar to be more vertical to widen the door openings and widening the side steps while making them a shape that reduces the risk of slipping.
New body colors are the vivid and metallic Yamabuki Orange Metallic and the Blade Silver Metallic that offer increased brilliance. The lineup also includes the high-quality basic colors: White Diamond, Solid White, Graphite Gray Metallic, and Jet Black Mica.
For the highest trim level, the front grille is the same color as the body, while the door mirrors, Dynamic Shield garnish, plated components including the door handles, bumper, and other parts are black, and the underside of the front, sides, and rear is dark titanium. A styling bar on the black roof rails, over fenders, and cargo bed brings a sharper look. The use of black as the base color for the metallic embellishments in the interior brings sleekness, while orange accents bring a sense of class and sharpness.
The cargo bed height has been lowered by 45mm to 820mm compared to the previous model, and the upper surface area of the bumper corner has been enlarged and reinforced with a frame to be used as a foot space, thereby improving practicality.