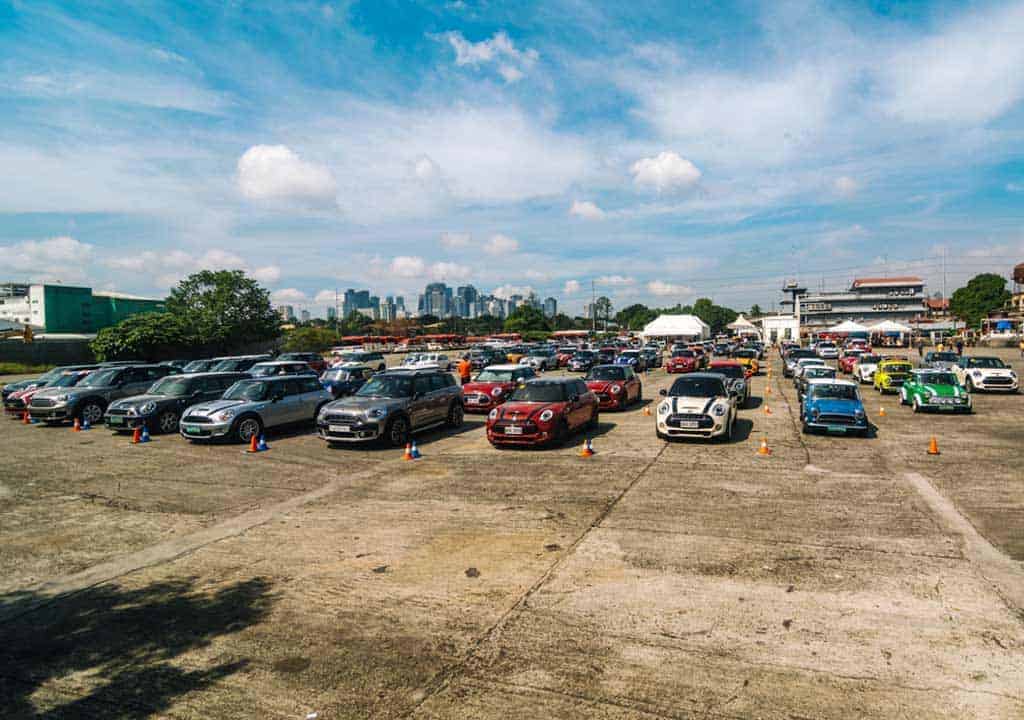 Only one car can lay claim to being true to its original identity even 60 years after its rules-defying pioneer first put wheels to the ground.
This is the inimitable and enduring MINI. Cheeky styling. Small outside yet surprisingly spacious inside. Wickedly quick. Razor-sharp handling. Wonderfully fuel-efficient.     
These descriptions applied to the seminal MINI way back in 1959 and it applies to the latest MINI in 2019. 
With its inventive spirit, MINI continues to turn heads with its iconic design both on and off the track. MINI celebrates its 60th birthday this year, and to this day, there is no other automobile quite like it. To commemorate this landmark occasion, MINI Philippines celebrated 60 Years of MINI at Eastwood Citywalk last weekend.
As part of the celebration, MINI Philippines unveiled the MINI 60 Years Edition, an exclusive model highlighting the British origins of MINI, and gathered more than 135 MINI owners and their beloved cars together to create a special '60' formation with their MINI cars at the Eastwood Mega Tent last Sunday.
"With its rich heritage and impact on contemporary culture, MINI is more than the car – it is also a lifestyle that celebrates the connections between people, as well as the passion for life," said MINI Philippines and Autohub Group of Companies president Willy Tee Ten.
"It gives us great pleasure to bring together the growing MINI community in one place to celebrate this storied brand. We thank all MINI fans for journeying with us, and together, we look forward to the next 60 years!" he added.
MINI aficionados at every turn were greeted with a special line-up of classic Mini cars at Eastwood's Central Plaza. It was a perfect blend of tradition and modernity as the classic cars provided a unique backdrop for guests as they got up close with the modern MINI models in the heart of the event – the MINI Monte Carlo, MINI Countryman John Cooper Works, MINI Clubman, and the MINI Convertible.
Guests also took a walk down memory lane with the MINI History wall, showcasing the rich heritage of MINI and key brand milestones. Highlights also included the immortal sketch of the Mini concept by car designer Sir Alec Issigonis, the brand's momentous triumph at the Monte Carlo Rally, as well as its presence on television as the Beanmobile for the world-beloved sitcom character, Mr. Bean.
Needless to say, the star of the weekend was the MINI 60 Years Edition, the exclusively designed anniversary model to commemorate six decades of passion and driving fun.
Guests were treated to exciting activities such as live art demonstrations, street magic performances, acoustic acts from local musicians, a special MINI photobooth to memorialize their time at the MINI 60 Years Event, as well as games and raffles conducted by MINI Philippines.
'MINI 60' car formation
MINI Philippines brought more than 135 MINI owners and their friends together to create a special '60' car formation with MINI vehicles. Organized in conjunction with the MINI Car Club of the Philippines, this landmark occasion was held at the Eastwood Mega Tent, with the owners gathering at MINI Pampanga and MINI Alabang before commencing the celebratory drive to the Mega Tent.
"The MINI community in the Philippines has the most enthusiastic fans who appreciate driving fun, expressive design and premium quality," said Tee Ten. "It's fantastic to have so many MINI owners join this milestone event. A big thank you to all of our MINI customers for their continuous support, and we look forward to doing even more with the MINI community in the years ahead," he added.