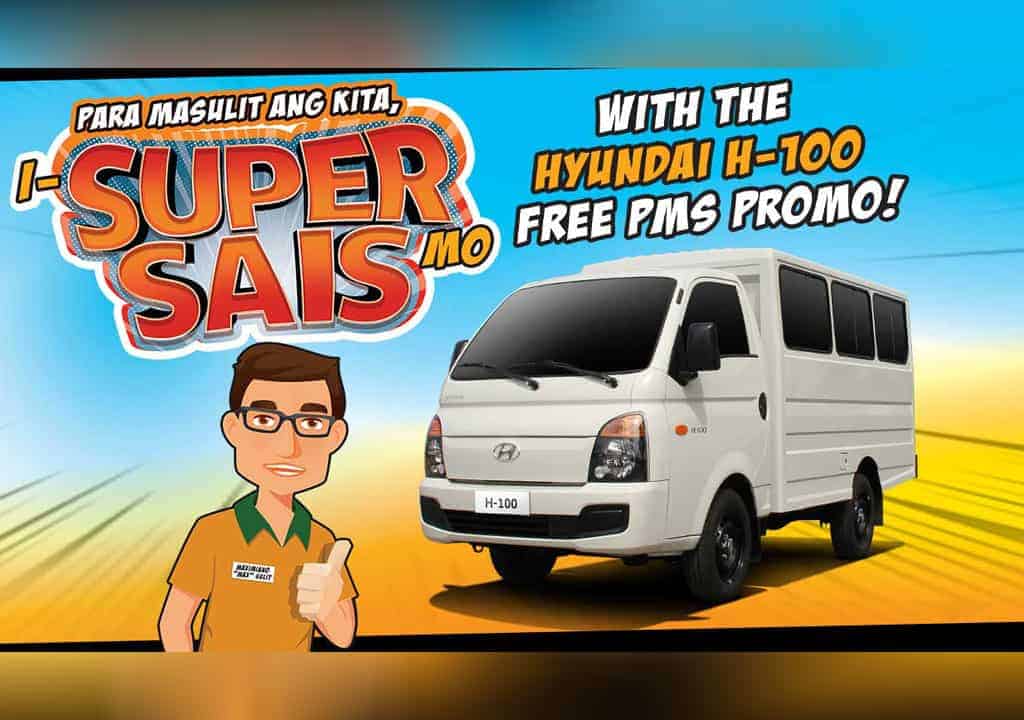 Hyundai Asia Resources, Inc. (HARI) introduces another exciting offering for Filipino entrepreneurs who would like to move their businesses forward and increase profitability with the "Super Sais" promo.
From October 8 to December 31, customers who purchase a Hyundai H-100 will enjoy six benefits plus 10,000 kilometers or six months free basic Preventive Maintenance Service (PMS) inclusive of free parts, labor, and lubricants at no added costs.
The Hyundai H-100 is loaded with six business-friendly features:
• Spacious 21-passenger shuttle capacity and a payload of 1,430 kg for passenger and cargo needs;
• 2.5L CRDi Euro 4 engine mated to a six-speed manual transmission that promotes more efficient engine operation and minimizes carbon emissions;
• It develops a maximum of 130ps with maximum torque of 26 kg-m for a more powerful drive;
• In case of emergency braking, the Load-sensing Proportioning Valve (LSPV) provides optimal braking stability for a safer and stable drive;
• Inside, the H-100 interior cab has modern ergonomic features with a sedan-like dashboard for and ergonomic seats for safer and more comfortable drives;
• And thanks a seven-dip electrodeposition coating process, the H-100 shuttle body manufactured by HARI Assembly & Logistics, Inc. (HALO) is durable and rust-proof.
Backed by Hyundai's industry-first five-year Unlimited Mileage Warranty program, owning an H-100 ensures added value and greater peace of mind.
The Hyundai H-100 is a versatile light truck; business owners can configure it into several variations like the passenger van, drop side, food truck, and public utility vehicle.
Hyundai has also geared up with Asia's leading on-demand delivery service provider Lalamove in providing best and sustainable mobility solutions for entrepreneurs using Hyundai H-100 trucks. The partnership aims to empower micro, small, and medium enterprises (SMSEs) and large corporations alike by reducing transportation costs, expanding consumer reach, and helping ensure on-time deliveries.
To know more about the promo, inquire at any of the authorized Hyundai dealerships nationwide, or contact HCARES at (02) 8-877-4977 or (0917) 887-4977.