The first time I covered CES (when it was still referred to as Consumer Electronics Show) was in 2008. Back then there was only one car in the whole Las Vegas Convention Center—a Chevrolet Camaro decked out with an audio company's aftermarket automotive sound system.
This year, the annual almost-week-long technology trade fair celebrated its 50th anniversary by boasting more than 3,800 tech and automotive companies (with an unprecedented 600 startups) covering 2.6 million square feet of exhibit space. And it had more cars on display than some international car shows.
Of course, it still focused heavily on futuristic gadgets and technology, with an almost overwhelming display of products in the fields of virtual reality, smart home, robotics, wearables, drones, health and fitness tech and more—much more.
But this is the Motoring section of The STAR, so we'll focus on the cars. Last year, I got to experience (I can't say I drove) Kia's autonomous vehicle. This year, more self-driving cars and technologies were on hand, with NVIDIA and Audi bannering their partnership, Qualcomm hooking up with Maserati, and German automotive supplier giant Bosch showcasing its concept car featuring facial recognition with Ultra Haptics, a crystal-clear OLED display, and digital exterior mirrors. BMW showcased its fully automated 7 Series luxury sedan, whose onboard features, including gesture control, bring futuristic technology to the current luxury car buyer.
Here are some of the automotive highlights of CES 2017.
Divergent 3D Blade
A company that calls itself Divergent 3D created this fully drivable sports car (top left) completely built up from a 3D printer. Their literally cutting-edge 3D printers work not just with composite materials for the body, but can even cut and print metal, specifically aluminum and titanium, for the chassis (top right).
Faraday Future FF91
The FF 91 is a fully electric, fully connected, self-driving, keyless vehicle experience with a "driverless valet" function that allows the car to park itself using your smartphone.
Toyota Concept-i
Toyota's Concept-I is a self-driving car that allows passengers to interact with the car's artificial intelligence agent named "Yui," which anticipates drivers' needs, measures emotions and responds automatically.
BMW
An aftermarket audio company used this BMW sedan to showcase its products.
Honda NEUV Concept
Honda announced not just the artificially intelligent Neuv self-driving car at CES 2017, but a whole new autonomous car ecosystem.
Nissan bladeglider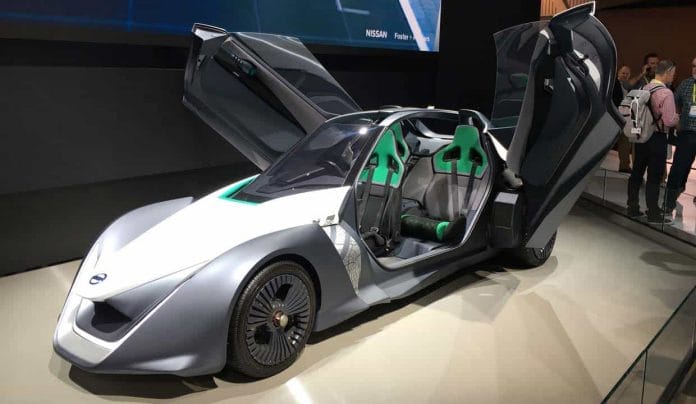 This is Nissan's future vision of cars circa 2040. No less than Nissan-Renault CEO Carlos Ghosn delivered one of the most anticipated keynote speeches in this year's CES. GM's Mary Barra delivered the keynote last year. Only one automotive bigwig keynotes every year; in fact in previous years, there weren't even any auto execs giving a keynote.
Nissan MKII Leaf
Nissan touts its NASA technology in this "seamless" autonomous electric car.
New Ford EcoSport
We've been enjoying Ford's diminutive EcoSport for a couple of years now, but America is getting it only this year—albeit with this new look already.
Ford GT Le mans
Not all car technology at CES was about autonomous driving. Ford's Ecoboost technology was responsible for making this GT supercar fast and fuel-efficient enough to win its class in the 2016 Le Mans 24-hour endurance race.
Jaguar F-Pace
HD Radio used this Jaguar F-Pace to showcase its high-def satellite radio technology.
VW I.D. EV Concept
Volkswagen brought their I.D. electric concept car, first seen at the :aris Auto Show last year, to CES
McLaren 570s
Even specialty British supercar maker McLaren was in CES, showcasing its technology for—what else—speed.
Hyundai VR Concept
Hyundai offered virtual reality (VR) rides to attendees. The car would lurch and shake when it "encounters" bumps and potholes, jostling the occupants—and always eliciting amazement and delight.
Maserati
Ubiquitous computer chip manufacturer Qualcomm used this Maserati to showcase its products and technologies.