Across cities and neighborhoods in Luzon, Visayas, and Mindanao, the Bajaj RE is overtaking the traditional tricycle. The Bajaj RE simply provides better performance, mileage and style, equipping Filipino commuters with a safe, reliable, and economical mode of transportation.
Right now, Bajaj REs and tricycles share Philippine roads. One has glaring advantages over the other:
A modern vehicle for the modern Filipino
As the country marches forward, so should the technology its people can use. Harsh weather is not even an issue, because the Bajaj RE also comes with a heat- and water-resistant tarpaulin roof and sealed cabin floors. Unlike the cramped interiors of tricycle sidecars, the Bajaj RE's cabin is designed for spacious legroom and boasts bucket seats to maximize comfort even on longer trips.
The entire vehicle is built upon a single, sturdy chassis to decrease maintenance costs and increase overall capacity. It's compact so it can travel even in congested conditions, yet the muscular SKUDO design allows it to stand out in traffic.
In India, Bajaj RE has been a tried and trusted companion since 50 years. It's the world's largest manufacturer of three-wheelers and the largest exporter of three-wheelers, making Bajaj the highest employment generator in India. Outside India, the brand enjoys a strong presence across 40 countries. Bajaj is continuously exploring new dimensions to enhance its products and make public transportation easy in every part of the world.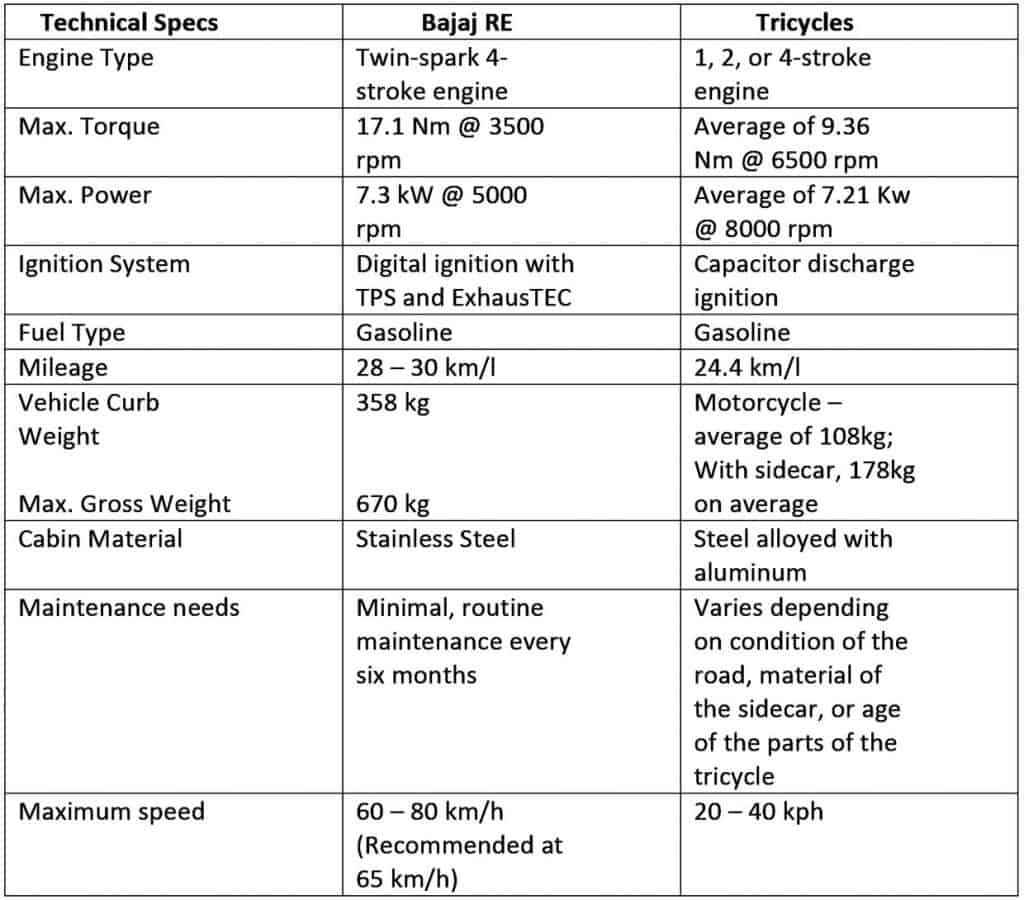 This affordable yet practical three-wheeled motorcycle can take you anywhere you need at a safe and steady pace. No worries of sitting against a cold metal frame and bumping your head on a roof. So level up the modern tricycle experience with the comfortable, durable, and economical Bajaj RE.
For more information about Bajaj RE, follow Bajaj RE on Facebook at facebook.com/BajajREPhilippines.