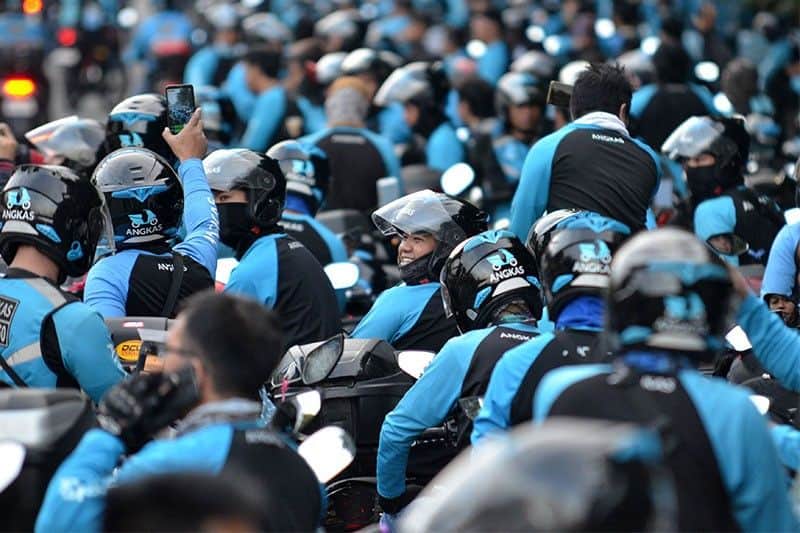 There is no question who benefitted the most following the resolution of the latest problems hindering the legalization of motorcycle taxi operations. The commuters.
This is especially true for low-salaried workers and employees of BPOs. They have come to rely on motorcycle taxis as an affordable and easily accessible mode of public transport.
Two-wheeler taxis get them to work on time, and back to home quickly, despite nightmarish traffic congestion in major urban areas.
Hence many were concerned when the Inter-Agency Technical Working
Group (TWG) on the Motorcycle Taxi Pilot Study suddenly recommended to Congress the termination of the extension of the study aimed at determining the viability and safety of motorcycle taxi operations.
The TWG also recommended the blacklisting of Angkas, the only player in the motorcycle taxi sector when transport authorities acquiesced to conduct a six-month pilot study on whether to legalize it or not. Back then Angkas was allowed to operate in Metro Manila and Cebu and provide authorities data on its operations as part of the study.
This was supposed to have ended in December but the TWG decided on a three-month extension and allowed two more players, Joyride, and Move-It, to be part of the study, while setting a so-called riders cap on the number of motorcycle taxis in operation — 30,000 in Metro Manila and 9,000 in Cebu — to be equally divided among the three.
Angkas did not like this and went to the courts for relief and managed to get a temporary restraining order against the imposition of the riders cap.
TWG's response was to recommend an early end to the study and blacklisting Angkas.
In bringing their case to Congress, TWG claimed Angkas's actions and the TRO compromised the integrity of the pilot study and that it violated guidelines of the study by operating in Cagayan de Oro.
In calling for the blacklisting, the TWG also claimed that Angkas, or its registered corporation DBDOYC Inc., was 99-percent owned by a Singaporean.
The thousands of regular patrons feared the early termination of the study would render all existing motorcycle taxi operations illegal.
How will they get to work on time without riding tandem on a bike through heavy traffic? How can they conveniently message for inexpensive two-wheeled transport?
But it seems there was no need for worry.
In the upper chamber of Congress, there apparently were senators who understood the poor commuters' plight.
One of them was Senator Bong Go who was reported to have expressed support for the continuation and completion of the study to ensure that motorcycle taxis are regulated and that they will provide safe and affordable transport services.
"I will recommend the extension of the pilot study to the President and to (Transport) Sec. Art Tugade, provided that (motorcycle taxis) will abide and care for the safety of the passengers," Senator Go was quoted to have said in published reports following the Senate public services committee hearing that discussed the TWG recommendation to terminate the pilot study.
In the House, Rep. Edgar Sarmiento, chairman of the transportation committee, moved to hold an executive session attended by stakeholders, including, among others, representatives of Angkas, Joyride and Move-it, TWG members, and other government transport authorities.
After the executive session, Sarmiento announced that the following had been agreed upon:
1. The pilot study will proceed to completion.
2. The cap on riders will increase to 63,000 — 45,000 in Metro Manila (equally divided among the players) and 9,000 each for Metro Cebu and Cagayan de Oro (with a proviso that should one player fail to fill-up its alloted number of riders, the other players can have the available slots.)
3. Angkas will drop all cases it filed against the TWG and will aid victims of the Taal Volcano eruption as penalty for its earlier actions.
It was later reported that the blueprint for the agreement was discussed during a meeting between the Department of Transportation (DOTr), the TWG, the Land Transportation Franchising and Regulatory Board (LTFRB), and the motorcycle taxi players the day before the House committee hearing.
Every one seems to be happy after hurdling yet another stumbling block to legitimizing motorcycle taxi hailing operations.
In a DOTr press release, Transport Secretary Art Tugade said: "We need to understand that if we go against each other, and if we do not cooperate, people who have malicious intentions and questionable agenda will be feasting on us. Let us show them that we can join hands — that we can cooperate and agree."
In same release, TWG Chairman Antonio Gardiola Jr. said: "Our foremost concern, and should also be the stakeholders' utmost priority, is the safety and protection of public interest. Let us now close the book of animosity and work together to serve the people we care about."
In other published reports, Angkas Chief Transport Advocate George Royeca said: "The agreement to continue the test run that Angkas and the two other players struck with the DOTr, the LTFRB, and the TWG is an important win for the Philippines, particularly for the commuters and the bikers of all three motorcycle taxi companies."
Reports on the agreement also quoted TWG Chairman Gardiola as saying: "We are considering all sentiments that's why we came up with this. Even the blacklisting of Angkas is already a closed book."
Closed book indeed. Apparently, all's well that ends well.
Still, it must be said that as this drama unfolded in traditional media, social media was awash in posts and memes ascribing all sorts of less than forthright motivations for the actions and statements of many of those in involved in the controversy, from the executive, legislative and other stakeholders, including the motorcycle taxi players themselves.
But we are choosing to believe that all acted with the welfare of the commuters and the general public uppermost in mind. At the end of the day, commuters stand to benefit the most from affordable, efficient, and most of all safe public transport.
* * *
Speaking of safe public transport, government efforts to modernize and promote efficient mass transport continue to bear fruit.
In Bulacan, Pasang Masda held a ceremony to officially launch the deployment of 30 units of Isuzu QKR Class 3 modern jeepneys in Meycauayan, Bulacan. This is another of many batches of modern jeepneys that Pasang Masda acquired from Isuzu Motors Inc. as part of the nationwide implementation of government's Public Utility Vehicle Modernization Program (PUVMP). At the launch were Transportation Secretary Arthur Tugade, Meycauayan City Mayor Linabelle Villarica, Pasang Masda President Obet Martin, and Isuzu Philippines Corporation (IPC) President Hajime Koso.
Also present were LTFRB Chairman Martin Delgra III, DOTr Undersecretary for Finance Garry de Guzman, DOTr OIC Undersecretary for Administrative Service Artemio Tuazon Jr., and LTFRB Region 3 Director Ahmed Cuizon.
***
In Paranaque, a new Premium Point-to-Point (P2P) Bus Service has been launched to serve commuters living in and around BF Homes Paranaque. The new P2P service will connect BF Homes Paranaque to Glorietta 3 in Makati. The bus service will have pick up and drop-off points at Tierra de Maria (Behrouz), E. De la Rama (across Ministop), and Puregold (across Mandarin Palace). At the launch, DOTr Assistant Secretary for Road Transport and Infrastructure Mark Steven Pastor said: "With the "Build, Build, Build" Program in full swing, we have provided alternative mode of transportation that values and prioritizes moving people – not cars."
Also at the launch were former Parañaque City 2nd District Congressman Gus Tambunting, Councilor Ruben Ramos, BF Federation Homeowners Association president Arturo Carlos Astorga II, RRCG Transport System Co. Inc. chairman Robbie Torres, Verne Madamba, Delta NeoSolutions Inc. chairman Steve Mago, and BF Homes transport and traffic director Verne Madamba. The regular fare for the BF Homes to Glorietta 3 P2P service is P100. Senior citizens, students, and PWDs will be charged P80.
Happy Motoring!!!
For comments & inquiries, email [email protected] or visit www.motoringtoday.ph.