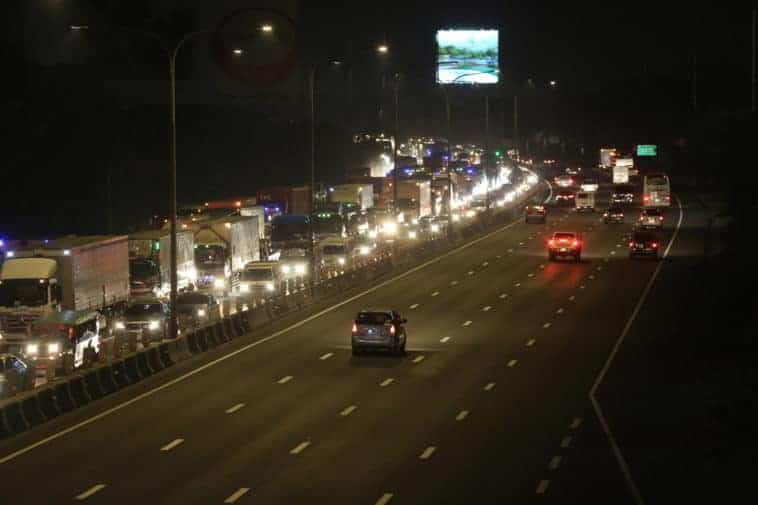 The one-way scheme that has been implemented along the northbound lane of the South Luzon Expressway (SLEX)'s east service road did not sit well with motorists and commuters after it worsened the traffic gridlock along major roads in Muntinlupa City on Wednesday.
In an attempt to ease the traffic congestion caused by the construction of the Skyway Extension project, the Skyway O and M Corp. (SOMCO) implemented a one-way traffic system from Alabang to Sucat Interchange on Tuesday evening.
However, some motorists and commuters criticized the new scheme, saying their travel time from Muntinlupa's city proper to Stamall in Alabang took around two hours. The distance between the areas is only 6.2 kilometers.
As vehicles continued to crawl through heavy traffic, other commuters opted to walk to avoid the gridlock, describing the thoroughfare on social media as "one big parking lot."
In a report by The STAR, Muntinlupa traffic management bureau chief Danidon Nolasco admitted that Wednesday's traffic was heavier than usual but said that it's mainly because of the lack of familiarity with the one-way scheme. He asked the public for patience and understanding, saying that the sacrifice will benefit them, eventually.
"We are still hoping that in the coming days, we will see and feel the effect of the new traffic scheme," he said. Nolasco said that there will be a discussion between the stakeholders on how to improve the traffic problem in the area.
The one-way scheme is expected to last for seven weeks while the Skyway Extension project is ongoing. It is expected to be completed by December 2020. – With Ralph Edwin Villanueva/STAR