When German mechanical engineer Rudolf Christian Karl Diesel invented the first successful internal combustion engine that now bears his name, he did so inside the Maschinenfabrik Augsburg-Nürnberg (MAN) Augsburg plant from 1893-1897. More than 120 years since diesel engines revolutionized the world's transportation, logistics and industry sectors, MAN Trucks & Buses SE has consistently and continuously pioneered in many innovations in diesel engine technology, earning its rightful place as an undisputed world leader in commercial vehicles.
In 1989, MAN Trucks & Buses SE has re-entered the Philippine market through MAN Automotive Concessionaires Corporation (MACC), the official importer, assembler and distributor of Germany's MAN trucks and buses to the Philippines. While MACC initially concentrated efforts on supplying MAN buses to leading public transport companies, it eventually introduced MAN trucks to the local market. These premium heavy-duty trucks and haulers are much sough-after by construction companies and logistics providers because of its powerful propulsion, unbeatable payload, unique ergonomics and over-all build quality.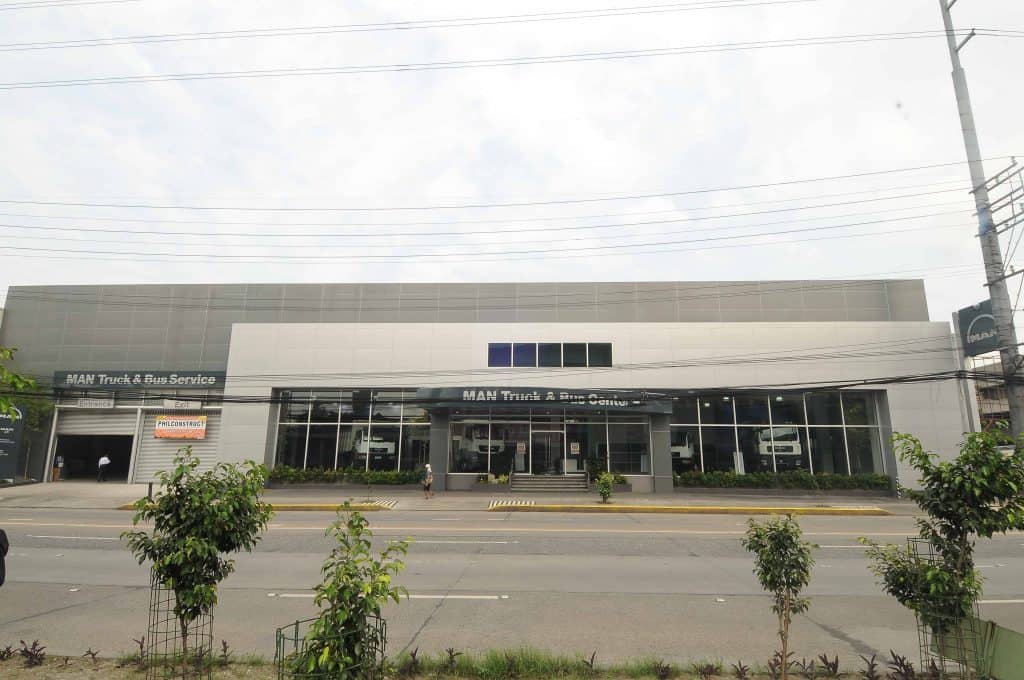 Since then, the German brand has endeared itself to the Philippine bus and truck market, making a solid reputation built upon the impeccable quality of the thousands of MAN buses and trucks plying Philippine roads today, from Luzon to Mindanao. To better appreciate the milestones and achievements of the brand over the years, The Philippine STAR sits down with MACC Managing Director Mr. Fernando Lu as he reflects on the legacy and aspirations of the company ahead of the 30th anniversary of MAN Automotive Concessionaires Corporation in the Philippines.
THE EARLY YEARS
In the Philippines, Delta Motors previously handled MAN's imports and distribution from 1977 to 1984. And from 1984 to 1989, only a representative office was present to handle promotional activities but not conduct other business transactions. During this time, MAN executive Karl Heinz Laban entered into discussions with the Lu family, then into the timber and wood business, and tackled the possibility of MAN re-entering the Philippine market.
"Our family was into the timber business before but the industry then was shaky. Our talks with MAN came at an opportune time because we were looking into entering another line of business, another leg to stand on. And when MAN representative Karl Heinz Laban came, we grabbed the opportunity, although our experience was into selling timber and wooden products. We did not have experience selling vehicles, but we do have experience in servicing all our logging equipment and vehicles," Lu recalls.
Members of the Lu family flew to Germany to iron out the details in a final round of talks. When they came back into the country, paperwork was eventually filed and official incorporation documents were officially dated October 13, 1989. To further meet this new opportunity, MACC developed its one-hectare property in Novaliches and divided it into areas for office space, servicing workshop for vehicles and the assembly plant.
OVERCOMING CHALLENGES
The Philippines was initially considered to have a vibrant bus market, so MACC focused on supplying MAN bus chassis from Germany. In the beginning, Japanese brands were the main competitors, but in the mid-90s, other brands from China and Korea arrived, all vying for the lucrative Philippine market that is poised for growth. They came with products that are so cheap; it disturbed prevailing market prices. MACC felt the pressure, and things even went to a point that the company was selling only 8 units per year.
To top it all off, in December 2007, MAN Trucks & Buses SE decided to transfer the exclusive rights to another entity, giving MACC only one year to scale down operations as replacements are undergoing training. The termination notice was abrupt and unforeseen.
Yet, MACC did not lose hope and continued to strive. Realizing that things have to change, Lu had a brilliant idea up his sleeve, one that would ultimately turn the company's fortunes around.
"On our insistence, we asked the MAN's German office to allow us to sell trucks. We even hired a person to sell trucks and sent him to Germany for training. For five years, not even a single truck was sold. But on the sixth year, eight units were sold; on the seventh 49 units, before eventually reaching close to 150 units in sales by the eighth year," Lu revealed.
Sales further increased and by the time the one-year deadline approached, the German principal changed its mind and decided to stay with MACC for good. In 2010, the company inaugurated the company's parts hub, service facility and corporate headquarters — the MAN Truck & Bus Center in EDSA cor. Seminary Road, Barangay Bahay Toro, Quezon City. This flagship service center can accommodate up to 30 trucks or buses per day, and is the biggest MAN Truck and Bus Center in the Asia Pacific region.
Aside from this headquarters, MAN Service Centers are also located at Novaliches, Quezon City; Biñan, Laguna; Mandaue City, Cebu; Cagayan de Oro City; Cauayan, Isabela; Davao City and Bamban, Tarlac. The company is keen on further expanding its network of service facilities to better serve customers.
PACESETTER BLAZES THE TRAIL
In its colorful 30-year history, MACC was responsible for introducing many original innovations in the large vehicle category. In 2010, MACC was the first to establish a dedicated truck and bus showroom to highlight its heavy-duty commercial vehicles in the Philippines, at a time when only brochures and fliers were the only sources of information available to prospective buyers. The showroom was also designed to welcome clients, attend to their queries and make them feel valued and important.
"It was a gamble to build this facility. But it also corrected many impressions of clients, specifically the impression that MAN trucks were very expensive. They can see, touch and experience for themselves the world-class quality of MAN units when they visit. Upon closer inspection, many clients would remark that our trucks aren't too costly at all," Lu remarked.
As a pacesetter that always sets the trend, MACC was the first to introduce a variety of pioneering innovations. In the bus segment, MACC introduced MAN low entry buses equipped with automatic gearbox, electronic brake retarder, CCTV, WiFi connection and electric signages. For the trucks, MACC pioneered the Fleet Management System with Mobileye Collision Avoidance System as well as MAN TipMatic gearbox feature that automatically optimizes shifting so that the best and most appropriate gear is always selected, making sure that drivers aren't too fatigued, more efficient and safety-oriented. And for every bus and truck sold, MACC has included the ProfiDrive Drivers Training for drivers so that they can fully maximize the fuel economy, potential and safety of the newly acquired machines. By doing so, drivers are better equipped to take great care of the investments of vehicle owners. MACC was also first in offering repair and maintenance contracts to clients.
"MACC has made it possible to bring world-class vehicles here in the Philippines. For the bus sector, the riding public got to ride luxurious, comfortable, reliable and safe buses. That gives the riding public comfort and peace of mind. For the truckers, they got to experience quality products with an affordable total cost of ownership. It has gotten to a point that they realize that it's not expensive to own and operate a MAN truck. In a way, we helped both the bus and truck industry. We are proud to be a channel in bringing all these improvements," Lu explains.
IMPECCABLE SERVICE, TOP QUALITY PARTS
Reliable, functional and built to last, MAN vehicles are designed to meet and exceed even the most exacting demands while setting the standards for comfort, ride dynamics and road safety. But in the unfortunate event that the vehicle experiences breakdowns and problems, MACC ensures a worry-free experience for its customers through its complete after sales program.
There are two main locations that can do repairs and troubleshooting jobs. The MAN Truck & Bus Center EDSA houses a vehicle service center (primarily for buses) and spare parts depot. Meanwhile, Truck & Bus Center Novaliches accommodates bus and truck servicing, and vehicle assembly.
To make troubleshooting much easier and reduce vehicle downtime, MACC employs the MAN-cats system to rapidly and accurately diagnose the complex electronics structure of MAN vehicles. When looking for defective electronics, faulty wires or loose plug connections, there is no need for time-consuming manual inspections of all system components.
And once the errors are found, internationally trained MAN certified technicians would immediately begin work. These mechanics and specialist are all TESDA accredited with 5-star ratings. Should any component need replacement, MAN Genuine Parts are also at hand with a ready supply for customers. These top-grade parts are guaranteed to meet strict quality standards, offering optimum reliability and economy.
For customers in Luzon, there is also a 24-Hour Emergency Service hotline that is on call around the clock, a professional technician that is always on standby to address client concerns. If necessary, clients can count on assistance from a MACC service mobile technician on the road.
ENDURING SYMBOL OF QUALITY
For 30 strong years now, MACC has worked tirelessly to make the MAN brand more visible to the public by providing technologically advanced top quality commercial vehicles and the corresponding support services. Classic MAN trucks in various configurations have performed exemplary as the vehicle brand of choice for heavy industries. In the bus category, elegant and classic bus designs are equipped with new technologies that improve passenger safety and comfort.
In a future characterized by fiercer competition and market disruption, MACC looks at emerging technologies to better reach more customers and keep the existing ones. "We make use of technology and incorporate it in our products. As pacesetters in this market, we have strived to improve our products and services, like a Fleet Management System and a Collision Avoidance System, for example. Leave the transport solutions to us, so that you, our clients, can better focus on their core businesses," Lu concludes.
Always fierce and tough, the lion brand is an enduring symbol of vigor and dependability. As an active industry stakeholder, MACC is committed to provide premium quality, heavy-duty trucks to haulers and construction companies and sleek, efficient MAN buses to leading public transport companies. The story of MACC and its secured legacy is a reminder of how Filipino hard work and German technology have endeared the MAN brand into the hearts of Filipino consumers, today, and for the decades to come.