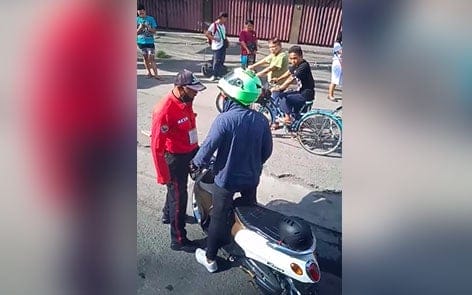 A Valenzuela City traffic enforcer tried to flag down a motorcycle rider who was traveling on the sidewalk meant for pedestrians. He ended up getting bumped by the rider instead.
In a Facebook post by Ariel Onana, a motor rider was spotted last Friday arguing with a traffic enforcer on the side of the road after the former was seen motoring on the sidewalk to avoid traffic along MacArthur Highway.
Instead of surrendering his driver's license to the traffic enforcer, the erring motorist bumped the officer with his motorcycle – apparently in a bid to flee. Onana continued to video the confrontation, and said the biker eventually escaped the traffic enforcer – again motoring on the sidewalk.
According to Article V Section 52 of Republic Act No. 4136, "No person shall drive or park a motor vehicle upon or along any sidewalk, path or alley not intended for vehicular traffic."
In an exclusive interview with WHEELS.PH, MMDA traffic chief Edison Bong Nebrija said that the erring motorist's driver's license should be revoked while his motorcycle should be impounded.
"What is really alarming (in the video) is the motorist's lack of respect to authorities, ignorance in rules and regulations, and complete disregard of traffic laws," Nebrija said.
The MMDA traffic czar said that motorists should always maintain discipline while on the road.
"I think it is the discipline of the road users that should prevail at all times. Hindi porket masikip ang daan pwede ka na mag violate, (Traffic is not an excuse to violate laws)," he said.
Reacting to an expert's statement that the situation has forced motorists and commuters to act like animals, Nebrija said, "We're better than that."
"Whatever the situation, we should act like decent humans," Nebrija added.
Nebrija said that he applauds the persistence of the traffic enforcer in apprehending the erring moto rider, and added that motorists would be fined P150 for "driving in a place not meant for vehicles."