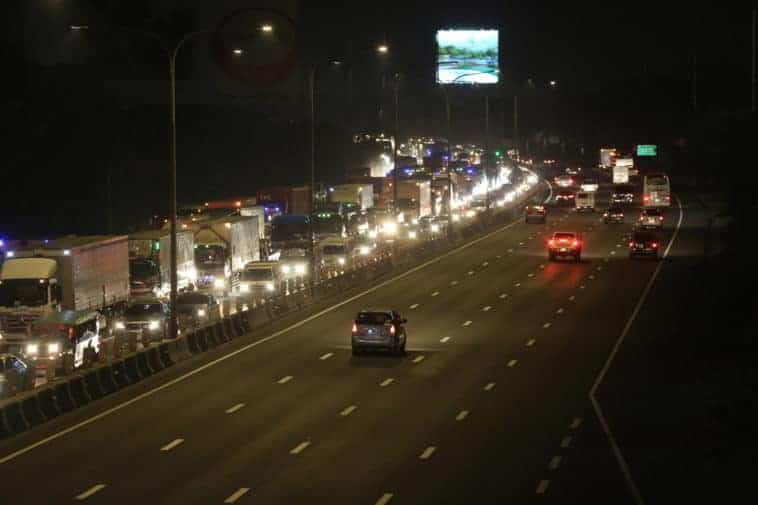 Motorists can expect traffic along the South Luzon Expressway (SLEX) to ease in a couple of days with the re-opening of the third lane of the Skyway at-grade level as well as the two-lane ramp connecting Alabang viaduct to the elevated Skyway.
According to San Miguel Corporation (SMC) president and chief operating officer Ramon S. Ang, the traffic situation along the expressway is expected to ease beginning Dec. 1.
"These enhancements will ensure that there will be five lanes available to northbound SLEX vehicles during rush hours, even as we go full blast with construction of the Skyway Extension project. Motorists will be able to use the original three lanes at the at-grade section, plus two more lanes at the elevated section," Ang said.
The first section of the elevated Skyway from Alabang-Zapote road has been reconfigured from two to three lanes.
With the opening of the new ramp linking to the elevated section, motorists on the northbound lane of SLEX can now be accommodated without significantly affecting the traffic from the Alabang-Zapote road.
The company said that the advantage of the three-lane configuration at the start of the elevated portion is that lane assignments can be easily modified depending on vehicular volume. It said that with the new ramp, motorists coming from Alabang-Zapote road can still use one or two lanes depending on the traffic volume.
Meanwhile, more or all of the lanes, including the two lanes on the new ramp, can be utilized for southbound traffic in the evening, when traffic is heavier during rush hour.
The measures are part of the preparations being done for the construction of the P10-billion Skyway Extension that aims to extend Skyway from Alabang to SLEX near Susana Heights and the Muntinlupa-Cavite Expressway. The project, which is targeted to be completed by Dec. 2020, will add three lanes on the northbound portion and two southbound lanes on both sides of the existing SLEX. This will allow both motorists on the north or southbound lanes to bypass the Alabang viaduct.
"We hope that our valued motorists will find these immediate measures satisfactory. Even as we start construction on the Skyway Extension, which is meant to be the long-term solution to traffic on the SLEX, we've already increased the number of usable lanes to help mitigate and improve traffic," Ang said.
"But as with anything new, we expect a period of adjustment for motorists. This may still cause some congestion in the beginning, especially with the sheer volume of vehicles on the SLEX every day. But we expect the traffic situation to improve quickly once we open," he added.