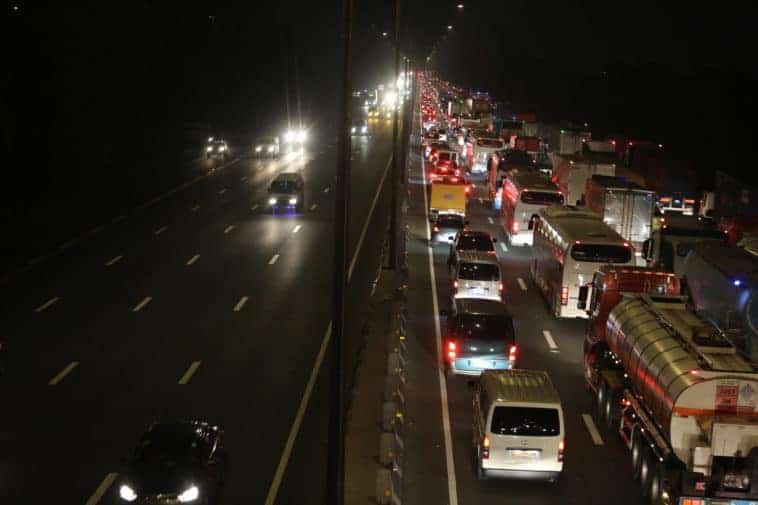 A new scheme to further improve the traffic flow along the South Luzon Expressway is set to be implemented by San Miguel Corp. (SMC) following the opening of a new Alabang viaduct-Skyway ramp and the reopening of the third at-grade lane of the Skyway last Sunday.
According to SMC president and COO Ramon Ang, the company has noticed a big improvement in traffic flow on SLEX this past week.
"Traffic moves quickly even during peak rush hours, and there is no longer a sea of cars on the SLEX," Ang said. "Nevertheless, I have directed all our personnel to continue to closely monitor the traffic situation so we can make necessary adjustments quickly, particularly in areas prone to heavy traffic."
As the construction of the P10-billion Skyway Extension Project continues, SMC advised motorists that the Alabang-Zapote Road elevated on and off-ramp near Bunye South Station will be closed to traffic from Monday to Saturday beginning Dec. 9.
The northbound lane will be closed from 4 p.m. to 9 p.m. while the southbound lane is closed from 6 p.m. to 8 a.m.
"During these times when the Alabang-Zapote Road elevated on-ramp is closed, motorists headed to the northbound elevated Skyway must use the ramp before the Sucat area," SMC said yesterday in an advisory.
"Meanwhile, southbound motorists must use the new ramp at the Alabang viaduct. Motorists headed to Alabang or the Alabang-Zapote road can exit at the Filinvest Toll plaza," it said.
According to Ang, the 180-meter, two-lane ramp has a capacity of 5,000 vehicles per hour, and the reopened at-grade lane last Sunday has effectively increased the number of northbound lanes from the Alabang viaduct to five from three.
He said the new ramp has the advantage of flexibility, as its configuration can be changed to either two-way or single-direction traffic depending on conditions. During peak or rush hours in the morning, both lanes can be opened for northbound use, while both lanes can also serve southbound motorists during peak or rush hours in the afternoon.
SMC is targeting to open the northbound portion of the Skyway Extension project by July 31 next year, while the southbound segment will be completed by December next year. – Richmond Mercurio