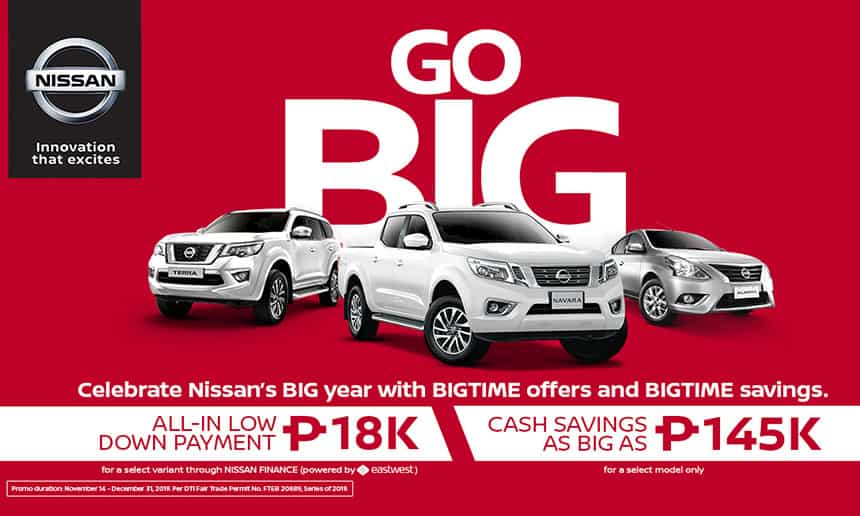 This year, Nissan gives back with BIGTIME offers and BIGTIME savings for selected vehicles. From leaping up the ranks from sixth to third in the Philippine automotive industry, to breaking the records with an all-time high sales volume this 2019, it's definitely been a great year for Nissan! With this plenty of reasons to beat the drum, they want to Go BIG in celebrating this before the year ends.
'Tis the season to GO BIG
May it be a tough and challenging, or a fruitful and life-changing year, you deserve to celebrate in the biggest way possible. If you're still thinking about what your well-earned 13th month pay and bonuses can get you, we say Go BIG! Why not get a brand new car that can take you to places? 'Tis the perfect season to splurge on something that can give you excitement, pure joy, and adventure.
Nissan's Go BIG Promo is perfect for all Filipinos who want to reward themselves for all the hard work they've put in all-year-round. Go BIG by going home with your very own BIGTIME Nissan vehicle! From November 14 to December 31, 2019, you can enjoy the lowest down payment rates through NISSAN FINANCE (powered by EastWest Bank) and the BIGGEST cash savings.
All-in downpayment is a BIG DEAL
Drive your brand new Nissan with an all-in low down payment as low as Php18,000 only through NISSAN FINANCE (powered by EastWest Bank). All-in low downpayment rates are also available for the Navara, Almera, Terra, Urvan, and Sylphy. These all-in low down deals include FREE three (3) years of LTO registration, chattel mortgage fee, and one (1) year coverage of comprehensive insurance (EastWest Bank customers are subject to dealer approval).
Those who want to take advantage of this promo can avail any of the vehicles:
GO BIG on cash savings
BIG CASH savings as much as Php145,000 await those who want to Go BIG and bold on the road with their brand new Nissan vehicle. Transactions can be done through cash payment, bank purchase order, or financing through non-participating banks. Check out the Cash Savings Table below:
These offers are available nationwide from November 14 to December 31, 2019 at any participating authorized dealership.
Head over to a Nissan dealership nearest you, or visit www.nissan.ph/latestdeals to learn more about how you can celebrate Nissan's BIG year with BIGTIME offers and BIGTIME savings.
Per DTI Fair Trade Permit No. FTEB-20089, Series of 2019.