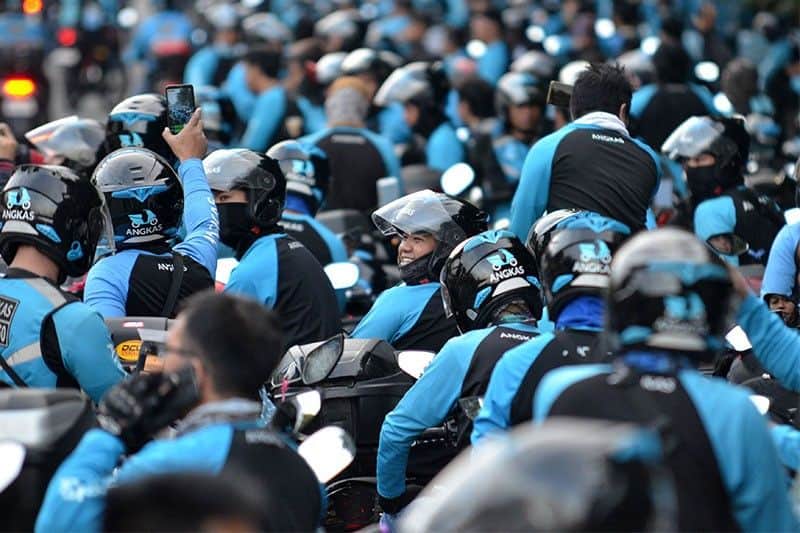 The Department of Transportation (DOTr) has allowed each motorcycle taxi service provider to operate a maximum of 15,000 units in Metro Manila during the pilot run, the technical working group (TWG) said on Wednesday.
The STAR reported that the decision came on the heels of a meeting among the TWG, Transportation Secretary Arthur Tugade and the three ride-hailing firms.
According to the new rules, Angkas, JoyRide and Move It will each have a maximum of 15,000 riders in Metro Manila and 9,000 riders each in Cebu and Cagayan de Oro.
The TWG earlier imposed a 39,000-biker cap for motorcycles-for-hire operations. Each firm was allowed 10,000 bikers for Metro Manila and 3,000 bikers each for Cebu.
"On the part of the TWG and DOTr, we also conceded on some points by raising the cap," TWG chairman Antonio Gardiola Jr. said in an interview on ABS CBN News Channel.
Gardiola clarified that if one of the ride-hailing firms won't be able to come up with the required number of riders, then "the (TWG) will give the excess to the player who is ready."
The TWG set the deadline for the registration of riders on Feb. 12, a period that determines another round of redistribution should Move It and JoyRide be unable to fill the cap.
According to Gardiola, Move It's representatives admitted they could not fill the cap for now, which prompted the allocation of 5,000 more slots to Angkas, increasing its share to 20,000 – a move agreed upon by the three companies.
Meanwhile, Gardiola said that the firms also agreed to retract all the cases lodged against the TWG and that no more cases would be filed against the group for the duration of the pilot study.
The cases, according to Gardiola, made it difficult for the TWG to gather sufficient data to assess the viability of motorcycle taxis.
George Royeca, chief transport advocate of Angkas, said the company officially withdrew the cases Wednesday morning and expressed relief that the impasse has been settled.
Gardiola said Cagayan de Oro City was added to represent Mindanao since there are pilot testing areas in Luzon and the Visayas. – Richmond Mercurio, Neil Jayson Servallos, Edu Punay