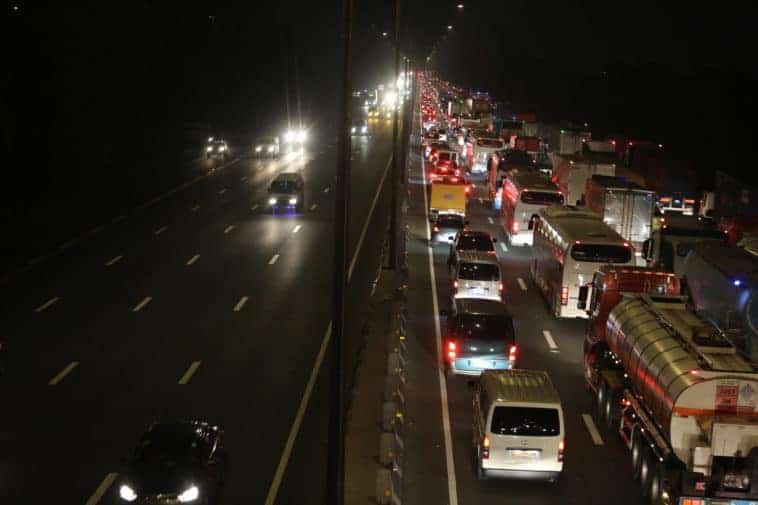 Motorists may experience traffic gridlocks once again along the South Luzon Expressway (SLEX) with the resumption of the construction of the Skyway Extension's southbound section on Feb. 16.
According to San Miguel Corp. (SMC) president Ramon Ang, bored piling and column installation will be done in the area, which is expected to be completed in six weeks.
Ang said that a scheme to manage traffic flow for the duration of the construction has been jointly approved by the Skyway O&M, the Muntinlupa City government and administrators of Filinvest Alabang Inc.
The scheme involves closing the Skyway at-grade's southbound Lane 3 and the northbound lane of the West Service Road, from Sucat Interchange to Alabang Viaduct. The plan also includes closing the Alabang exit plaza's southbound lane (beside the Alabang viaduct) and the nearby southbound Bunye South Station (heading to Crimson Hotel in Filinvest).
SMC said that these closures were originally scheduled in December but were deferred due to the busy holiday season.
Affected motorists, particularly those headed to Alabang or Alabang-Zapote Road, will be rerouted to the Filinvest exit and through Filinvest City.
In a statement, Ang has apologized for the traffic problem that the upcoming construction may create.
"This project is for your benefit, it will solve our long-standing traffic problem on SLEX and in Alabang. Let's give our engineers and workers the chance to do what they need to finish the project," Ang said, referring to the South Luzon Expressway.
The outermost lane after the Alabang viaduct was closed to traffic in Sept. 2019 to pave the way for the construction of the Skyway Extension's northbound section. Some commuters said that their travel time from Southwoods in Biñan, Laguna to Alabang, Muntinlupa took almost three hours since its closure. – Richmond Mercurio