I always thought that "Malapascua" was a rather peculiar name for a Philippine island. In case you haven't heard of it, it's that idyllic isle lying some 9.2 kilometers off the northern tip of mainland Cebu. I gather that Filipinos are usually more familiar with Cebu's northern Bantayan Island, where many like to spend their lazy holidays by the beach. But you see, I say Malapascua is discreetly more famous… because although it may often be overlooked by the locals, this island-town is actually world-renowned!
It is world-famous to scuba divers, that is. And it is thanks to the relentless presence of the beautiful and elusive thresher sharks.
Threshers are arguably the most graceful and balletic of all the sharks; and they are rarely observed because they spend most of their time in very deep water – about 200-plus meters, on average (no kidding!). Because they thrive at this depth, they have big, light-sensitive eyes and are mostly nocturnal. They can grow to three meters in length, and are known for their enormous, scythe-like tails which they use to catch prey by stunning them with an overhead tail slap at a whopping 30-plus meters per second!
There are three kinds of threshers: the common, bigeye, and pelagic type. Of these, the pelagic are found regularly around the waters of Malapascua in Daanbantayan, Cebu — specifically, around Monad Shoal, a vast, underwater plateau located around 7.8 kilometers (or about a 20-minute boat ride) from the island. Consequently, it has become Malapascua's most popular dive site for being the only (known) place in the world where threshers can be seen regularly – usually right before sunrise.
The reason why threshers hang out at shallower depths here is because Monad Shoal happens to be a "cleaning station," in the aquatic sense of it. This is a place where bluestreak and moon wrasse are not attacked by sharks as prey, because they do them a service. These cleaner wrasse species remove ectoparasites from the sharks' skin, gills and mouth; and in return, the sharks let them live.
It is bittersweet to learn more about thresher sharks because they have also been classified as "vulnerable to extinction" since 2007. This makes them even more of a prized creature to observe in the wild – and hence, the global rush of divers to come over and behold them in their natural habitat.
Fortunately, I did not need to cross vast oceans to get to the remote Malapascua island – all I had to do was to fly into Cebu Mactan and drive 3.5 hours north, toward Maya Port at the northernmost tip of Cebu. My choice of vehicle was the outgoing third- generation Mazda3 – a long-time personal favorite, which continues to please me with its sexy, good looks and impressively premium interiors (especially for its segment). It's also so much fun to drive – most especially, it turns out — along the curvy coastal highway along the eastern side of the province.
You see, the Mazda 3 has always been a core model in the Mazda global lineup. It has always reflected the latest advances in the brand's vehicle engineering and manufacturing – with this outgoing generation having built on Mazda's Kodo design concept and "Jinba Ittai" (horse and rider as one) driving dynamics.
Mazda Philippines' passionate President and CEO Steven Tan shares that "Every generation of the Mazda 3 has elevated the brand to a higher stature." And while its latest and more mature, "evolution of Kodo" design language is now embodied in the latest generation of the Mazda 3 (which eliminates the car's prominent lines and instead, banks on the artsy design of the infinite reflections that are created and that dance on its cleverly crafted exterior whenever the car is in motion), I have to admit that there will always be a special place in my heart for the third generation model that initially "wowed" me at first sight.
"More than 19,000 Mazda 3 units have been loved by fans since its 2004 introduction into the country," explained Tan. Emphasizing how it has become "the most successful Mazda model on record in the local market."
Driving to the northernmost tip of Cebu coming straight from the airport was easy, comfortable, and most importantly – fun. The Mazda 3's cockpit-like seats and interface are designed to be intimate, driver-centric, and in line with natural human movements. Already equipped with the brand's proprietary GVC (G-Vectoring Control), the journey is discreetly more comfortable and less tiring to drive, thanks to the synergy of the car's engine, chassis, body, and suspension performance. From a safety perspective, G-Vectoring Control also helps with more effective collision avoidance maneuvers.
The car comes with a Sport Mode button, should the pilot desire a more spirited drive. It comes especially handy when negotiating through strings of tricycles who hoard the fast lane (yes – it happens a lot in Cebu, too!), while the car's head-up display proves extremely convenient for keeping you in-check of your speed, without having to take your eyes off the road.
Inside the unit is the Mazda Connect Infotainment System with a seven-inch TFT display, operated by an instinctive rotary dial. Owners of this generation of car may also now opt to get an upgrade to have Apple CarPlay/Android Auto installed into it for more convenient navigation (among other benefits), for a fee.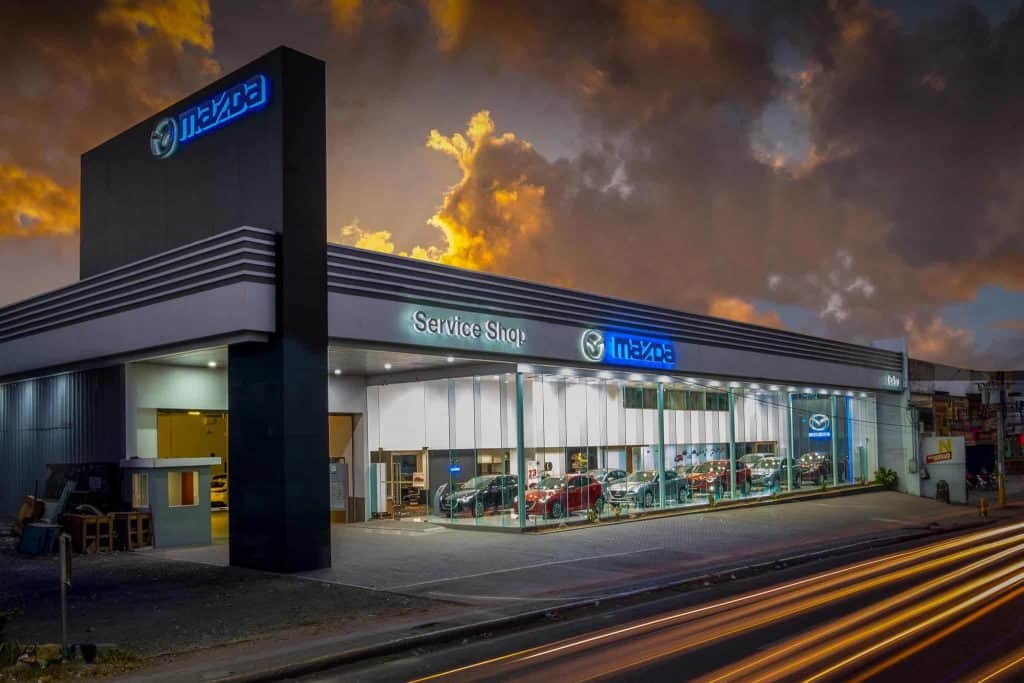 Mazda vehicles are easy to access and service in Cebu, via their expanded dealership in the Queen City of the South – owned and operated by Cebu Southbay Automobiles Incorporated. As a matter of fact, Mazda Cebu plays a key role in driving up sales performance for the brand, as it is known to contribute at least nine percent of the total Mazda sales in the Philippines. It is also one of the country's largest Mazda dealerships, with Cebu being a first income class, highly urbanized city that is the second most populous metropolitan area in the Philippines, only after Metro Manila.
After an enjoyable drive through towns and curvy provincial roads, we parked the car next to the new Maya Port (though the old port still exists, and is still operational) and took a 30-minute bangka ride to the famous, idyllic island that greeted us with a white sand beach bordered by coconut trees. The boat ride cost us P100 a person.
According to the locals, the island's real name is Logon. But early Spaniards started calling it Malapascua after a Spanish ship allegedly got stranded on the island due to bad weather – forcing the conquistadors to spend Christmas away from their loved ones, and thereby inspiring them to give it the nickname: Mala Pascua translates to "Bad Christmas."