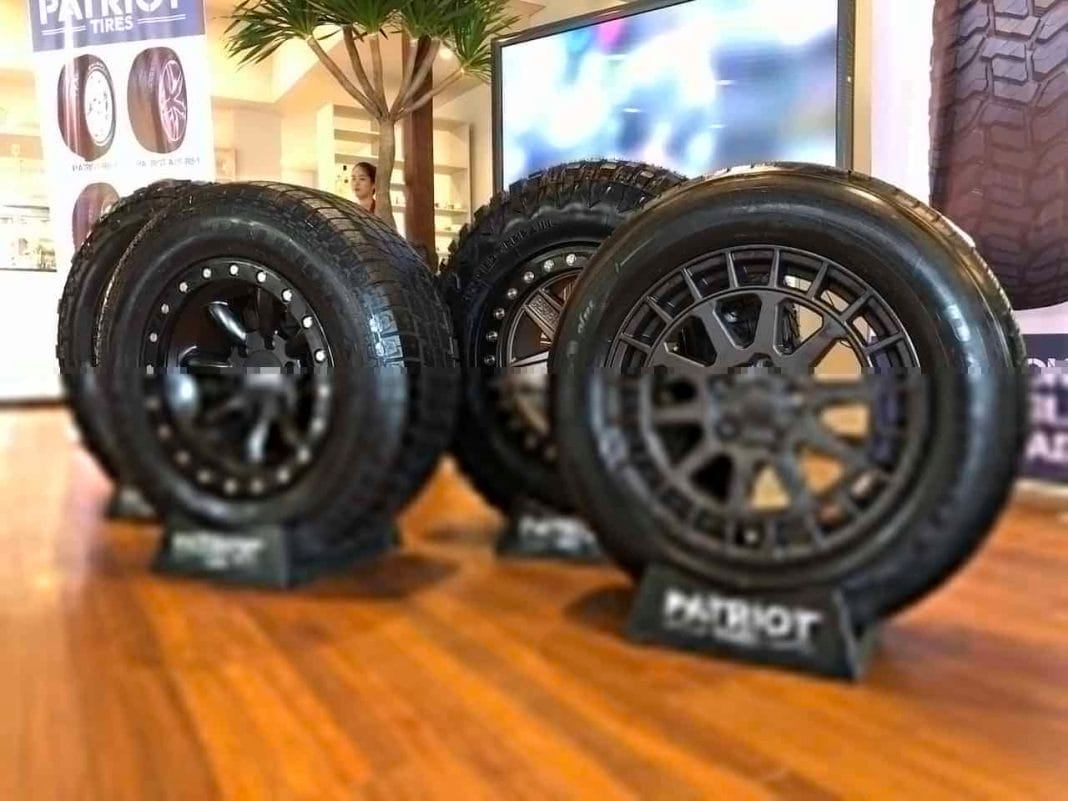 Patriot Tires is finally in the Philippines. The American-marketed tire brand specializes in SUV-centric applications that bring together functionality, reliability, and affordability. Designed and engineered to bridge the gap between entry-level and premium tire brands, Patriot Tires exceeds all global standards without breaking the bank. It passes the US-based DOT and Europe TUV standards.
Singapore-based Omni United, the parent company of Patriot Tires, first launched the brand in the United States in 2003. Leveraging a global supply chain, Patriot Tires products remain affordable. Yet by staying design-driven, they respond quickly to market tastes and demands. For example, they can bring a tire from the drawing board to production in as little as six months. Today, thanks largely to the stellar performance of Patriot Tires, they have sold over five million tires globally.
Seeing the very same trend favoring SUV and truck personalization, Patriot Tires is finally in the local market, serving owners who are looking for tires that blend purpose and function. Through its ethos of "utilitarian design," Patriot Tires are offered in a wide range of fitments that cover everything from crossovers to extreme trucks.
Serving as the backbone of the entire line-up is the unique Rugged Terrain or R/T line. Available in a wide range of sizes from 17 to 24 inches (speed ratings from Q to T), the Patriot R/T is designed to deliver exceptional off-road performance similar to M/T or Mud Terrain tires, coupled with the on-road comfort, quietness, and smoothness of A/T or All Terrain tires. Indeed, these tires are truly the "best of both worlds" for the SUV buyer.
On the extreme ends, there's the Patriot A/S RB-1+, the brand's sport touring tire with an ultra-high UTQG (tread life) rating of 500. Designed for crossovers, they're available in aspect ratios ranging from 35 to 65; on the other is the Patriot M/T or Mud Terrain tire, a tire that's designed for harsh off-road use. Offering good handling and traction on slippery and muddy surfaces, it resists cutting and chipping on gravel or rocky surfaces as well. Of course, Patriot Tires are also offered in A/T or All-Terrain fitments and coming next year, Extreme Terrain fitments.
"Patriot Tires is a great compliment to our product portfolio," says Sam Liuson, President of Wheel Gallery, one of the authorized distributors of Patriot Tires. "It suits our Black Rhino brand of wheels in that it combines style and durability that withstands the intense rigors and torture of off-roading with no difficulty."
Patriot Tires is available at Wheel Gallery located at 318 Santolan Road, San Juan. For more information, contact them through Facebook: Facebook.com/BlackRhino.PH or through telephone number +63 2 724 7176.