Have Ford, will transport 15.
Ford Philippines has brought in the marque's large people mover, the Transit, amid of what company managing director PK Umashankar described as "the continued growth of the light commercial bus and van segment… a (sector) that (comprises) about eight percent of the industry in the Philippine auto market." The US-headquartered auto firm is seeking to make a decisive foray into the niche these last days of 2019. The year as a whole is projected to move 33,000 units in the segment, according to Umashankar in a speech at the vehicle's recent launch.
Ford Philippines is confident about the 15-seater's prospects. "In 2015 alone, the Transit was hailed the number-one nameplate in the medium commercial van segment in Europe, the bestselling van in Americas, and the bestselling nameplate in the light bus and van segment in China – making it the bestselling cargo van globally," it said in a release.
First launched in 1965, the Transit has cycled through six generations, Umashankar shared that "over seven million Transits" have been sold, "consistently keeping up with the demands of enterprise customers whose primary business is moving people and goods alike." He noted that the nameplate has won numerous industry awards for "fuel efficiency, design, (and) value."
Initially sold in Europe, the Ford Transit has steadily penetrated markets in other continents over the last few years. The units making their way to the Philippines come from Turkey, and come in a sole variant available in three colors. The vehicle is powered by a 2.2-liter Duratorq diesel engine mated to a six-speed manual transmission, and delivers 135ps and 385Nm.
Measuring 5.981 meters long, 2.4m wide, and 2.517m tall, the people mover offers generous space, and boasts 21 stowage bins, 12 cupholders, and multiple power 220-volt sockets. Each of the 15 passengers receive three-point seatbelts with headrests. An escape hatch, as well as a window-breaking hammer, are provided for emergency situations.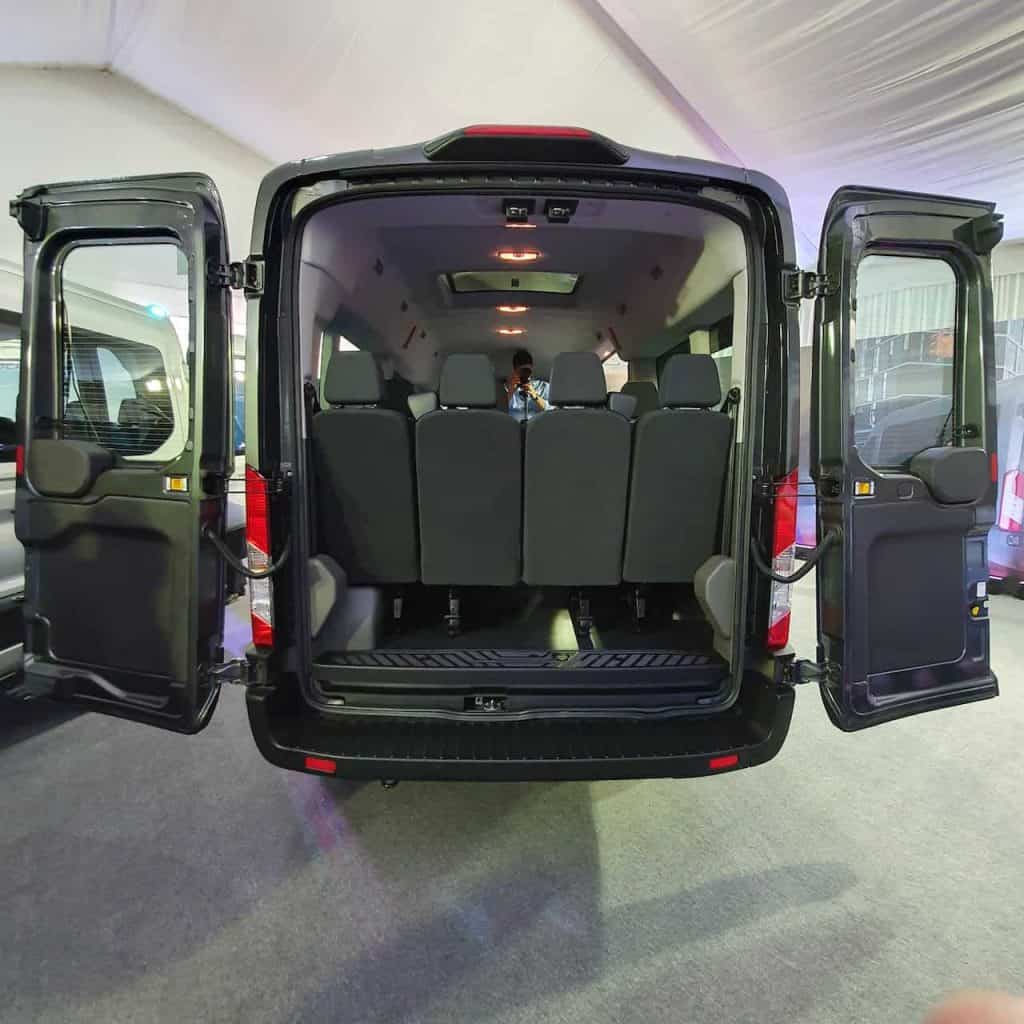 Ford says safety is also enhanced with a slew of features like "a rearview camera, extra-wide doors, rear cargo doors with 180-degree opening capacity, easy-clean non-slip rubber flooring, power sidestep, power folding side mirrors, hill launch assist, and load stabilization."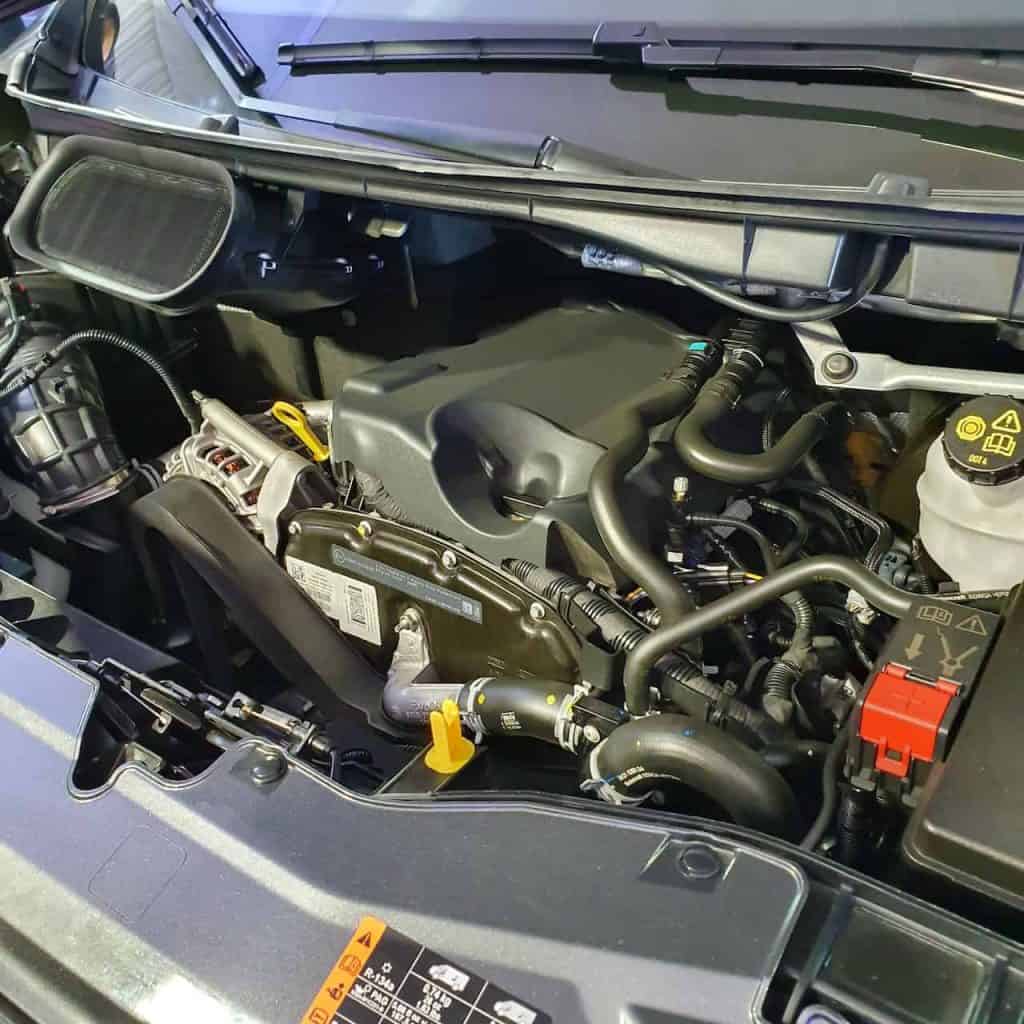 Up front, the Transit has a three-bar grille, halogen reflector headlamps with daytime running lights, and fog lamps. Standard on the Transit are steel wheels with hub caps, black bumpers and side moldings, and rear bumper with integrated step. The rear doors swing open a maximum of 180 degrees, but may be locked at 90 degrees for safety (and to prevent hitting adjacent vehicles and people).
For easier passenger ingress and egress, the aforementioned power sidestep automatically deploys when the passenger door slid open. However, should there be an obstacle (such as a high curb), the sidestep will retract. Meanwhile, the front passenger-side airbag can be manually deactivated using the vehicle key in case a child needs to sit in front.
Ford Philippines is more keenly targeting the enterprise market with the Transit. Said Ford Philippines assistant vice president for communication Edward Joseph "EJ" Francisco in an interview with Velocity, "Definitely, we want to tap another segment of the market – the enterprise business segment, a growing segment. I'm not just talking about in light of this LCBV, but we're trying to reach out beyond retail which our other vehicles are for.
Francisco observed that enterprise customers are growing as a segment, and that "the Transit's features are really perfect for those whose businesses require people movement… BPO, tourism, travel – these are the businesses we want to resonate with."
Ford Philippines also stressed in a release that the Transit "offers outstanding after-sales value by optimizing cost efficiency for businesses… only requiring a once-a-year scheduled service interval, allowing for better and more competitive owner experience." The company also extends free five-year scheduled service maintenance for buyers up to the end of 2019.
The all-new Transit is priced at P2.3 million and is available in Ford dealerships nationwide.