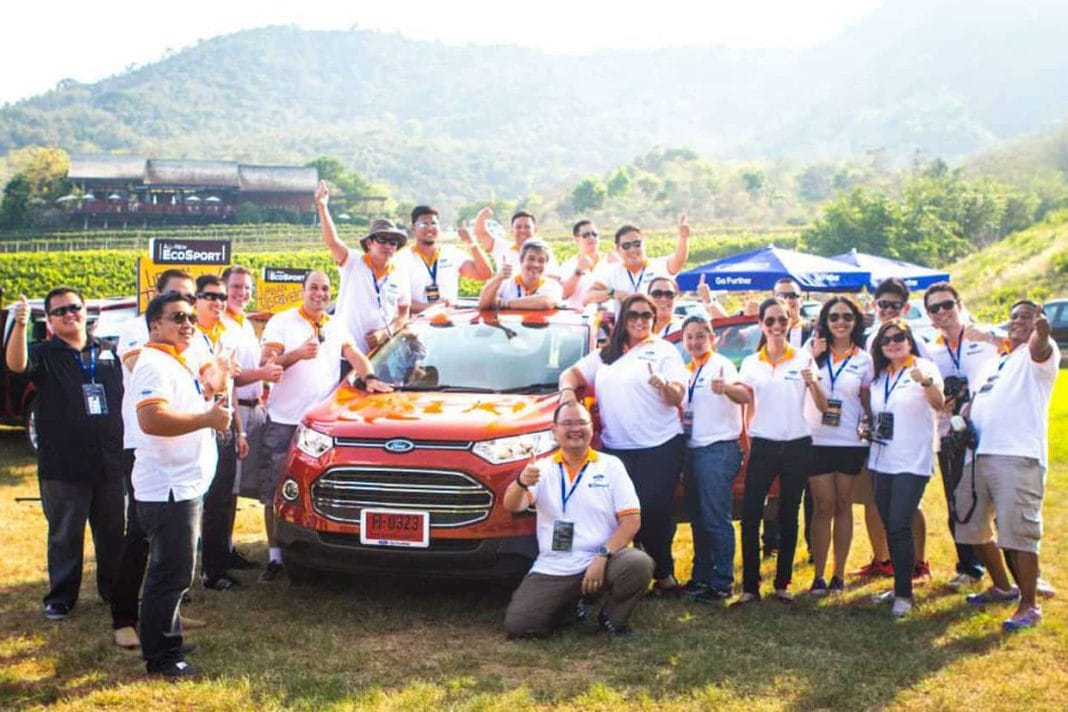 We threw a few questions to PR practitioner and fellow STAR writer Monique Buensalido to ask her about her family's love for a single car brand – Ford. In this day and age, when car buyers are spoiled for choice, it is indeed curious to have not just one person but a whole family profess loyalty for one car brand. Mind you, Monique and her agency, Buensalido PR & Communications, don't handle Ford as a client nor is she pitching for it.
Monique is the AVP for Accounts and Digital at Buensalido PR. A former magazine editor, she still contributes to Philippine STAR (after having graduated from her column in Young Star because, according to her, she got, well, old; she started when she was 11, after all) and MEGA Magazine when she finds time to write. Most of her days now are spent crafting message houses and communications strategies for clients, pitching stories to media, trying not to die while moving barbells around in her CrossFit box, consuming copious amounts of coffee, and sitting in her Ford EcoSport driving from one area to another.
1.Why did you choose Ford as your family's choice of vehicles?
We didn't mean to be such a "Ford family." From what I've observed from how we all decide on cars (my brothers are both married and live away), we primarily look at the features of the car and the price.
We popped our Ford cherry with my Dad's Ranger XLT. My Dad's a careful researcher before any purchase, so when he wanted to get a pickup, he looked across many brands and took many things into consideration — features, design, price. He was already impressed with the Ford brand (a reliable, iconic and long-time brand), and he ended up gravitating towards the design and features of the Ranger. From a design point of view, he usually personally prefers linear designs vs the curvier designs of Asian cars. But he also had some problems with the other pickups that he was considering (from the look of the rear lights to engine size), so he ended up choosing the Ranger XLT.
Because the brand experience was positive, we also started to look back into Ford when we needed a smaller car for me. The EcoSport had been newly launched then, and we felt it was an affordable choice, and we loved the SUV-type design.
I guess it just so happened that Ford delivered on all its features and promises, and so we just kept looking back into their ecosystem whenever we had different needs, and so far we've been very happy with our different vehicles.
2. Can you share with us all the six Ford vehicles you have right now? Who drives each car?
I have an EcoSport. My father drives a Raptor. It's his (very macho) pickup. My Mom and I have to do mini-gymnastics to get up and into it (it's quite high), but he loves it rabidly and will wax praises about it as my Mom and I collapse into our seats. Aside from driving, he likes that he can load materials onto it. He loves home improvement projects, so during his free time you can find him looking for materials everywhere (from Wilcon to Divisoria) and loading them onto the back of the car to bring home, and he appreciates the cargo space. He loves the suspension (it's fantastic) and the choice of two-wheel and four-wheel drive. (He obviously knows a lot more than I do.)
My mother owns an Explorer, because she prefers a spacious vehicle for going around Metro Manila so she can stretch her legs while catching up with work when they're stuck in traffic (an inevitability). She usually lugs around a lot of things for work, from dockets of files to packages for clients and friends, so the space is helpful. My older brother, Jason, is an architect with his own firm, and he also drives an Explorer. It's great for going to his projects that bring from Metro Manila to farther locations of his sites, but also spacious enough for any trips with his wife Nikki, his 4-year-old daughter Annika, and Annika's mini-entourage of My Little Pony figurines.
My older brother, Jondi, drives an Everest while his wife, Jocel, drives an EcoSport like me. Kuya Jondi is a doctor and works at four hospitals (from Alabang to Makati to Manila), and usually drives to each of them everyday. That's an inordinate of time driving himself from hospital to hospital, so he needs his car to be dependable. With two growing kids who need to be taken to school and extra curricular activities, he needs it to be spacious too. Jocel is also a doctor and also drives around, both for work (her drive takes her to Sta. Rosa) and several of her mom duties.
3. What's your go-to daily Ford vehicle for work and running errands?
Definitely the EcoSport. I use it for everything, everyday. Both my parents also like using the EcoSport for quick errands versus their own cars.
4. Which one is your favorite? Why?
I'm biased but I would have to say my EcoSport again. He's named "Abo" — half because of the license plate, and half because he's silver. (Originally my nephew had named him Silver, but Abo seemed funnier.) It's such an easy and intuitive vehicle to drive and own, but it's tough and built like a SUV. I used to drive a much bigger car, but driving this doesn't feel like a downgraded at all.
5. How frequent do you drive it and what activities do you do?
I use it every day to go…everywhere. I live in the south of Metro Manila, so I often have to drive up for everything — work, social gatherings, meetings, etc. Most of North friends will complain to death before they go to the south! Buti pa ang mga taga-South naga-adjust! I've also taken it to road trips to La Union and Pampanga.
6. What features in the EcoSport do you like the most?
Full disclosure: A handful of years ago, I was the editor-in-chief of Travel Now Magazine and I was invited to a test drive of the newly launched Ford EcoSport abroad. I got to try the car (I had to learn how to drive a right-hand drive!), and as I was with motoring journalists (SUCH a fun and great group!), I felt so enlightened hearing these astute and hard-working journalists discuss and ask really, really good questions about the car. A year later, my family bought the car, and it encouraged us to make the choice because of the additional information I got from the guys.
Anyway, my favorite would be the build — I love how it's built and shaped like a SUV, but remains light and compact so it's incredibly easy to drive (and park!). Additionally, I feel a little bit more confident and safe driving in a SUV-shaped car, especially when I'm alone at night and navigating around unfamiliar roads and territories. The EcoSport is pretty fuel-efficient too. And while I've never had a chance to test this (except one very close call huhu), I have always been impressed with the EcoSport's high ground clearance and declared 550-meter water-wading depth, which means it has a better chance of surviving floods than most "small" cars. Incredibly important in baha-prone Metro Manila.
This is a really small thing but I really like the USB port so I can charge my phone while listening to podcasts and Waze-ing around the city, haha.
7. When did you buy your first Ford? Your latest Ford?
"My dad's Ranger XLT was the family's first Ford. The latest Ford would be his Raptor, which he got last year."
8. Where do you have them serviced?
Ford Alabang.
9. What are the high and low points of Ford ownership?
Again, so far, we've had a very positive brand experience — the cars are durable, they deliver, the designs are nice, and the servicing is good. Not much lows, except sometimes we look at certain categories and feel like the cars could be better!
10. Are there other cars (Ford or other brands) that you have previously owned but have let go of?
A few. Personally I drove an Isuzu Trooper for about 15 years, and we had a lot of good and bad times together, but he unfortunately had to be retired a few years ago. (His name was Troopy. I still miss him LOL) Losing Troopy was the reason I got the EcoSport! Part of the reason why the EcoSport's SUV-shape appealed to me a lot was because I drove a bigger car before.
11. If you were to buy a new car in the future, what brand might that be?
Depends on the need! But Ford would definitely be in the first draft of our pick.
12. How is the decision-making process in your household when it comes to choosing a new car?
For me, my Dad is the ultimate influencer in the household when it comes to choosing cars. My Mom and I don't know a lot about cars like he does, so we tend to ask him everything. Like I said, he's a passionate and relentless researcher, and, equipped with printouts and brochures, will herd us to different showrooms to look at cars and discuss features, design, price. It may seem tedious, but a car is an important purchase, and I really appreciate him teaching us which features to look at, and how to gauge if it is worth the price. If he likes it, then I'll like it. (I'll probably just choose a color haha.) Generally, my dad will look at the need, and then go into features, design, and price. He also teaches us how to take care and maintain our cars regularly (once I mentioned to him I needed to take my car in for the regular tune-up, and he told me exactly who to call at Ford Alabang haha).