The most revolutionary street-legal Porsche 911 ever built now leads Porsche Philippines' model range of sports cars. Directly linked to the 911 GT3 racecar, the new 992-generation 911 GT3 RS is equipped with features designed to deliver maximum performance on the road and the track.
Immediately identifying the new 911 GT3 RS are numerous aerodynamic elements intended to optimize airflow and cooling. Most prominent is the swan-neck-supported rear wing made up of a fixed main wing and another hydraulically adjustable one. The top edge of this wing is slightly higher than the car's roof — a first for a Porsche production model.
In front, the new 911 GT3 RS discards a spoiler in favor of a front splitter that divides the air flowing over and underneath. Side blades direct air outwards. The car's wings generate twice the downforce than those on the previous model. While these lead to better stability and faster cornering, a part of the rear wing adjusts angle to reduce drag, increasing straight-line speed. When required, the combined wing elements can support the brakes as well.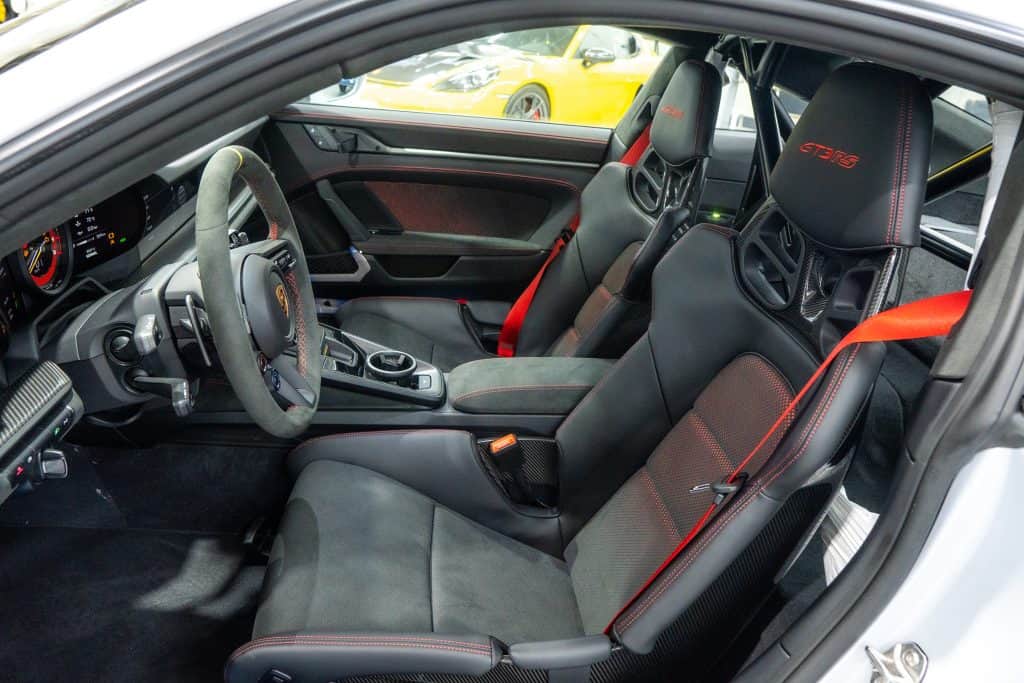 Like in the Le Mans-winning 911 RSR and 911 GT3 R, the new 911 GT3 RS has a single-piece radiator rather than three, which were used in previous models. Air flowing through the radiator exits through the large nostrils on the hood. The setup frees up space to accommodate more aerodynamic elements.
The cockpit of the new 911 GT3 RS is just as performance-focused. Driving modes — Normal, Sport, Track — can be selected via rotary knobs on the steering wheel. A button that adjusts the angle of the rear wing is placed alongside the knobs. At the sides of the analog tachometer are the gearshift indicators. The standard full bucket seats and numerous other interior pieces are made from lightweight CFRP.
Fitted to the new 911 GT3 RS is Porsche's 4.0-liter naturally aspirated engine that now makes 525 horsepower. The engine gets new camshafts with modified profiles, and motorsports-derived intake system and valve drive. The seven-speed PDK transmission matched to it has shorter gear ratios. These let the new 911 GT3 RS accelerate from a standstill to 100 km/h in 3.2 seconds, and reach a top speed of 296 km/h in seventh gear.