At the Japan Mobility Show (JMS), amidst the buzz of groundbreaking vehicles and innovative concepts, Toyota unveiled its NEO Steer concept, solidifying its commitment to the "Mobility for All" philosophy.
The NEO Steer, which came as a wild yoke steering wheel designed after a motorcycle handlebar, was unveiled globally a few days before JMS, but no one was sure of its real purpose. Fortunately, I had a go at it during the show, and it's brilliant.
Toyota's NEO Steer redefined conventional driving controls by integrating acceleration and braking functions directly onto the steering wheel. While other automakers had explored similar ideas before, Toyota distinguished itself by creating a design that felt seamless and intuitive, setting a new standard in automotive innovation.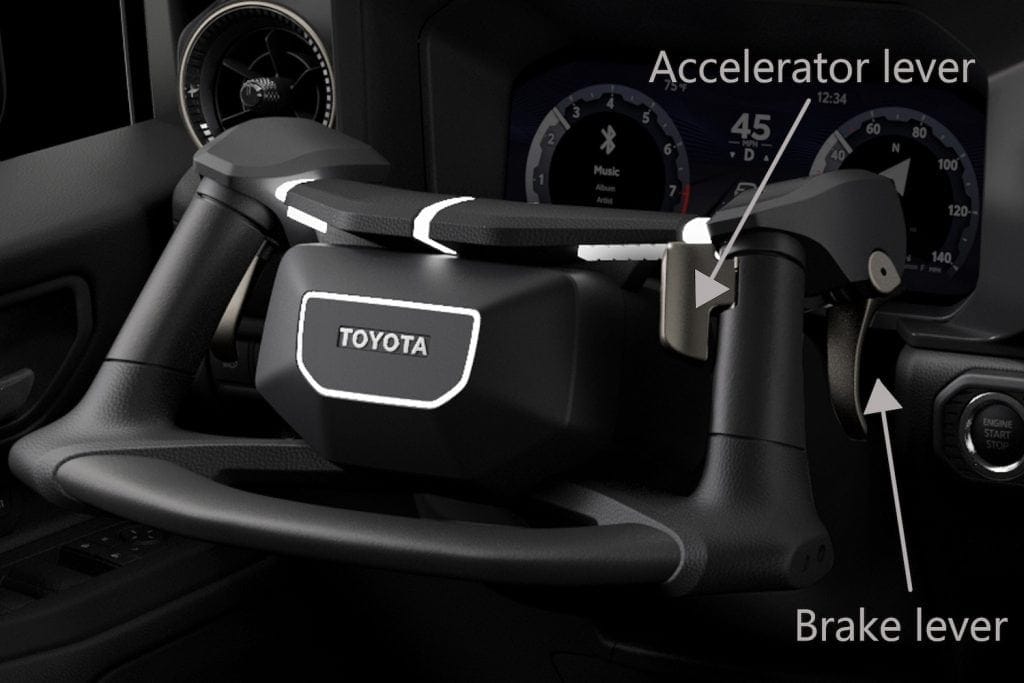 Having the opportunity to test the NEO Steer concept, albeit in a simulated setting on Gran Turismo 7, allowed for an immersive experience. The familiarity of the motorcycle-inspired controls felt surprisingly natural. With the accelerator positioned on the right-hand side, utilizing a thumb-controlled "throttle" through a twisting motion, and the braking system managed by both hands, akin to a bicycle or motorcycle, the integration was user-friendly. The subtle maneuver of lifting the thumb from the throttle replicated engine braking, enhancing the overall driving experience.
Reflecting on the potential impact, it became evident that the NEO Steer could revolutionize driving, not just for individuals with physical disabilities but for anyone facing temporary physical limitations. Even in the case of an average individual with a temporary injury like a broken leg, this system could offer tremendous benefits.
The concept's applications should extend far beyond gaming simulations. The potential for integrating the NEO Steer into real-life vehicles seemed promising. Given the predominant use of computerized controls in modern cars, especially in the realm of electric vehicles, implementation appeared feasible. Toyota's strong focus on electric vehicle development suggested that integrating the NEO Steer as an optional feature could be a realistic prospect. This could open doors for enthusiasts, including those with paraplegia, to relish the driving experience, particularly in upcoming electric sports cars such as the anticipated Toyota FT-Se.
The delayed launch of the RZ's yoke steering wheel could be attributed to Toyota's commitment to perfecting the technology before reaching consumers. Introducing the NEO Steer as an optional feature might elevate Toyota's yoke steering wheel one step closer to perfection.
With the NEO Steer concept, Toyota didn't just showcase a radical idea but a potential game-changer in the automotive industry. Its promise of making driving more accessible, intuitive, and inclusive for a diverse range of individuals highlighted a future where innovation and accessibility converge, redefining mobility for all.