Toyota Motor Corporation doesn't rely solely on EVs for its goal of carbon neutrality, but that doesn't mean it doesn't have any ace up its sleeve in terms of electric mobility.
Opening the Japan Mobility Show, TMC has unveiled two groundbreaking electric concepts, the FT-3e SUV and FT-Se sports car. Despite their alphanumeric soup of names, these vehicles showcase striking, radical designs that deviate significantly from Toyota's conventional offerings.
TMC also displayed the Land Cruiser Se, the first electric Land Cruiser, and the EPU compact truck – both concepts but will definitely be a game changer if they reached production.
While these vehicles are currently conceptual, their transition to production models appears plausible in the near future. Toyota recently outlined its battery development roadmap, outlining advancements in battery technology, including lighter weight and higher energy density. The incorporation of solid-state batteries, as indicated in their roadmap, holds promise for enhancing the viability of these concept vehicles. This technological progression suggests a potential shift toward more feasible electric models in the coming years.
Toyota FT-3e Concept
Toyota's FT-3e Concept has emerged as a departure from the existing array of Toyota SUVs, marked by its angular design. Its contemporary exterior encompasses modern lighting elements, robust fenders, and a sharply inclined windshield, ensuring that its visual allure alone could captivate potential customers.
Far from content with interior digital interfaces, the FT-3e goes a step further, integrating external digital displays running from the lower side body to the upper door. These panels relay vital information such as onboard temperature, battery charge status, and interior air quality to the driver upon approach, effectively reflecting the theme of innovation embodied in the Toyota booth's display: "Let's Change the Future of Cars – Find Your Future."
Inside, the FT-3e boasts a digital interface encircling the steering wheel, complemented by a central display. Positioned higher on the dashboard, two additional displays, linked to rearview cameras, replace conventional rearview mirrors. Impressively, the FT-3e encompasses at least seven distinct displays within its interior setup.
Koji Sato, Toyota's CEO, highlights the introduction of Arene, the company's new software platform aimed at ensuring their upcoming EVs remain up-to-date, facilitating access to an extensive array of applications.
Aside from its technological advancements, the cabin adopts a light, natural color scheme, seemingly utilizing numerous sustainable materials. Notably, a wood-like material adorns the space between the central display and the top of the dashboard. Furthermore, the absence of conventional knobs and switches, as well as the unique absence of normal door handles, indicates a departure from traditional design elements.
While specific details about the powertrain remain undisclosed, Sato's mention of a manual transmission mode upon the car's debut suggests an emphasis on a potentially spirited driving experience.
Despite a low roof height of 62.8 inches, Toyota claims the FT-3e provides an interior space akin to a minivan with the headroom of a RAV4, owing to its 118-inch wheelbase.
Toyota FT-Se Concept
As undoubtedly the star and frontrunner of the show, the Toyota FT-Se Concept captured the majority of attention at JMS, and rightfully so. Its design boasts a low, sporty posture, accentuated by striking features such as vertical daytime running lights at the front and a prominent rear wing.
Adorned with GR badging, the FT-Se aims to channel the exhilarating driving experiences of the GR86 and Supra, even while solely relying on electric power.
Stepping inside, the FT-Se strikes a balance, eschewing an overwhelming array of digital interfaces seen in the FT-3e, yet embracing a definitively contemporary layout. The cabin hosts a central digital driver's display and two smartphone-sized screens flanking the rectangular, yoke-style steering wheel. A vibrant color scheme adds flair, showcasing blue Recaro seats complemented by orange accents. Notably, the blue padding on the center console serves to safeguard occupants' knees during track driving, emphasizing the FT-Se's origins rooted in motorsports.
The FT-Se's technical specifications remain undisclosed, though we expect that Toyota will master this part as shown by the Caterham Project V, a concept weighing under 2,700 pounds, demonstrates the feasibility of a lightweight electric sports car. Sato's reference to a potential manual transmission mode for the FT-Se hints at empowering drivers with greater control.
This concept marks Toyota's second foray into sporty electric vehicles within two years. In late 2021, Toyota and Lexus unveiled 15 electric concepts, several of which are slated for production. While there were expectations that a convertible sports car with GR badging might influence the FT-Se, the distinct design philosophy suggests an array of varied electric sports cars could be in Toyota's pipeline. This diversity hints at a potential series beyond the currently spotlighted model.
Land Cruiser Se and EPU Concepts
Launching online before the Mobility Show, the Land Cruiser Se and EPU compact truck concepts made their public debut in Tokyo. While not as radical as the FT Concepts, these two almost-close-to-production vehicles gives us an idea of how a small electric truck and an electric Land Cruiser would look like.
Toyota's Land Cruiser Se Concept hints at the Japanese automaker's potential future direction. It's a three-row EV capable of seating seven due to its elongated 120-inch wheelbase. In comparison to the Land Cruiser Prado, the BEV is notably more massive, being 9 inches longer and marginally wider, but 6.1 inches shorter in height.
This concept marks a departure from the Land Cruiser's traditional ladder-frame structure, embracing a monocoque body for agile handling and off-road capability. Toyota promises high-torque performance driven by its electric powertrain. Visually, it echoes the American Land Cruiser but with sleeker, more modern lines, a two-tone color option, and contemporary LED elements.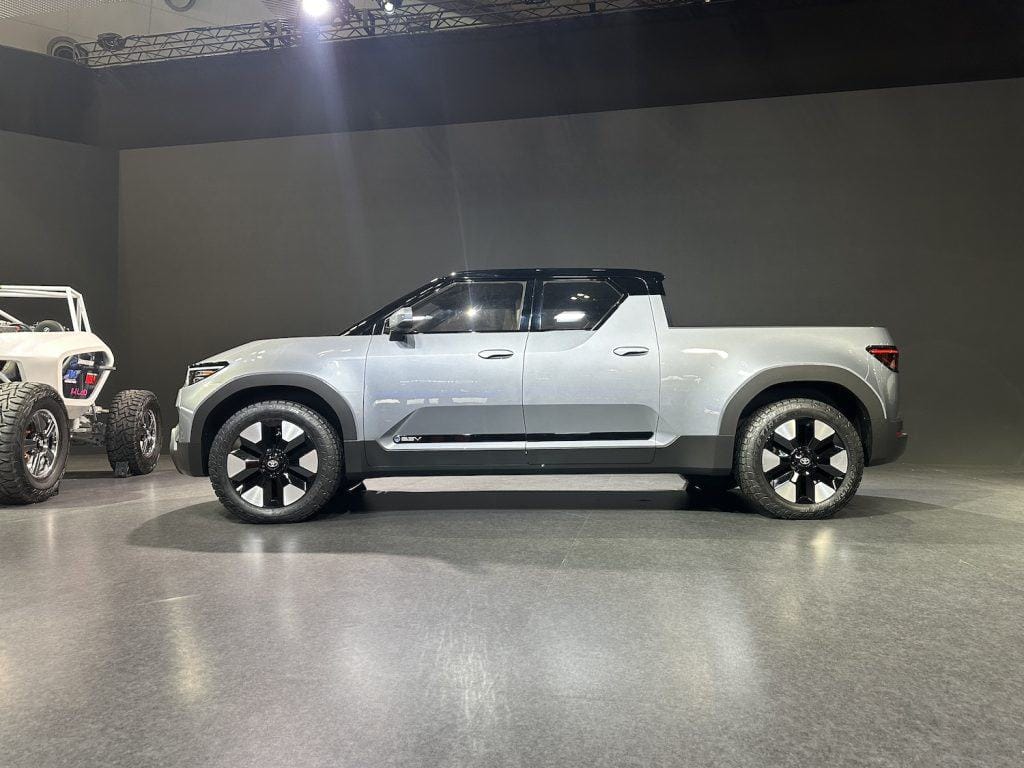 Toyota has also introduced the EPU, a compact five-seater pickup truck concept aimed to challenge the dominance of Ford Maverick. While details remain limited, the EPU signifies Toyota's foray into next-gen battery-powered trucks, showcasing a smaller scale compared to the Hilux.
Similar in size to the Ford Maverick and Hyundai Santa Cruz, the EPU appears to focus more on lifestyle features than pure hauling capacity, featuring a compact bed and a folding tailgate for extended space. Toyota emphasizes versatility through a monocoque body, linking the rear cabin to the bed for various outdoor activities. The interior sports a minimalist design with dual screens and ample storage. Toyota highlights promises of superior handling and comfort due to its low center of gravity.