I was having coffee and getting some work done at Caferista – a hip motorcycle café in Brixton, Mandaluyong – when I spied another rider on a Continental GT 650 come in for his morning brew. I couldn't help myself, so I stepped outside and surreptitiously took pictures of his bike, admiring the chrome tank and accents of his "Mister Clean." Then I straight up approached its owner and asked him, "So how do you like your bike?" "I really like it! How do you like yours?" he asked. Just like him, I had taken delivery of my bike just several months prior. In my case, I had opted for the Interceptor 650, the "standard" version of the bike.
And that is how I and Julian Santos, the Conti's owner, proceeded to chat for an hour talking about our steeds and how we ended up doing several rides later on. This is also how I convinced him to make the time for an early Tuesday photoshoot for this story.
This isn't so much a "test ride" article as it is a love letter to bikes. In particular, our bikes. As a long-time car enthusiast, too many hours, days, and years commuting in Manila's hellish traffic had made me fall out of love with driving. Even the prospect of testing a fancy BMW for a weekend no longer excited me. But I still yearned for the thrill of the open road, of the simple pleasure of working the gears, gunning an engine, making a machine do my bidding without much in the way of electronic aids.
When I made the decision to get into motorcycling, it was a long process of window shopping, Internet research, and coming to terms with what I really wanted out of my first motorcycle. First, it had to be highway-legal, hence an engine displacement of at least 400cc. Second, it had to be easy to handle for a novice like myself. Third, it had to be painless to own: fuel economy and maintenance costs were a concern. Finally, it had to have a special "something;" it had to tug at my heart strings.
There are many bikes in the middleweight category, which hovers in the P300-800k range, with entries from Japan, India, China, Italy, and the USA. There are also many genres and sub-genres to choose from: naked, sport, cruiser, retro, neo retro, dual adventure. You can't really buy a shitty bike for that kind of money these days so long as you manage your expectations. The Royal Enfield "650 twins" were not initially on my radar until an RE Himalayan owner advised me to visit their showroom.
On paper, the Interceptor ( a "standard" motorcycle) and the Continental GT (a "café racer"), share the same drivetrain and chassis. The specs don't scream "POWER!" (which is what most gearheads prioritize). The oil- and air-cooled, 649cc parallel-twin engine churns out a modest 47hp at 7,250rpm and 52Nm of torque at 5,250rpm.
Instrumentation is basic, the spoked alloy wheels require inner tubes, and you get a fuel gauge but not a gear indicator. Also, no traction control, no selectable engine modes, and similar-sized Kawasakis and Hondas easily pump out 20 to 30 more horses. Yet the modern essentials are there: big, 320mm front and 240mm rear disc setup c/o ByBre (Brembo's Indian OE subsidiary), a 6-speed transmission with slip-assist clutch, meaty Pirelli Phantom Sportcomp tires on 18" wheels. And a gratifying amount of metal in the tubular steel double downtube chassis and components. Not much plastic fantastic except for the fenders and side panel covers.
This is the bike that caused me many sleepless nights as I counted down the days to its delivery. Taking it out for its first ride, and successive rides both short and long, fast and slow, vindicated my decision.
For those unfamiliar with Royal Enfield, it's the oldest motorcycle brand in the world, having manufactured workhorse bikes since 1901. In the 1950's, Royal Enfield (India) started making bikes primarily for the army. In 1971, Royal Enfield UK went broke but the Indian operation kept on making bikes until the Eicher Group bought the company in 1994. Under the stewardship of its new CEO Siddhartha Lal, RE initiated an overhaul of its lineup, which had been mostly quirky, obsolescent bikes like the Classic and Bullet. RE bought famed chassis-maker Harris Performance to develop its new platform, poached engineers from Triumph, and set up its research and development center in Leicestershire.
The first offspring are the Interceptor and Continental GT, unveiled at EICMA in 2017. Indian-owned and manufactured, designed in the UK, proudly carrying an English brand. It's the best of both worlds. The styling harkens back to the classic Triumph Bonneville, but with a stiff chassis you can chuck around sweepers and hairpins with confidence. The drivetrain is bulletproof having been tested in India's even more horrendous road conditions. Pricing starts at P362,000 for the Interceptor, and slightly more for the Continental GT.
While I decided to play it safe with the Interceptor's more laid-back geometry and save some money, Julian decided on the more aggressive setup of the Continental GT. The latter features a lower, more aggressive cockpit thanks to clip-on handlebars as opposed to my bike's riser bar, rearward-set footpegs, and a more angular fuel tank. Like Julian, we both use it as our everyday commuter bike, and on weekends we take it on longer rides up in the hills.
With the Interceptor's standard, semi-upright geometry, it's easy to get comfortable and immediately feel in control. It didn't take more than a few days to familiarize with the ergonomics and handling. With a 30-inch seat height, I can balance the bike between my legs and on the balls of my feet (I'm 5'8"); important for countless stoplights.
Throttle response is smooth and linear, torque pulling you urgently from 2,000 to 4,000 rpm. Beyond that the engine delivers a guttural, lusty rush of power all the way to the 7,000rpm redline (although I've hit the rev limiter at 8,000rpm).
At 1,500-2,500rpm, the exhaust note is a cheerful burble, a "bop-o-pop-o-pop" accompanied by a turbine-like whine from the transmission that entertains even just doodling along in traffic. Open her up on the highway and there's a delicious "brrraaapp!" that sounds great whether you're doing 70 or 170kph.
Operating the transmission is a tactile pleasure, snicking from one gear to the next with precision that reminds me of Shimano Dura-Ace (the very best of road bicycle drivetrains). While the slip-assist clutch makes it easy to just plop down a gear or two without having to match revs, I match revs just the same because it's so much fun listening to the exhaust note. Reasonably thrifty, too. On my daily commute I average 20-21kpl. On spirited weekend rides on the highway and side roads, 25kpl. I get 210-230km per tankful before the "Low Fuel" warning comes up. It's a relatively cool engine, too, not particularly susceptible to overheating even in EDSA traffic.
But really, just looking at the engine while it's sitting still is a pleasure. The big cylinder heads sport traditional cooling fins and is slightly angled forward, the twin exhaust pipes sprout forward and gently sweep back and upwards in all their shiny glory. The look of the entire bike is classic, brawny, and cohesive. It regularly draws admirers in the parking lot. Strangers regularly come up to take its picture and interrogate me on how it's like to ride.
In the US, the bike was advertised as "A Ton of Fun," meaning here was a café racer that could easily reach 100mph as you raced from one café to another. Just like how the Brits did it back in the swinging 60's. I managed somewhere in between 160-170kph before I lost my nerve. Without fairings or a windscreen to shield myself from the windblast, anything above 130kph requires total concentration and tucking myself right against the gorgeous teardrop fuel tank. Manageable, but not the best bike for sustained high-speed blasts. Cycle World has timed the Continental GT's 0-60mph at 5.6seconds and the quarter mile of 13 seconds and change @ 96mph. Brisk, but not eye-wateringly quick.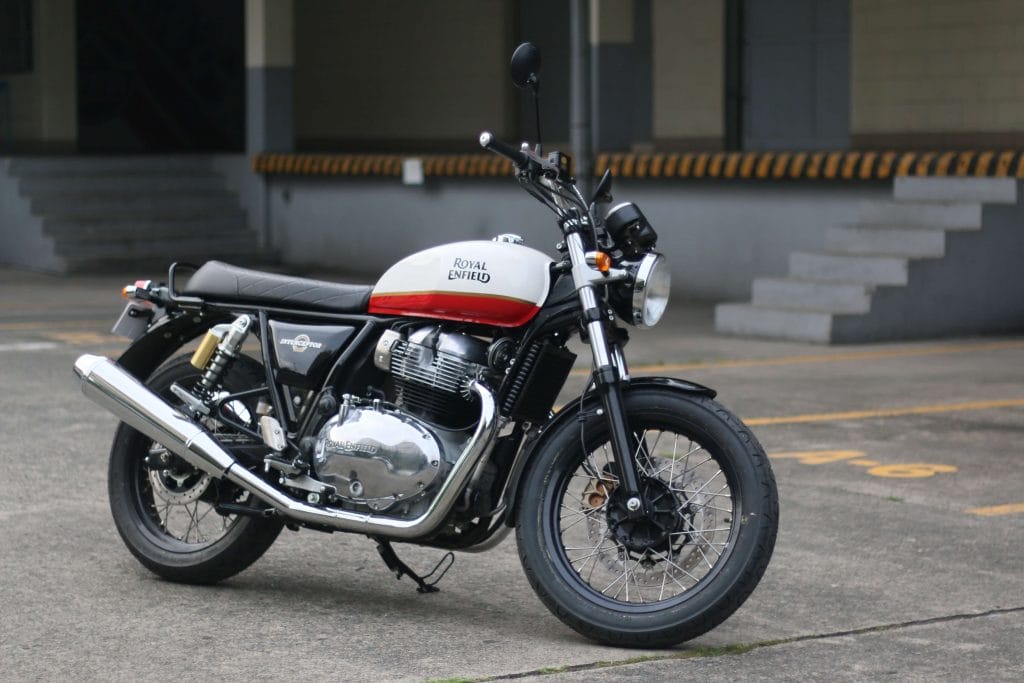 Instead, the bike is best enjoyed on twisty by-roads and at a pace that lets you enjoy the scenery without having to constantly remind yourself of your mortality every time you approach your performance threshold. The bike handles and runs"sporty", not "racy". You can get some decent lean angles into the curves and the chassis is more than willing to encourage you to get frisky, but the budget Gabriel suspension is the first thing you'll upgrade. While the rear shock is pretty good with 110mm of travel and adjustable preload, the 110mm front fork is too soft and feels limp when the road gets bumpy. An Ohlins upgrade is the first thing on my shopping list. At its softest setting, the rear end feels slightly floaty at speed, so I set it to the firmest. Now it's borderline harsh, but generally feels more stable at highway speeds. Finally, with 2-up seating afforded by the long bench seat, it's not a "selfish" bike. I've taken my (dis)approving wife on it for short hops, and my 10-year-old kid just loves to ride around with his old man. Just yesterday I finally gave in to my kid's request that I pick him up from school on the bike. Amidst a long line of SUVs was his daddy on a big bike. The kid practically jumped on the back while his awestruck classmates looked on. Some bikes are made for going super-fast, some bikes are made for tackling extreme terrain, and bikes like these are made for just having fun whether cruising on quiet roads or just doing everyday things.